A couple of weeks ago on the 21st March, the Equality and Diversity team held an annual Joint Equality Forum along with members of Bath Spa University. I went along with a few colleagues to see what all the hype was about. I'm not sure what I thought the day would entail but it exceeded all of my expectations. This year the theme was "Identity: Who chooses yours?" and to say I was inspired by the whole event would be an understatement.
The afternoon started off with a talk from comedian Francesca Martinez, who has cerebral palsy but prefers to call herself "wobbly". If you haven't heard of her, have a look through YouTube (you won't regret it). She talked us through her experiences of being different in a world that wanted her to conform. She was enigmatic, eloquent, a bit close to the mark at times and interesting. But most of all she was laugh-out-loud hilarious and she kept the whole of the audience hooked on her every word. Using humour, she tackled important issues like getting to grips with her own identity, the politics of disability and our culture of labelling those of us in society who don't appear to "fit in". Her talk was life-affirming and everything you could have wanted from an equality and diversity presentation.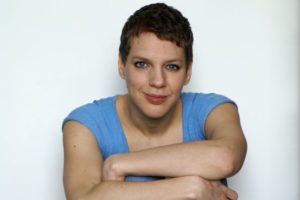 After Francesca's talk there was the chance to go along to a choice of workshop centred around the subject of identity. Workshop topics included exploring unconscious bias, looking beyond the label and an exploration of the #neverok movement. I'd chosen one called "Why we shouldn't treat everyone the same", which was led by the SU Community Officer Ben Palmer and was based around the ideas of equality, equity and liberation and how these come into play in an equality-promoting society. I found the session really interesting and, although we didn't always stick to the topic at hand, the group had some great discussions about our own identities and how we are affected by bodies like the government, schools and other authority figures.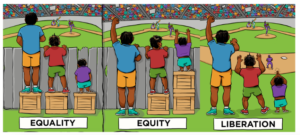 The day finished off with a Question Time style panel of equality and diversity advocates who were willing to answer questions from the audience. The topics under discussion included the idea that labelling people doesn't always have to be a bad thing, whether minority-only events are exclusive or empowering and a discussion of how the panel members dealt with their identities being labelled by society and how this made them feel. It was great to hear about different peoples' perspectives at being labelled (within sexuality, skin colour, religion etc.) and how this affected their own identity. It made me really think about how my identity has been affected by my individual circumstances and how people around me actually see me.
The afternoon was quite long at four hours but I wouldn't hesitate to book onto it again next year as I learned so much about other people (and myself) and I left feeling completely empowered. I feel like I am able to make the change I wish to see in the world, where labels are used for good and not discrimination, and where we can all be the masters of our own identity. Basically, if you see this advertised next year; go for it - you'll have a great time!