For this week's Disability History Month and International Disabilities Awareness Day Media Spotlight, we're in conversation with Rob Cooper, Public Engagement Officer at the University, discussing what it means to be immunocompromised, raising awareness about invisible disabilities, his road to recovery, and the role each of us plays in fostering a culture of care in our community.
How important is it that we acknowledge commemorative days such as International Disabilities Awareness Day, which this year focuses on the theme 'not all disabilities are visible'?
 For me it's a reminder that people care about me and my health. Seeing an article on the staff homepage about invisible disabilities makes me feel seen and valued. It reminds me that there are lots of other people out there with invisible disabilities that I would never know about and makes me feel more comfortable talking openly about my experience with disability.
Awareness might not be everything, but it's a crucial first step. We can't do anything about problems if we don't know about them. 
If you're comfortable sharing, could you tell us more about some of the health challenges you have been dealing with recently?
In July 2021 I was diagnosed with lymphoma, a cancer of the lymphatic system (part of our immune system). Fortunately, lymphoma can normally be fully cured and after two kinds of chemotherapy I've been in complete remission for nearly a year.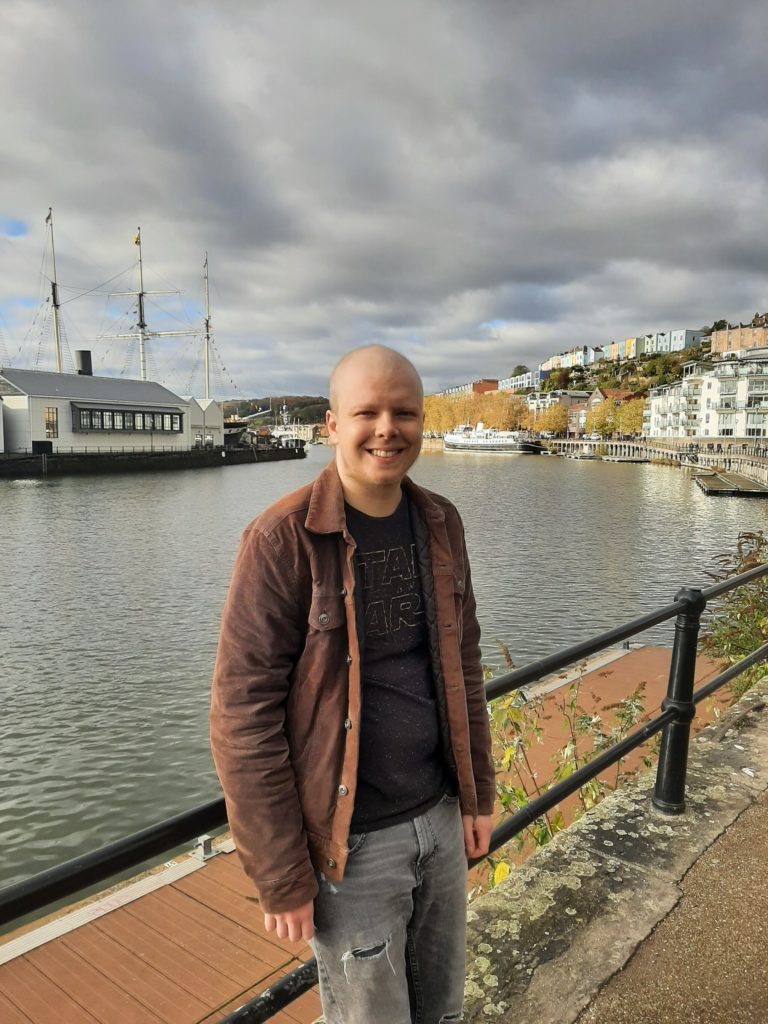 Photo from a personal album, November 2021.
Earlier this year I also had some radiotherapy to my chest and neck which helps make sure that the lymphoma never comes back. This meant going into hospital every weekday for three weeks which got a bit tedious by the end!
I'm now over a year on from my last chemotherapy which means my immune system has fully recovered and I can go about 'normal' life. It's a bit of a challenge starting to do normal things again when I've got so used to isolating and having to be so careful. But it's been lovely to start seeing friends and colleagues again.
What does it mean to be 'immunocompromised'?
Being immunocompromised or immunosuppressed means that your immune system isn't working properly which makes you more vulnerable to infections like flu or Covid-19. There's lots of treatments, medications and conditions that can cause your immune system to not work very well and chemotherapy is one of them.
Being immunocompromised is a bit of a spectrum. When I was having chemotherapy, I was what's called neutropenic. This means that I had very few white blood cells and I was very vulnerable to diseases. Even a common cold would put me in hospital, and I had to be admitted several times for small bacterial infections and given antibiotics.
Later on in my treatment I was still vulnerable, particularly to Covid-19 and Flu, but I could start to do more things like meeting people outdoors. However, I still needed to take precautions at this stage such as asking people to take Covid tests before seeing them and wearing masks if there were lots of people around.
Some immunocompromised people will be more vulnerable to disease than others and it's a very personal choice what precautions you take. There's no one size fits all approach, but there are things we can do to make life easier and safer for immunocompromised people.
What are some of the misconceptions that you encountered about the cancer treatment and being immunocompromised?
I don't think people expect cancer in young people. I was 26 when I was diagnosed, and I think most of us assume cancer only happens in older people which isn't always true. Lymphoma is actually one of the most common cancers for young people.
I think a lot of people assume that being immunocompromised means you have a dangerous underlying condition, but this isn't always true either. There are lots of medications and conditions that can weaken your immune system and my immune system was still weak even after I was in complete remission. Sometimes this can make immunocompromised people feel 'disposable' particularly with the Covid-19 pandemic.
When I was unwell lots of people didn't want to mention cancer to me because they thought it would upset me. This was tricky because I wanted to talk about my treatment and illness because it was my life, and it was important for me to share those experiences. The key lesson for me is to ask if someone is comfortable talking about their illness, treatment or disability, in my case the answer would almost always be yes.
What has helped you the most navigate this intense chapter of your life?
My partner Jazz has been absolutely amazing. She was always there to drive me to hospital when I needed it, helped with cooking and cleaning when I wasn't able to and was always there to support me when things were difficult.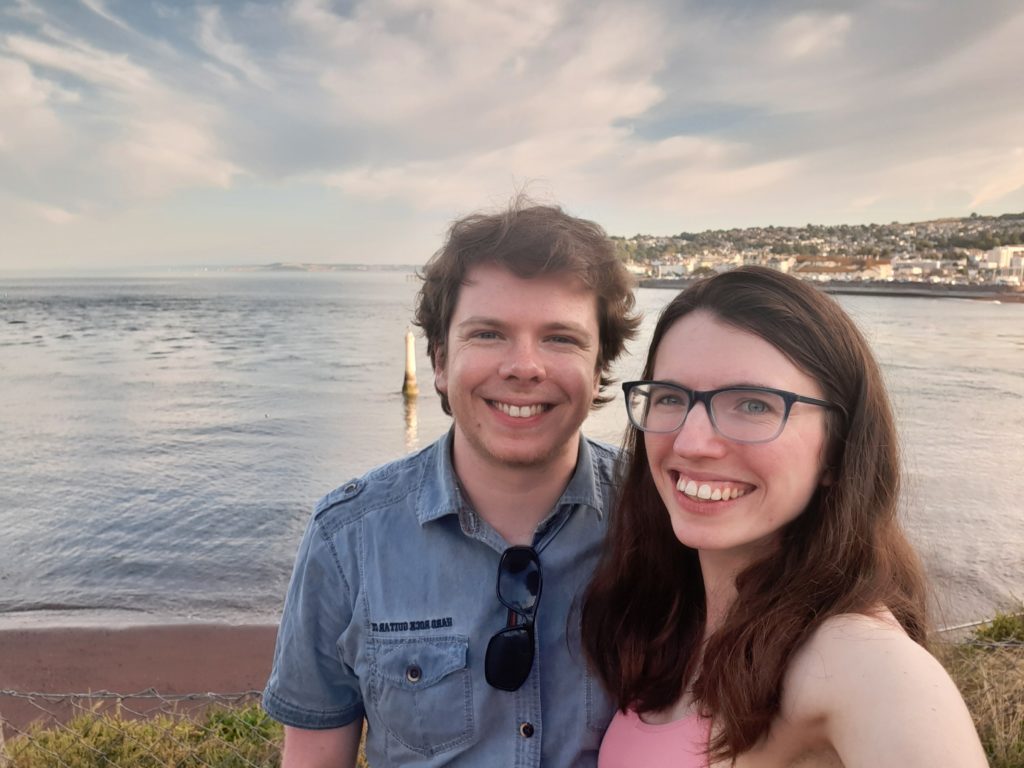 Photo from a personal album, August 2022.
I also got six sessions of counselling provided by Macmillan Cancer Support which was hugely helpful for me. Cancer had a huge effect on my mental health and having free professional support really helped me start to feel confident and healthy again. I think men are sometimes less willing to talk about their feelings and having counselling really helped me come to terms with what had happened and start to heal.
The charity Lymphoma Action also did a great deal to help. They ran monthly support groups where I could speak to other young people with lymphoma and ran workshops that helped me get back into exercising and eating healthily through my recovery.
I also can't forget my mum who called me every single day to check how I was doing and support me through all the treatment and everything that came with it.
What can a workplace do in supporting people's recovery? Both at institutional and Departmental/team level. 
The ability to work from home was crucial for me. Until November it was risky for me get public transport or come to campus so working from home has allowed me to return to work much earlier and feel valued as part of my team and department. Being able to hop into Teams meetings to say hello to old colleagues has been really nice!
My team have also been great in allowing me to have a phased return to work so I can gradually build up to working full time. This really helps me manage my energy levels and slowly get used to work patterns again after nearly a year away.
I think taking reasonable precautions on campus to protect immunocompromised people is really important. Things like wearing high quality masks in crowded indoor spaces, good ventilation and having good sick pay so people don't come to work unwell can make an environment much less scary for immunocompromised people and it keeps everyone healthier.
I've been really pleased to see that the University are offering flu and covid vaccines on campus. Doing everything we can to encourage vaccine uptake can make immunocompromised people feel a lot safer. 
Being immunocompromised during pandemic couldn't have been easy and now that everyone returns to (a new) normal, immunocompromised people may not necessarily feel they're in the same boat. How can our community support everyone during this transition?
I'd like to see people challenge ableism (discrimination against disabled people) in society. If organisations or people aren't taking precautions to avoid infection (masks, ventilation, sick pay) politely challenge them and try to change these policies and behaviour.
Having both online and in person events is still important for immunocompromised people. Early on in the pandemic I remember watching gigs and comedy shows live online and keeping these online options means that immunocompromised people aren't completely excluded from normal life. I think we need to stop assuming everyone prefers face to face events. There are many good reasons why people might not be able or want to attend a face-to-face event and many great alternatives.
Being open to changing your behaviour is also important. If I'm wearing a mask it's nice if someone else offers to wear one or if someone make an effort to meet outdoors or online. Little things like that can really help getting on with everyday life.
You're incredibly brave to be sharing your story with us – we're truly privileged and value your honest reflections. For someone who may be dealing with a similar health situation themselves or someone who is supporting a colleague, friend or a loved one going through cancer treatment, would you have any words of advice or wisdom that you'd like to share?
We live in an amazing time where most cancers are treatable, and many can be cured. I remember one of the nurses at my chemotherapy telling me that only 15 years ago she was involved in testing one of the drugs I was taking, a drug that ended up saving my life. It's amazing to think how far we've come in so little time. Cancer survival has doubled to 50% in the last 40 years (Cancer Research UK).
All of my treatment was completely free and some days I don't even think about cancer, which would have seemed impossible to me a year ago. Things can always get better and there are so many people and organisations out there who can help you.
In a strange way I can now see my experience with cancer as positive. It made me realise the things in life that I really care about, my friends, family, hobbies and my work. It's given me the confidence to live my life the way I want to and to try and make a better world for everyone.