Written by Dr Carmelo Herdes, Senior Lecturer, Deputy Head of the Department of Chemical Engineering.
On approach to Badajoz Airport (Talavera la Real Air Base) after a short flight from Madrid, the landscape screams "Potential".
Landing at 19:10, the need to wear sunglasses leave no doubt as to why the installed photovoltaic power in Extremadura surpasses their generated hydraulic and nuclear power. This trend is positive, sharp and sustained. In a matter of three years (2018 – 2021), the photovoltaic generation went from 10% to 43% of the total energy portfolio of Extremadura (25GWh, which represents 10% of the energy generated in Spain).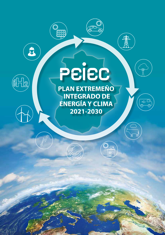 Extremadura's potential is not only about the copious sunlight; a plan for sustainable energy generation and use is well set and ongoing in the background. Extremadura is committed to sustainability with coordinated actions gathered in the PEIEC from the Spanish "Plan Extremeño Integrado de Energía y Clima", Extremadura Integrated Energy and Climate Plan.
The PEIEC's main areas of action towards 2030 are:
Climate change mitigation
Adaptation to climate change
Research and innovation
Social activation
My Erasmus+ Staff Mobility (Training) nurtured from the above background where the University of Extremadura (UoE), Staff, Students and Infrastructure are all active enablers of the PEIEC ambitions through their day-to-day research and teaching deeds.
The main training activities are summarized below.
Day 1 (29 March 2023)
Training session on Absorption System for Air Conditioning: Delivery by Prof. Silvia ROMÁN SUERO (SRS). Chemical Engineer and Professor of physics, thermodynamics and thermal energy. She is the Director of Teaching (Secretaria Académica) of the School of Industrial Engineering at UoE. Her research focuses on thermo-physical processes for biomass recovery and valorisation (e.g. biofuels and hydrochars). In this training session, Silvia shared her knowledge on fundamental concepts, problem classes and assessments of absorption systems for air conditioning (AC) as a sustainable alternative to standard AC compression cycles.
Workshop on Lignocellulose Biomass under Hydrothermal Conditions: in the context of the project "Reciprocal use of by-products from wet biomass management: joint hydro carbonization and digestion to lengthen the life cycle of both processes". After an in-depth discussion of the project's objectives, advances and challenges, a detailed description of the experimental activities, via a laboratory tour, was given.
Day 2
Round table on the Use of Residual Currents in Wine Companies to Carbonise their Waste: feasibility evaluation meeting. This project has been given the green light to produce of biochar from waste to improve the vineyard's soil's absorption of water and nutrients.
Round table on Molecular Simulations Associated with Biomass: this was a follow-up activity to the workshop on lignocellulose biomass under hydrothermal conditions, where molecular simulation tools and methodologies were identified to guide the experiments or help interpret current results. Potential training for a PhD student to construct and validate envisaged predictive models at the University of Bath was discussed.
Visit the Biorefinery Pilot Plant with students of the MSc in Renewable Energies.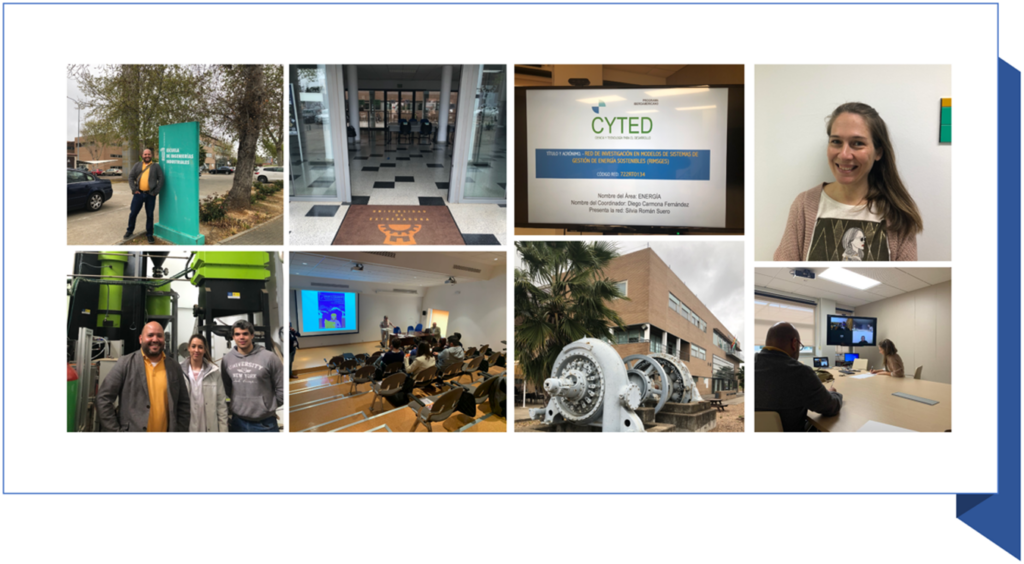 Day 3
Meeting with new members of CYTED. This network is the Ibero-American Programme on Science and Technology for Development, created by the governments of Ibero-American countries to promote cooperation in science, technology and innovation for the harmonious development of Ibero-American countries. At this meeting, experiences were shared, and strategies and events for 2023 were discussed. On attendance: Silvia Román Suero, Angel F. Mohedano, Rodrigo Ramírez Pisco, Beatriz  Ledesma Cano, Borja Velazquez Marti and Manuel Oter.
Meeting with the Vice-Deans for Institutional Relations and Internationalization. I was honoured with the opportunity to meet with Professors Carlos Alberto GALÁN GONZÁLEZ (School of Industrial Engineering) and Fernando Javier ÁLVAREZ FRANCO (Faculty of Science) of the UoE to discuss potential Students' Mobility agreements at undergraduate and master levels. On completing the agreement, briefing Bath students about UoE and greeting UoE students at Bath, I promise to wear the UoE red tie!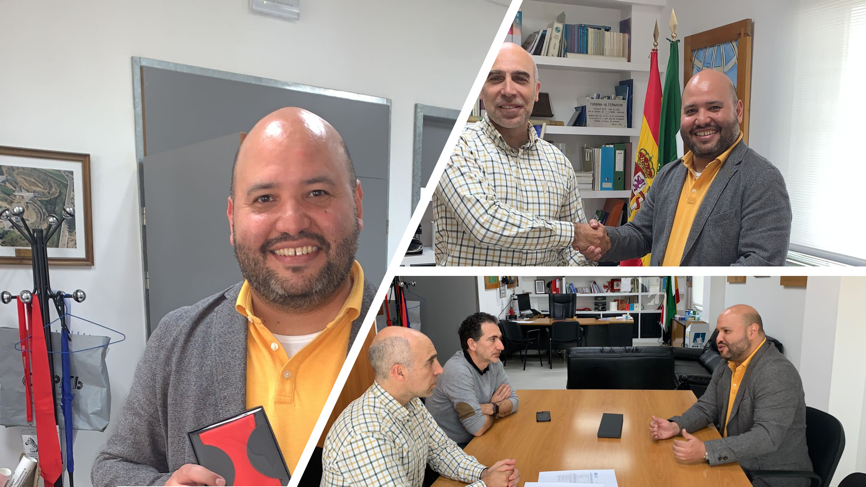 The fantastic social activities warrant a whole blog! But a special big thank you to my hosts Silvia, Bea and Jose for opening their homes, wines and kitchens in that particular order.
!Muchísimas gracias!
Please feel free to contact Carmelo directly if you would like to know more
Carmelo Herdes' mobility abroad was possible thanks to funding provided by the Erasmus+ programme. University of Bath staff should note that all Erasmus+ funding for staff mobility has now been allocated for the entirety of our current project and we will no longer be accepting any further applications.