Tom Davies, a PhD student in Chemical Engineering shares his experience of working and living in Singapore as part of the A*STAR Research Attachment Programme (ARAP) Scholarship.
While completing my MEng Chemical Engineering degree at the University of Bath, I decided I enjoyed my final year project enough to continue and pursue a PhD in the same department. My research is on cultured meat, which aims to develop technologies that can produce genuine animal meat by cultivating cells directly, instead of raising farm animals. As well as the potential for more ethical and environmentally friendly meat, the technology also offers improved food security, particularly for areas with limited farmland. Therefore, Singapore – a small island country with almost no farmland – is investing in cultured meat and other alternative protein or agricultural technologies to increase food production and self-sufficiency. So, thanks to my supervisor's international connections and Singapore's research and innovation drive, I have been given the amazing opportunity to complete 18 months of research at A*STAR in Singapore as part of the A*STAR Research Attachment Programme (ARAP).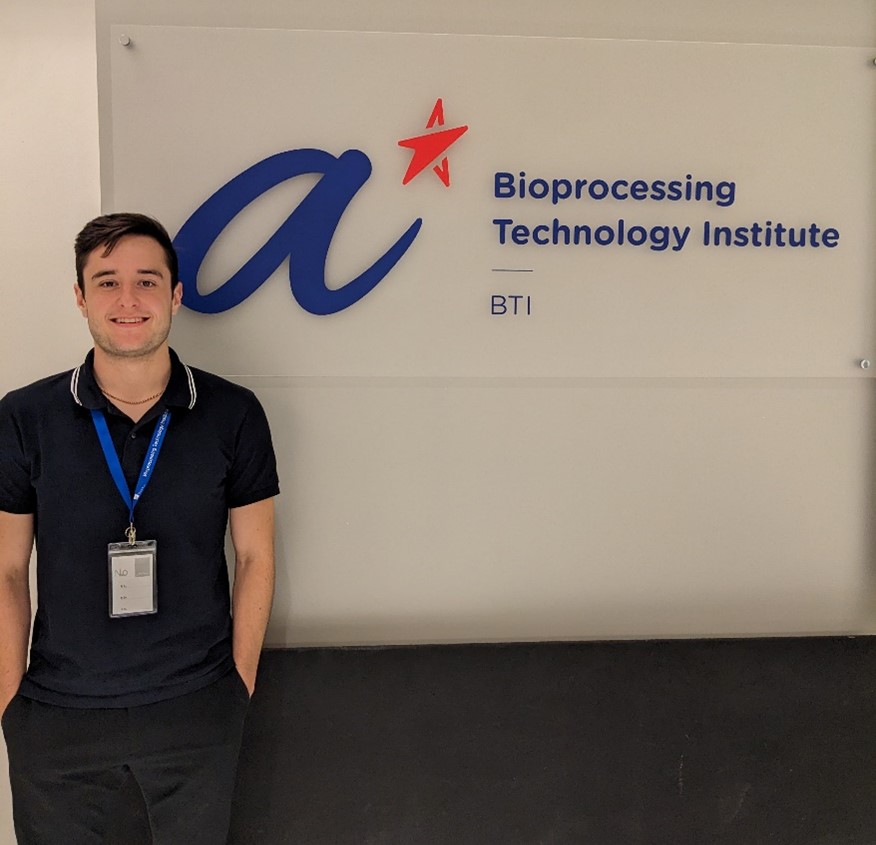 About the scholarship:
The ARAP programme offers overseas PhD students from partner institutions the opportunity to conduct 1-2 years of research under joint supervision from your university and A*STAR research staff. It is a jointly funded scholarship, which includes a stipend, medical insurance, and various allowances, such as a conference allowance, and projects fall broadly into four categories: biomedical sciences, computing and information sciences, engineering and technology, and physical sciences (there's a detailed list of projects online). Now that the University of Bath has this connection with A*STAR established, I'm hopeful future students will get the same opportunity I have and come to study in Singapore!
Settling into Work
I'm now 2 months into being in Singapore, and I'm happy to say that I'm really enjoying working here! My colleagues are very friendly, and we go for lunch every day at a variety of small outlets near to work (eating out is a lot more affordable here compared to the UK which I love). While setting up my research hasn't been a complete breeze, my colleagues have been incredibly helpful and have made the process much easier. Also, as part of the scholarship, I had to plan the work I would complete during my time here, so I'm mostly just following the plan and am about to start my proper experiments. And finally, the work life balance here is pretty similar to back in the UK, so you'll still have time to escape work and explore the city.
Life Outside of Work
Singapore is a wonderful country full of friendly people, vibrant culture and amazing wildlife. Some of my highlights so far are:
Food – Singapore offers an incredible array of food from all over the world, and Hawker Centre meals can cost as little 3-5 Singapore dollars (around £2-3).
City life – the city has plenty of malls, bars, events spaces, and hidden gems to explore.
Sports & social clubs – since arriving, I have joined a rugby club and board games social group, and have already made some good friends through both.
The Outdoors – there are lots of nature reserves in Singapore where you can see monkeys, monitor lizards, and even crocodiles, but there are also beaches, parks, and lakes you can enjoy.
Travel – one of the best benefits of living in Singapore is it's so easy to travel to the rest of southeast Asia, and many destinations are relatively cheap – it was recently Hari Raya Haji, an Islamic holiday and public holiday here in Singapore, which I used to take a long weekend trip to Kuala Lumpur and had an amazing time there.
Summary
If you have the opportunity to study in Singapore, I would absolutely recommend doing it. It's a great city for research and for living and I'm looking forward to my remaining 16 months here!
Find out more about the A*STAR ARAP scholarship and how to apply