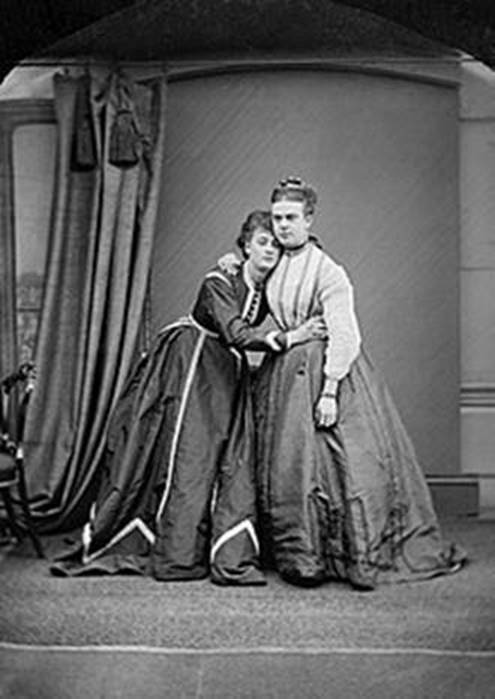 A quarter of a century before the (in)famous Oscar Wilde trial, Victorian London was captivated by the trial of Ernest Boulton and Frederick Park, aka Stella and Fanny.
Boulton and Park were middle-class Londoners in their mid-20s who had formed a theatrical double act (Stella Clinton and Fanny Winnifred Park) and were well known in the West End.  They attended theatres and social events dressed as women, attracted a lot of interest for their appearance and lifestyle, and were part of a "flamboyant" wider circle.
Boulton, Park and their escort Hugh Mundell were arrested when they tried to leave the Strand Theatre, and Boulton and Park were still wearing women's clothing when they were brought before Bow Street Magistrates Court later.
They were charged with "conspiring and inciting persons to commit an unnatural offence".  The indictment was also against five others but three of them absconded, one was an American citizen, and another (Lord Arthur Clinton) supposedly died the day after the indictment was served.
In court, Mundell said he refused to believe that Boulton and Park were men even when they told him.   A trunkful of their dresses was presented as "evidence" but the prosecution could not prove that they had had sex or that the wearing of women's clothing by men was an offence, and together with heavy-handed policing (they had been followed by the police for a year), the jury quickly found them not guilty.
The Lord Arthur Clinton character bizarrely appeared in a successful trial in 1882 when a woman was convicted of impersonating him in a cross-dressing fraud case (there was no sign of his Lordship however!).
Boulton and Park have appeared in a number of plays and stories and although less well-known than Oscar Wilde, they have an important place in LGBT history and their story challenges a number of lazy historical assumptions about this period.