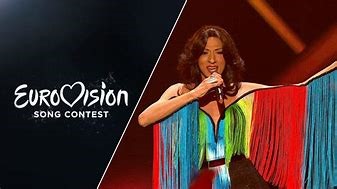 I can't say I'm too excited that the Eurovision Song Contest is coming round again, but the fact that it's going to be held in Israel reminds me of one of the most influential Eurovision winners, and one who helped raise the profile of the LGBT community worldwide.  The 1998 final was held in Birmingham (who knew that?) and Dana International singing "Diva" was the winner.  Wow!
Dana International was born in Tel Aviv 50 years ago as Yaron Cohen.  She came out as transgender as a teenager, avoiding military service as a result, and fully transitioned in London in the mid-1990s.  Sharon Cohen was born.
She had released a number of albums prior to being chosen to represent Israel in the Eurovision Song Contest.  The choice was opposed by many Orthodox Jews and conservatives but she was undeterred.  After she won she said: "My victory proves God is on my side. I want to send my critics a message of forgiveness and say to them try to accept me and the kind of life I lead.  I am what I am and this does not mean I don't believe in God. I am part of the Jewish nation".
Her subsequent musical fortunes have been mixed but Dana International will always be important for who she is as much as for what she has achieved.  She has actively supported Pride events in Israel and Europe and challenges many assumptions about her home country. Yael Dayan, the daughter of Moshe Dayan (an important Israeli military leader and politician), said of Dana's victory that "this is an achievement for civil liberties and human rights".  Twenty years on she remains an important figure in the wider LGBT community.