We had a fantastic quiz today, with Andrea coming in first on 22/35 points! We had seven categories from TV and Film to Sport, Food and Drink to LGBT History, so there's something for everyone! Tanmoy got a clean sweep in the Geography round, so he's the one to beat for next time!
Our next quiz will be held on Wednesday 3rd June at 5.30pm on Teams, and you can access it via this link.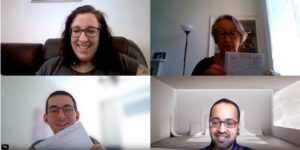 Also this week we say goodbye to the wonderful Andrea, who has been a valued member of the Committee for some time now, and we want to say a huge thank you to her for all the work she has done for the Committee during her time with us.
However this does mean we are now on the lookout for a new Trans Rep on the committee, so if you are interested in this post please do get in touch by emailing lgbt-staff@bath.ac.uk and Sophie will get back to you to discuss.
Hope you are all safe and well, we hope to see you on 3rd June!