When you think about the LGBTQ+ community you are likely to think about religion.  The two have a long standing, textured history that goes back thousands of years.  Today the divided conversation continues and is one that's very close to my heart and many of those within the community, and one I desperately wanted to tell.  As we continue the Queeroes series, I think it's high time that we raise awareness on the two in a rather unique way.
Throughout 90s British TV culture we had Dawn French as the Vicar of Dibley and the 00s had the reverend Adam Smallbone (Rev).  In the real world, there was somebody who was already doing the lords work and making an impact on society.  So, without further ado, this is the story of charity co-founder and LGBTQ+ rights activist, Reverend Sally Hitchiner.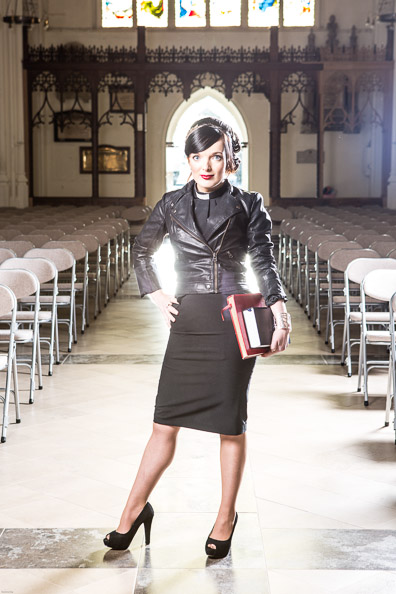 Sally Ann Hitchiner, born February 14th, 1980, to Paul and Sandra Hitchiner.  In the late 90s she studied anthropology and social policy at the University of York before going on to study theology at Wycliffe Hall at Oxford University and was later ordained in 2009.
Hitchiner's interest in religion was not always there.  As a child she would lock herself in the loo to avoid attending service but at age 12, she found God and religion was now a part of her.
Today, Hitchiner coordinates and conducts all things clerical, from conducting the occasional wedding or funerals, to get herself heavily involved in supporting the local community and working on social and civil reform.
During the 2011 London riots, Hitchiner was vicar of St John's Anglican Church, West Ealing, and was part of the local community response.  She would speak directly to the Ealing council to highlight the importance of pastoral youth work in the community.  During the riots, she helped coordinate the clear-up and console local business owners during their grief.  That same year Hitchiner would become the co-ordinating Anglican Chaplain and inter-faith adviser at Brunel University, a position she held for 8-years.
Not one to shy away from making some noise, Hitchiner has regularly appeared on TV and radio and in the press, vocalising her opinions on inclusion within religious communities, from the inclusion of senior women religious leaders to same-sex marriage.  Though her role within the clergy does not allow her to enter marriage, she entered a civil partnership in 2016 with Fiona Hitchiner (née Green).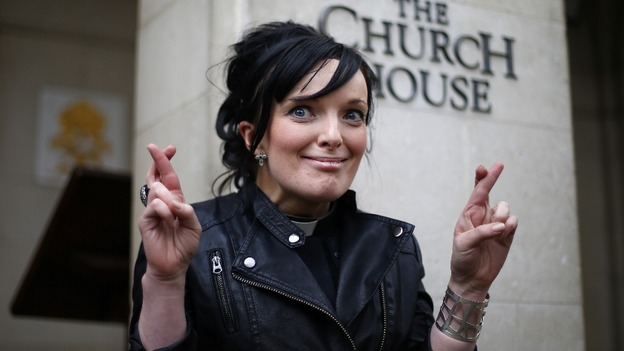 In 2012, following the November vote on whether to allow women to become bishops or not, Reverend Hitchiner posed for a supplement with The Times newspaper titled The Vicar Wears Prada.  In the piece she would wear clothing and accessories from Stella McCartney, Louboutin and The Kooples to name a few.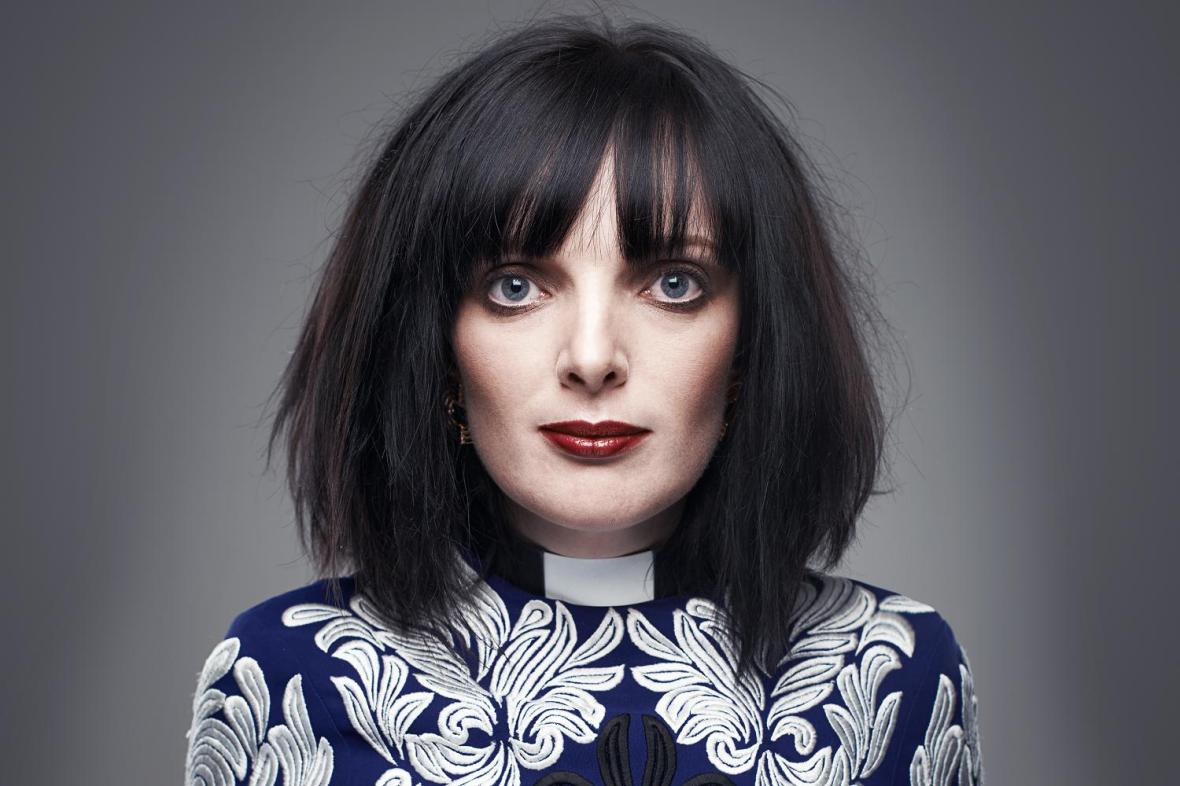 The shoot and accompanying article were in protest of the decision not to allow female bishops into the clergy.  In each photo you could clearly see her clerical collar and her hyperfeminine styling gave a clear message that women were a force of divine power.  The art itself would talk about the impact of feminism on society and the need for reform within the Catholic church.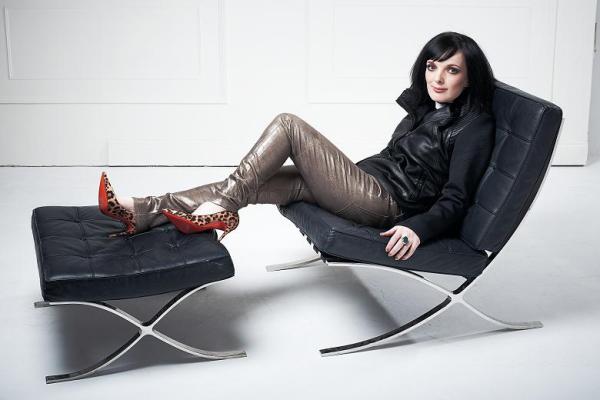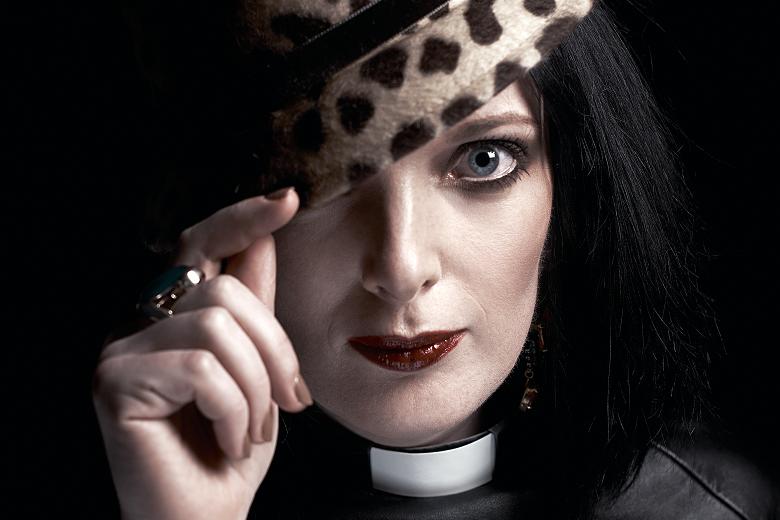 The protests continued across the country with many female churchgoers urged to wear pinnies (small apron) in mockery of the sexiest notion that women are good at tea making, and tea making alone.  3-years later, these protests and continued campaigning, women would finally become ordained bishops
While all this work and her wider community accomplishments are commendable, these are not the reason why she is being inducted as a Queero (but it's hard not to include them!).  Hitchiner's place here is in recognition of her work in the LGBTQ+ community.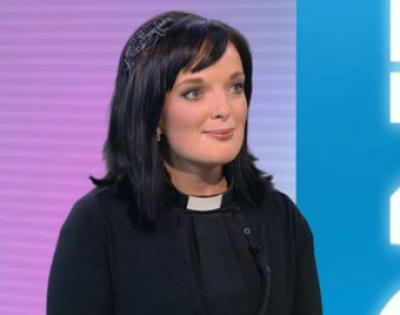 For many years, Hitchiner was very private about her personal life, but in 2014, during an interview on Channel 5 news to discuss the Church of England's decision to allow women to become bishops, presenter Matt Barbet, without realise it was not public knowledge, would go on to say that Hitchiner "happened to be gay".  The faux pas was a bit of a shock for the outspoken Reverend, but she took it in her stride and saw it as a sign for new beginnings.
"My parents know.  It is not as if anyone who loves me will be shocked" – Hitchiner's response to her outing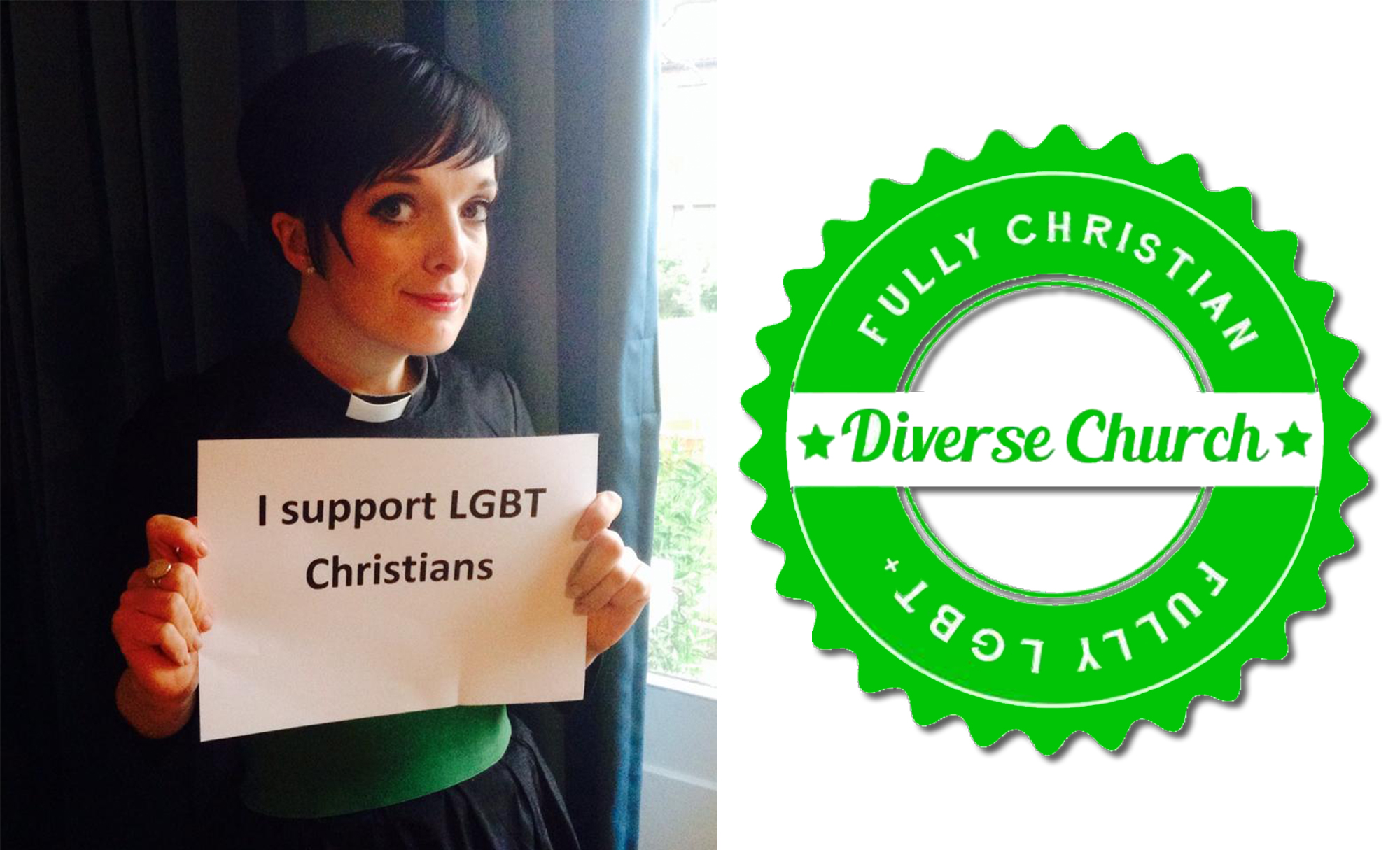 Using social media in 2013, Hitchiner co-founded the Diverse Church, the UK's largest support network for LGBTQ+ Christians.  The charity engages Christian communities, initially across the UK but now on a global level, in a safe space which enables young and old LGBTQ+ individuals to embrace both their sexual and gender identity with their faith.
Diverse Church's manifesto is quite clear.  They are an open, safe space for people to discuss ideologies around sexual and gender identity within a theological context.  The charity provides pastoral care and promotes an awareness and importance for a diverse and inclusive culture.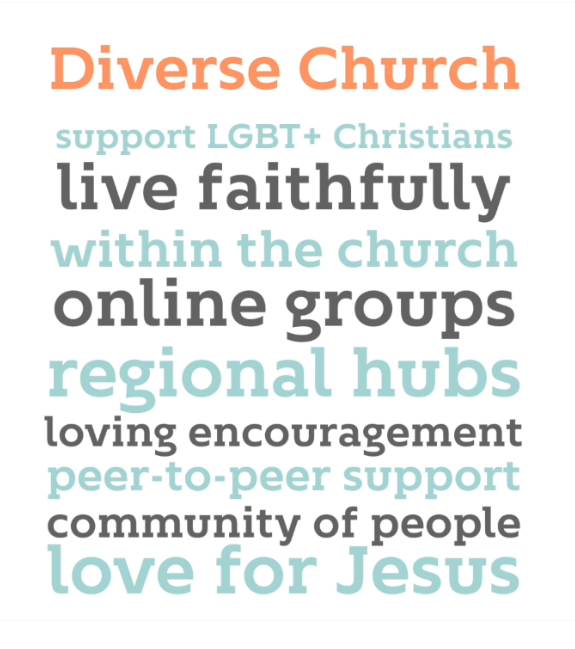 In recognition of the work, Diverse Church won the 'Most Innovative Youth Work' award in 2016 at the National Christian Youth work Awards.
Hitchiner's work in trying to align two communities that have been at war is commendable for so many reasons.  Many LGBTQ+ people struggle with their identity and when they feel their faith will turn them away, they often find there is nowhere else to turn.  Those confusing, often dark times can be damaging to anyone and can lead to unfortunate consequences.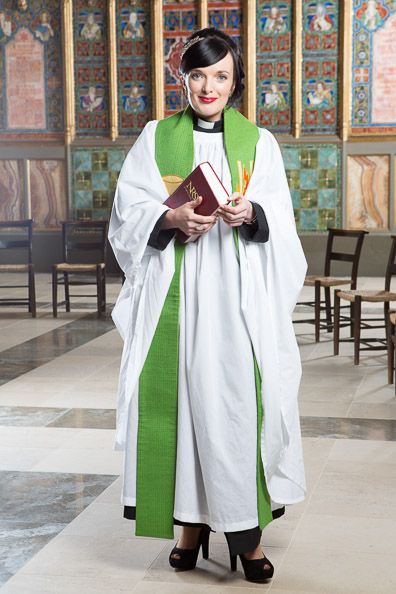 Her work comes up against critics on a never-ending vicious cycle, but she keeps true to herself and her mission.  When they throw back concerns and vitriol through corrupted verse, she'll bounce one back at her in the true love of the lord.  The pressures she faces are not easy, but she bears them better than any man I know.  Another blow to the anti-feminists!  I'm actually fangirling, sorry.
Hitchiner's work continues to make waves in religious circles and her voice is as vocal as ever.  She advocates for the ending of conversion therapy and continues to speak out about and educate others on the importance of an inclusive theological community for LGBTQ+ people.  She even made friends with world renowned atheist Richard Dawkins, so you know she's a good egg!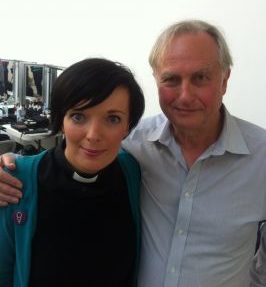 Since May 2019, Hitchiner has been the Associate Vicar at St Martin-in-the-Fields church in Trafalgar Square, London, and the church is embracing people from all backgrounds.  I hope to visit one day in hopes of seeing Reverend Sally in action because she's just amazing!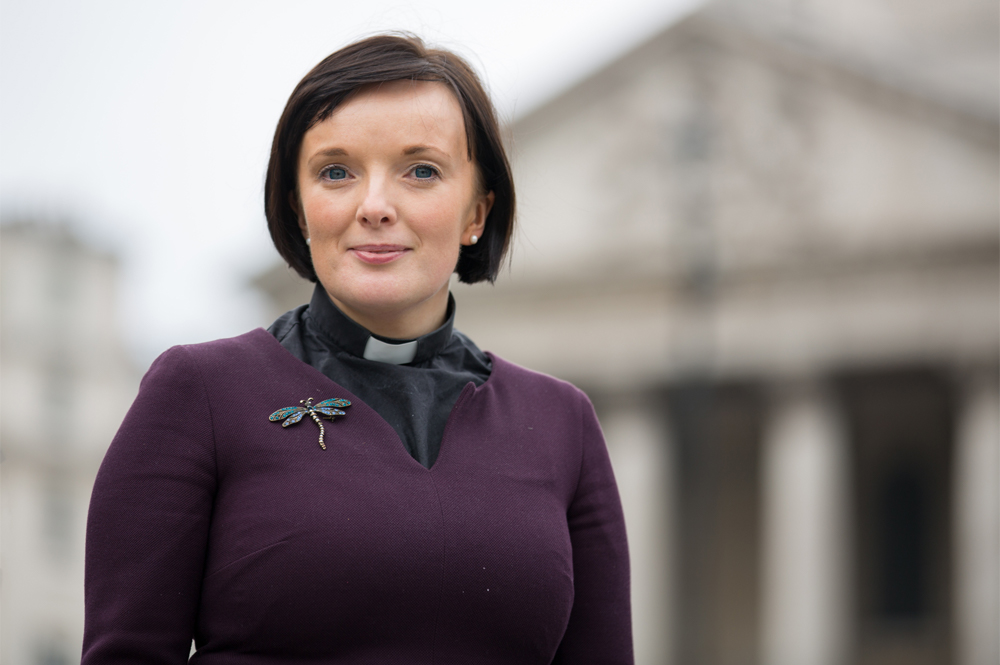 To discover more of her work you can follow her on Twitter, and you should also check out:
-
Why I felt this story was so important
At a young age I knew I was different.  I wasn't 'normal'.  I wasn't behaving like everyone else.  The typical bullying and teasing would happen that almost all LGBTQ+ people go through.  I've come a long way from that, and I'm no longer affected by it.  Except of course for one experience.
During my early teen years, I was a bit more, for lack of a better word, flamboyant than other boys of my age and this was noticed quite keenly by a relative.  She would mock and belittle me and take the occasional passing moment to spit her theological interpretations at me.  It was here where my fear and disdain for religion began.  What solidified my hatred was the fact that she is a priest herself.
Fortunately, as the years have gone by and the world has grown a more cultured and enlightened place, I too have relaxed my views on religion and understand that for every tainted verse thrown against me there is another hundred or so to embrace me.
To those who have gone through a similar experience, or who have mixed (or blatant) opinions about religion, I hope you can find peace and join in solidarity for those who embrace us and who are trying to repair and rebuild that relationship.  Too many people risk physical and mental harm while the two remain at conflict and we must do what we can to help change that.
Declaring the Sanctity of Life and the Dignity of All