It goes without saying that LGBTQ+ people are amazing.  We are.  I've decided as such and my word is gospel at this point.  That being said, I wouldn't be allowed to say that if it were not for some of the bravest people out there who have made an impact on LGBTQ+ rights and who just happen to not be LGBTQ+ themselves.  These people are allies.
Allies are individuals who support and advocate the rights and equalities of others who are marginalised and discriminated against in society.   In this instance, heterosexual (straight) people who advocate the rights of LGBTQ+ people.
It's day 25 of LGBTQ+ History Month and the last day of the week-long Allies Arc in the Queeroes series.  To date we've looked at law reformers, entertainers, and sports professionals.  8 amazing men and women who care deeply about LGBTQ+ issues and raise public attention to the crisis and concerns of our community.
In today's issue, I had to think very deeply about who it should be.  Do I bring forth the classic Cher or Dolly or Bette?  Do I welcome Jay Z, Donald Glover or Garth Brooks to the stage?  Or do I keep it obvious but for an unobvious reason?
Today's uncompromising Queero and mother of all allies is none other than Michelle Visage.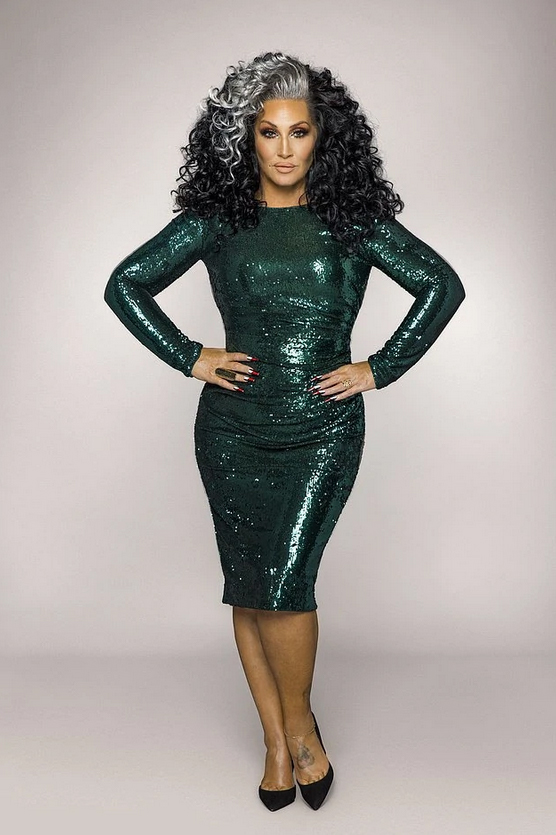 Michelle Lynn Shupack was born on September 20th, 1968.  She was put up for adoption and would grow up in New Jersey in a loving and encouraging household.  She graduated from High School in 1986 and later moved to New York to study at the American Musical and Dramatic Academy.  It was during this time that her LGBTQ+ experiences began.
"I moved to New York City and I didn't know a soul. The people that took me in was the gay community. They never questioned the colour of my skin, or questioned the colour of my hair, my size; am I too fat, too skinny, too tall, too short.  It was 'You are welcome. We love you for you'"
Michelle became involved with the ball scene, an LGBTQ+ subculture whereby attendees can watch and participate in events for prizes.  Events include dance, fashion, make up, gender illusion and so on.
She learnt music and fashion from the community and would even perform for the crowds, touring the New York club circuit.  After being given the nickname 'cara' (Spanish for face), people kept pronouncing it car-uh or 'kera', so she chose the surname Visage (French for face) instead.  And for the record, it's pronounced VIZ-ARGE not VIZ-IGE.
During this time her music career began with the all girl hip-hop group Seduction where she achieved numerous hits and great success before their split in 1991.  She followed this with collaborations with TKA and The S.O.U.L. S.Y.S.T.E.M., the latter of which saw her It's Gonna Be a Lovely Day storm the charts after being used in Whitney Houston's hit film The Bodyguard.

Visage's 90s career continued with success as a co-host with best friend RuPaul Charles on both The RuPaul Show and a morning radio show which continued into the early 00s.
Visage would then go on to her biggest career defining moment to date as a permanent judge on RuPaul's Drag race.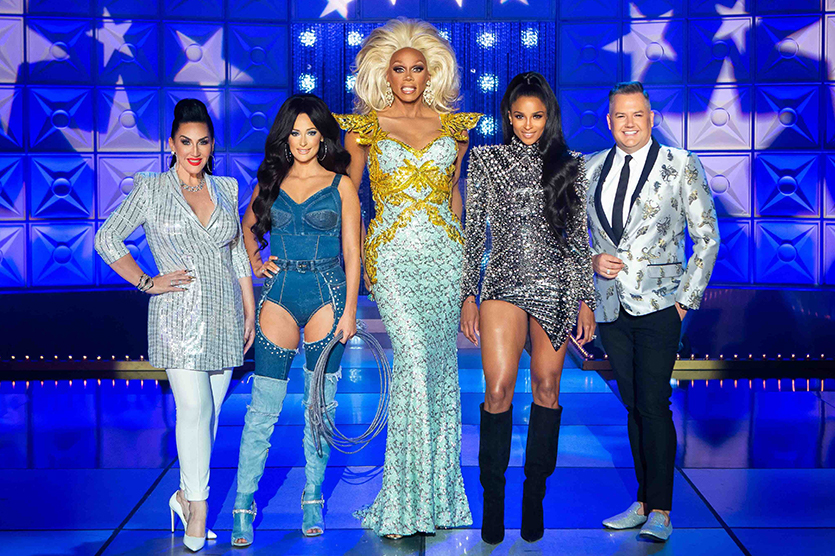 Visage with other Queero Kacey Musgraves, host Rupaul and fellow judge Ross Matthews
Since then, millions of people have to come to know her name and her work and her love, support, encouragement, and fight for the LGBTQ+ community.
As her fame grew, other outlets wanted her on their shows which lead to appearances on Big Brother, Ireland's Got Talent and YouTube comedy series The Most Popular Girls in School.
In 2019 she was a celebrity dancer on Strictly Come Dancing with partner Giovanni Pernice.
It's safe to say that Visage's time in the spotlight is a varied and colourful one.  But what's most important to note is that she has never really made it all about her.  The Blackpool week dance itself (see above video) was even dedicated to the LGBTQ+ community.  She literally puts us first!
Using her celebrity-entertainer platform, Visage has championed LGBTQ+ right for decades.  She doesn't just hold the title of ally and sit still, she lives and breathes the culture and pushes it further alongside the community.
Whether it's TV, radio, her own book, or the press, she has defended the community time and again and been a strong advocate for equal rights.  She tells our stories, the good and the bad, and puts the community in the spotlight.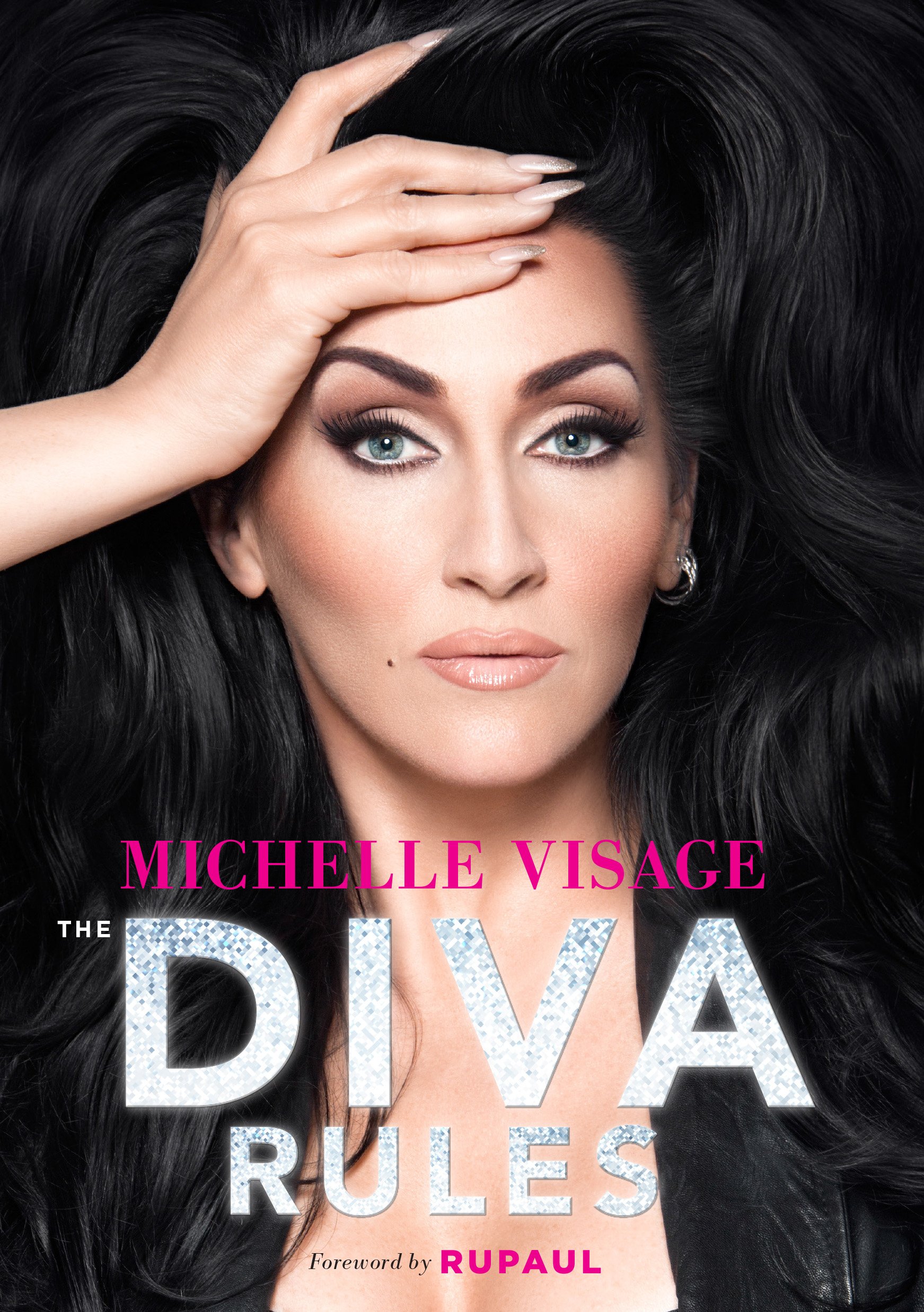 As the mother of a gay daughter, Visage says that she wants there to be a happier, safer world for her child, and others, and will do everything she can to achieve that, and she does.
Of course, we love that, and of course we love her relationship with the community and everything she does in the fight for LGBTQ+ equality and freedom.  All this and more is why she is a Queero.
But what about the other stuff?  What about the things that go unrecognised?  The reason why she is labelled the mother of all allies?  Did you know she was once involved with Scientology, a prolifically homophobic organisation?
In an interview held on Larry King Now, Visage and best friend, actress and producer Leah Remini discussed their past with the infamously homophobic and transphobic Church of Scientology and how Remini, being involved from childhood, invited Michelle to check things out and see if it was for her.
Visage was impressed with the philosophy and the potential of a higher self.  Her interests grew and she began her journey as a Scientologist.
She attended meetings and would study the manifesto and information books.  She was learning the lifestyle and was intrigued by the teachings on the higher self.  All seemed to fit with what she was seeking in her spirituality until one day she read something that completely contradicted her own personal beliefs around homosexuality (watch from 4:11) and with that she walked away.
The organisation itself is highly renowned for their relentless attack on people who speak out against the church or leave.   And when I say 'attack' I mean persistent abuse, blacklisting, shunning, smear campaigning and destroying the lives of individuals.
Let me rephrase that; Michelle Visage risked her personal life and wellbeing for the sake of the LGBTQ+ community because she was having none of it, and as an ally that is quite simply one of the bravest things one can do.
Though she does not use her platform to vocally denounce Scientology, she will not give her time and energy to those that do.  If the subject is brought up, she will discuss her experience and leave it at that.  Instead she uses her energy to promote love and allyship.
Michelle Visage lives by a code of love and unity for which she will not be compromised.  On camera, she may be harsh in her drag queen critiques but they come from a place of love – she wants these LGBTQ+ individuals to reach their full potential.
But off camera, she is a kind, friendly, charming and empathetic human being who will do whatever it takes to ensure the wellbeing of others comes long before her own, especially the LGBTQ+ community.
So I hope now you understand the story of Michelle Visage, outside of the drag scene, and as a true Queero and everything an ally should be, and then some.
You can catch up with Michelle on her BBC iPlayer series with her series How's Your Head, Hun? where she interviews other celebrities.  She can also be seen on Thursdays as judge on RuPaul's Drag UK series 2 on BBC 3's iPlayer service from 7:00pm and Mondays at 10.45pm on BBC One.  She is also a judge on Season 13 of RuPaul Drag Race US which airs on Saturdays on Netflix.  She is also a co-host on the podcast RuPaul: What's the Tea?