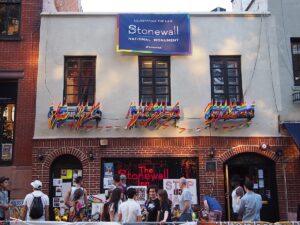 Every June the LGBTQ+ community and allies recognise Pride month. As well as being a time to celebrate who we are and all that queer people bring to the table, it's also important to acknowledge our history and the struggles that the LGBTQ+ community still face.
As I mentioned in my Pride Month video on Twitter, the first ever Pride was a protest. Pride started because the Stonewall Inn in New York was violently raided by police on 28 June 1969. This early morning raid was the final straw after a long series of raids on LGBTQ+ spaces that year. This time the victims fought back, leading six days of rioting.  The event, now known now as the Stonewall Rebellion, catapulted LGBTQ+ rights into the media spotlight.
Although much has moved on since 1969, LGBTQ+ people still face discrimination, abuse and marginalisation in their daily lives.
A school in Los Angeles had planned an assembly for Pride 2023, but protestors gathered at the school and "chanted anti-gay slurs", which lead to fights breaking out. This is not an isolated event, with absence protests taking place in Canada.
Official UK hate crime figures for 2021/22 show "a 41% increase in hate crime against LGB people and a staggering 56% increase in transphobic hate crimes in this country over the last year" according to Galop.
This trend has been going on for almost a decade, with "hate crimes related to sexual orientation and gender identity" increasing year on year since 2015, as reported in the Guardian.
But what can we do?
Here is Kaleidoscope's list of things you can practically do to help the LGBTQ+ community, depending on how long you have:
Take one minute to add your pronouns to your email signature.
Take three minutes to watch this video on how to be an active bystander.
Take five minutes to write to your MP about banning conversion therapy, INCLUDING for trans people, using this template.
Take 10 minutes to read about being a trans ally with our short, informative leaflet.
Take one hour to complete the University's #BeTheChange Tackling Harassment training.
Take two hours and join a local Pride march.
Take three hours out of your day to learn how to become a better LGBTQ+ ally.
Take a day out and volunteer at Bristol Pride.
Wishing everyone a safe and happy Pride Month from all at Kaleidoscope.