You may have spotted our brand new series of research posters springing up around campus over the past few weeks to coincide with the start of the new academic year.
Recently installed across 13 locations from the East Building to the entrance of 10W, these new window vinyls reflect some of the latest research successes across each of the Faculties, the School of Management and our Institutes.
Glistening in gold in the autumn sun they've been designed as part of the 50th Anniversary celebrations and its 'look further' campaign.
Over the course of the academic year, we'll be telling the individual stories behind each of them in a number of different ways. But, for the time being, here's an overview of the research behind the posters:
'We're ensuring patients get the donor blood they need by improving healthcare systems'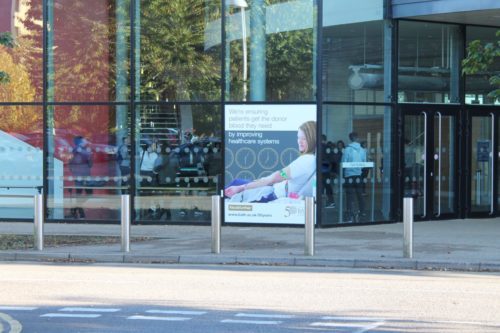 Some of the latest research through our School of Management's Centre for Healthcare Innovation & Improvement is focused on improving the blood supply chain within the NHS. Led by Dimitris Paraskevopoulos, this is using optimisation techniques, derived from management, to organise blood collection and distribution so as to minimise blood wastage and shortage.
'We're making vehicles greener by designing smaller and cleaner engines'
Through the Powertrain and Vehicle Research Centre we've been conducting cutting-edge advanced engineering research for the past 40 years. One project the PVRC has been involved in is around engine downsizing - pushing existing internal combustion engine technologies to the limit by installing smaller, cleaner engines that still meet driver's performance expectations. The work is led by Chris Brace.
'We're looking further into space by learning more about black holes and big bangs'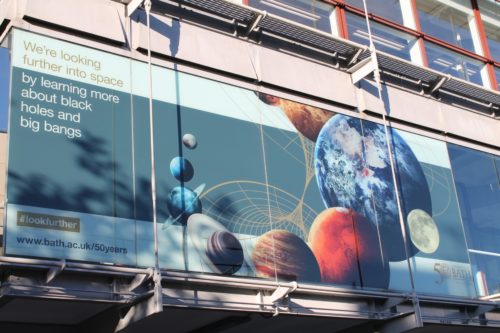 A comparatively new area for the University, the Bath Astrophysics Group, headed by Carole Mundell, addresses fundamental questions about some of the most violent processes in the Universe, in particular the physics of black holes and their environments. Through the Group we're finding out more about the dynamics of galaxies, the physics of star formation and, as the library poster highlights, the role of black holes in galactic evolution.
'We're uncovering future sports stars by biobanding young players'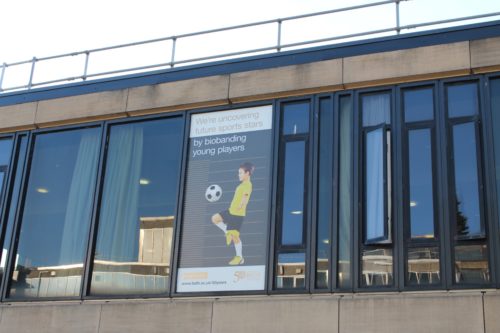 The idea of banding young sports players by their biological age, as opposed to their chronological age, is something that's gaining interest among a host of sports teams around the world and it's something our own Health researchers are leading the charge on. Sean Cumming has already worked with football teams in the Premier League and is now working with Bath Rugby among others to showcase how biobanding could help reduce injury risk and ensure late developers aren't missed by talent scouts.
'We're treating waste water by farming algae'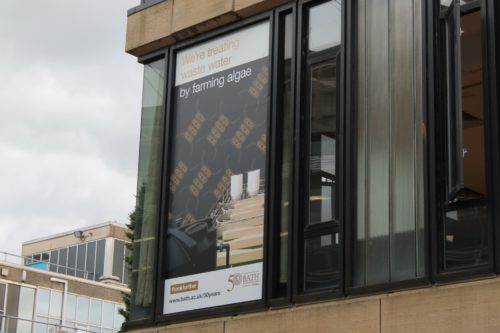 Water research at Bath, led through the Water Innovation & Research Centre (WIRC), is bringing together researchers from around the University to tackle key challenges faced by industry and wider society. Treating waste water is one such challenge. By harnessing expertise from Chemical Engineering and Biology & Biochemistry, via Tom Arnot and Rod Scott, we're helping water companies like Wessex Water use natural systems like algae to clean water.
'We're mapping global air quality by unlocking the power of big data'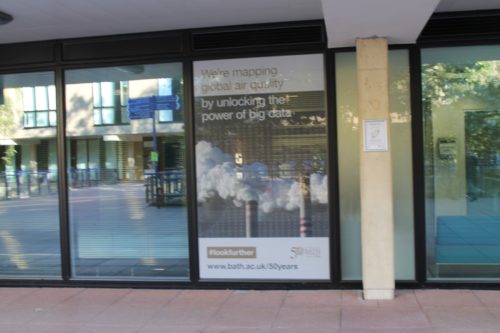 As our new research poster on the Roper Centre was installed, news was breaking around the world linked to a new air quality model released by the WHO that estimates that 92 per cent of the world's population live in areas where levels of air pollution exceed WHO limits. The model was developed by the WHO and the University in collaboration with an international team of scientists. The research was led by Gavin Shaddick of Department of Mathematical Sciences and Deputy Director of the Bath Institute for Mathematical Innovation (IMI). You'll find out more about the story here.
'We're learning how robots can help humans by making friends with Nao'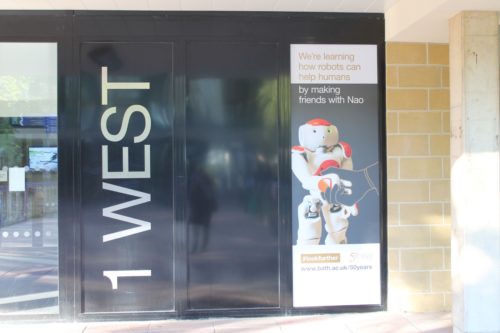 Across the Departments of Psychology and Computer Science we're working on projects related to future robotics and Artificial Intelligence. If you haven't met our own humanoid robot 'Nao' yet – who is based in 10W – do! We're working with Nao to study human-robot interactions and our poster refers to a study released in 2015 on the importance of shaking hands when striking deals through telepresence, led by Danae Stanton Fraser and Chris Bevan.
'We're improving rehabilitation for injured service personnel by using motion capture technology'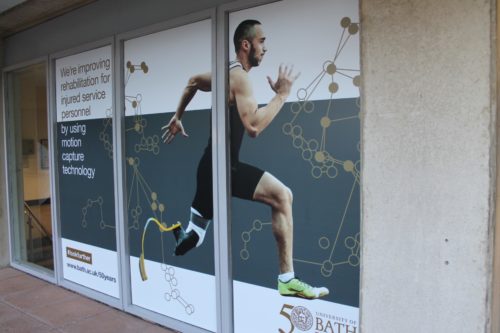 Links between the Department for Health and the MoD and Hedley Court stretch back a long way, but through the new Centre for Analysis of Motion, Entertainment Research & Applications (CAMERA) – based within Computer Science – our two departments are teaming up to use CGI techniques with a view to making big advances when it comes to designing future prosthetic limbs. This work involves James Bilzon, Polly McGuigan and Darren Cosker.
'We're protecting the rainforests by developing a yeast alternative to palm oil'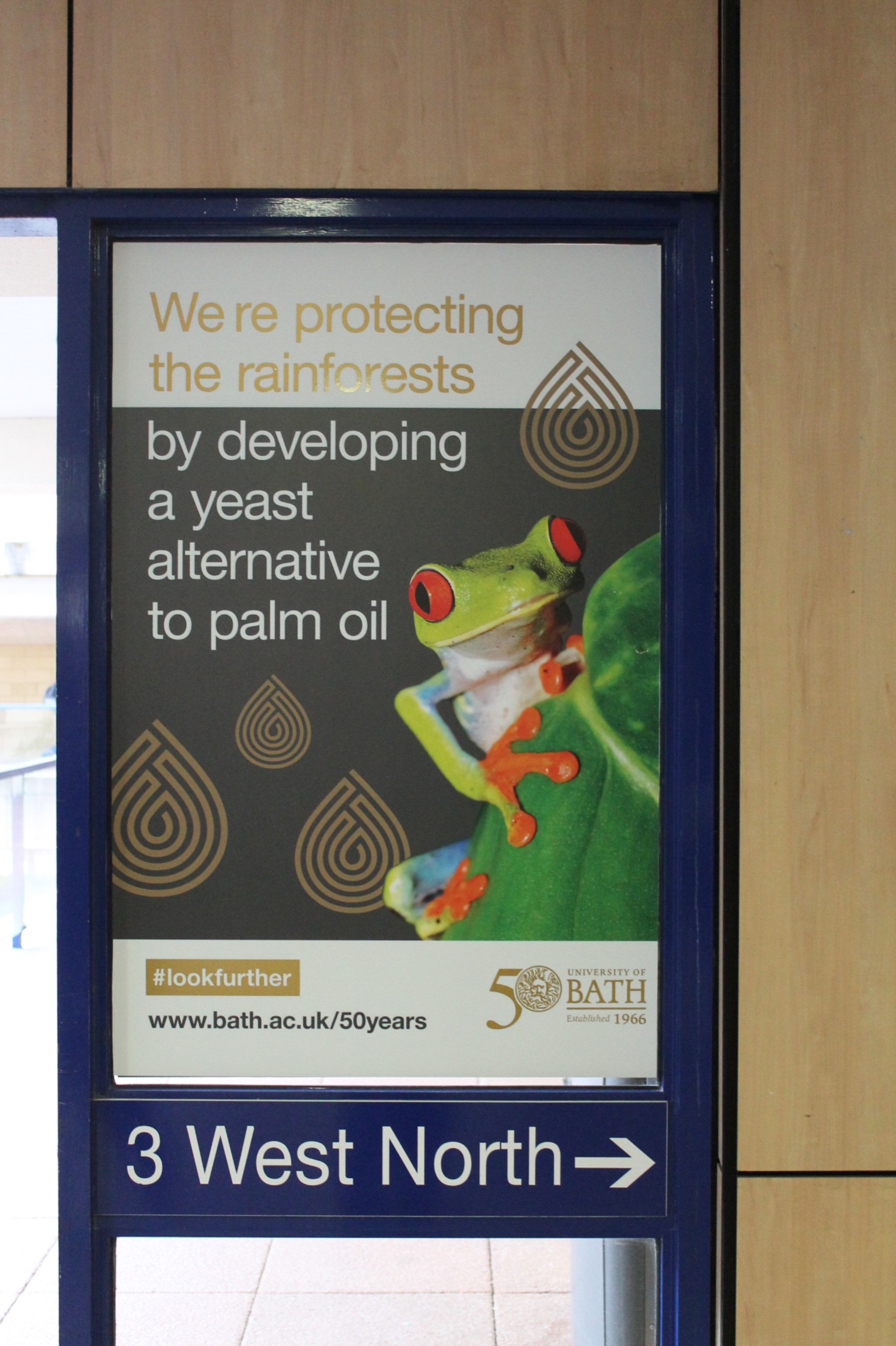 Increased global demand for palm oil products has led to widespread deforestation, particularly in areas of South East Asia. Our work, led by Chris Chuck in the Centre for Sustainable Chemical Technologies, aims to develop the first ever yeast derived alternative to palm oil on an industrial scale. When news of Chris' latest £4.4 million grant was released last December it attracted widespread global coverage; even appearing on an episode of the popular US series Grace and Frankie earlier this year.
'We're helping doctors fight infection by inventing wound dressings that glow'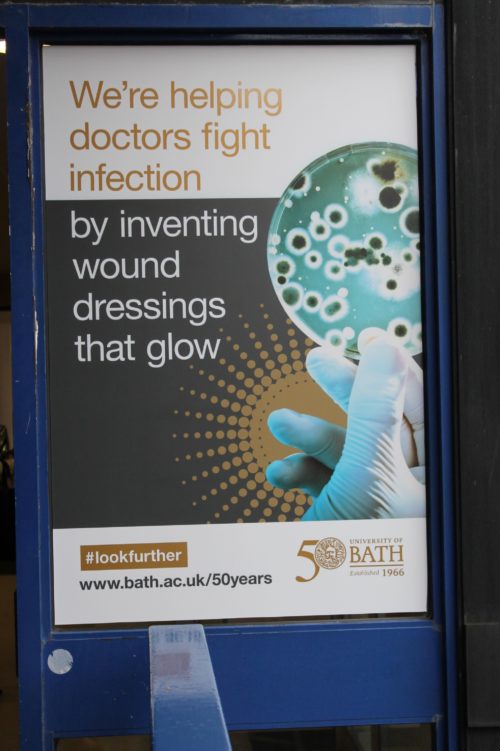 Research to develop a new type of anti-microbial burns dressing was started a number of years ago by Toby Jenkins but over recent years the project has accelerated with lots of external interest. The potential impact of the dressing developed by  Toby and colleagues in improving infection diagnosis, speeding up treatment and cutting antibiotic use is enormous.
'We're enabling female farmers to find their voice by helping them tell their Fairtrade stories on film'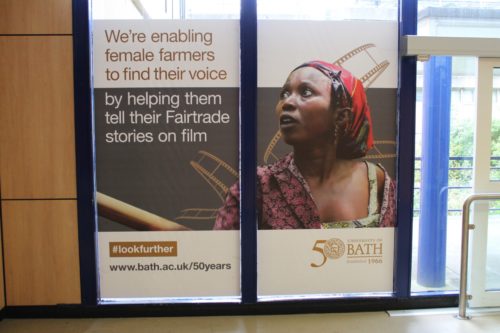 Roy Maconachie spent summer 2015 in Ghana teaching female farmers about the power of documentary-making and helping them tell their stories on camera. They particularly focus on the impact of Fairtrade on their livelihoods and the challenges which remain to promoting greater gender equality in agriculture in the country. Roy's film, has been seen around the world and is already having important impacts in shaping future policy and practice.
'We're protecting children by exposing hidden online advertising'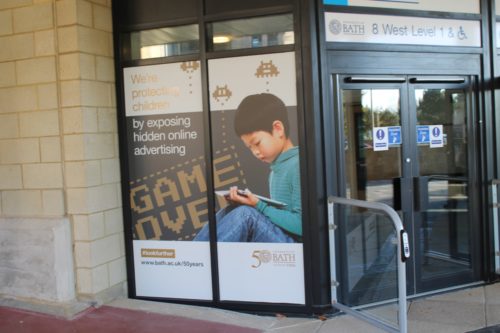 An IPR Policy Brief released in 2014 and authored by Haiming Hang in our School of Management highlighted serious concerns about 'advergames'. The report pointed to how companies were exploiting a regulatory loophole to target children with video games, promoting food and drink products that are high in salt, sugar and fat. It called on the government to act to protect children from the subconscious effects of these online games.
'We're helping the blind by seeing with sound'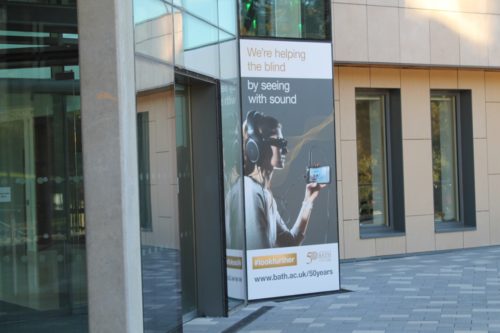 Michael Proulx and colleagues in Psychology are involved in research into sensory substitution. One of the main projects they are working on uses a device called 'The vOICe', something which creates a soundscape from an image to help blind people map their world based on the sounds they hear. Their work has huge applications and has received extensive global interest.
We hope you like the new posters. Please help spread the word by tweeting the images, links to our new 50th Anniversary website and #lookfurther.