Progress to date
Main build
Despite minor set backs due to high winds and bad weather the project is on schedule.
The final installment of ground floor slabs is complete.
Installation of the building frame and columns has started and is making good progress.
Wheel washers are in constant use at the site entrance. Construction vehicles are having wheels washed down before leaving the site in order to protect Convocation Avenue.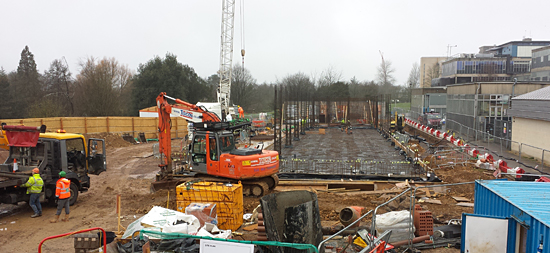 Energy Centre
The Energy Centre structure is complete, water tight and is now fully energised.
The existing Energy Centre is gradually being disconnected and all transfers are underway.
HV and LV power is live and under a University permit to work.
Progress in the coming period
Following completion of the ground floor slabs, construction of the first floor will commence.
Installation of a tarmac band around the site will commence to allow safe access to site.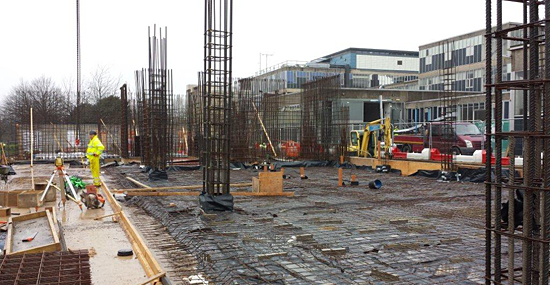 Health & Safety
Zero injury accidents.
100% score in safety audit.
Ongoing reviews to optimise safe construction methods and improve risk management
Environmental
99.9% of site waste to date diverted from land fill.
Bristol & West Archaeology have been in attendance during excavation works but to date, nothing of archaeological value has been identified.
Continued discussions and research to use more environmentally friendly construction materials
General queries can be addressed to estates-helpdesk@bath.ac.uk
Please also see Campus investments webpages and Estates webpages