Progress to date
Main build
The concrete structure for level 1-2 has been completed with level 3 due to start in July.
Works have started on the internal fit out, with some corridors and plant rooms ready for the first fix electrical installation, due to take place in the next month.
Next week construction of the new data centre, which will be the hub for the campus, begins. This will take approximately 26 weeks to complete and it will be ready for testing early next year.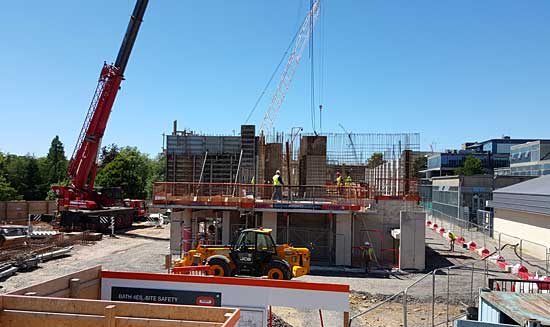 Energy Centre
The Energy Centre is complete and fully energised.
This building will be handed over to the University during July together with part of the access road.
Health & Safety
Zero accidents on site; the team has received 100% score in the safety audit.
Ongoing reviews are underway to optimise safe construction methods and improve risk management, including safety measures regarding working in high temperatures.
Environmental
99.9% of site waste to date continues to be diverted from landfill.
Did you know...?
In July 2015, we have students from local schools visiting the site to gain an understanding of construction processes.
General queries can be addressed to estates-helpdesk@bath.ac.uk
Please also see http://www.bath.ac.uk/campus-investments/ and http://www.bath.ac.uk/estates/