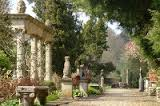 The Peto Garden at Iford Manor in Wiltshire won the Historic Houses Association/Christie's 1998 Garden of the Year Award given in recognition of a garden, outstanding both for its horticultural and public interest. The garden was designed by Harold Peto in 1899 who was particularly attracted by the charm of old Italian gardens, where flowers occupy a subordinate place amongst the cypresses, broad walks, statues and pools. The current owners have restored the design and planting in accordance with Harold Peto's vision. To find out more, join us for an exclusive tour of the garden followed by a glass of wine/ soft drink and light refreshments, and a chance to explore the garden further before it opens to the public. Participants will need to find their own way to Iford Manor.
Cost £16 for adults, £8 for children.
Contact Ann Linfield for more details.