The Department of Development & Alumni Relations help our graduates to stay connected with the University of Bath and each other. We also fundraise for a wide range of causes at the University, including scholarships, research and student experience.
Siôn Lutley was Director here from 2007-11. He's also a graduate (BSc Economics 1992) and a long-standing supporter of the Alumni Fund. Siôn shares how his time as a RAG Sabbatical Officer led to a career in fundraising, and his memories of Bath as a student and later as a member of staff.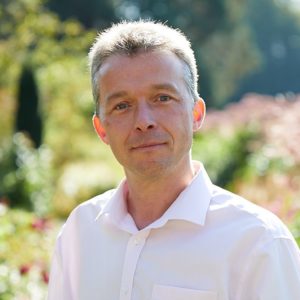 Why did you choose to study at Bath and drew you back to work here?
I have to admit that my choice of Bath as a place to study was down to a combination of luck, a recommendation from a friend's mother and the right A-level offer – there was very little research to make it a more informed decision!
Having loved living in the city while a student, it was an easy decision to return to here to work. It's a great university and I came with an inbuilt knowledge of its history and what it was like to be a student, so could hit the ground running when I started.
What were the highlights of your time at Bath?
Highlights while being a student are too many to list, as I was involved in so much during my four years here. My lecturers would definitely say I was involved in too many extra-curricular activities and clubs, including organising Freshers' Week and numerous roles within RAG. Overall, it was a fantastic time packed with new experiences and with so many lifelong friendships formed.
As for my time returning to the University 15 years later, my greatest impact was through building a team that went on to do so much to engage alumni and help encourage the philanthropic donations that had a tremendous impact on the institution, its students and the outcomes of its research. Although helping to raise the University's first million-pound gift was a particular highlight.
Describe your career journey since graduating. Which aspects of your time at Bath have served you best during your career?
In brief, a year post-graduation as RAG Sabbatical Officer led into a career as a fundraiser, initially for charities, then universities and more recently as a consultant working with great causes and institutions around the world raising millions of pounds, euros and dollars. I think the variety of experiences I had at Bath helped give me to gain a diverse range of skills that, combined with the ability to cope with unexpected challenges and opportunities, gave me a great platform for what came next during my career.
What was your biggest achievement while at the University?
I do feel very proud of being part of the team that had a record year raising funds when I was RAG Sabbatical in 1992-3. We raised over £90,000, which wasn't bad for a bunch of students doing all manner of things in their spare time. I don't think this total was ever beaten – although I'm happy to be corrected! The thing was that we had so much fun while doing it, or at least I've forgotten the less enjoyable parts.
What do you think people ought to know about the University of Bath that most currently do not?
My career has given me insights into many universities, in the UK and around the world, and although there are some similarities that all universities share, and the vast majority of students have a great time, no matter where they study, I can't help but feel that the University of Bath is a particularly close community where people, whether staff or students, have the opportunity to try new things and create their own opportunities.
As a long-standing supporter of Bath's Alumni Fund, what motivates you to donate? 
I think engendering a culture of philanthropy and giving back, when you're able to, is so important. I had a great experience studying at Bath and it gave me the foundations for a highly enjoyable life over the past three decades, for which I'm very grateful.
I give because I enjoy helping others make the most of the opportunities that the University of Bath can offer them. I believe that the Alumni Fund is the best, and easiest, way for me to do this. I trust the University to spend my money well and with impact.
If you're in the fortunate position to be able to make a gift of any size, don't give because you feel pressured to do so or that it's an obligation, give because you'll enjoy the experience and the fact that you'll be helping others.