Matt Walker has been working as a Software Engineer at Sky in Leeds, UK, since joining their graduate programme in 2019. He shares his recollections of the mouse race, placements and getting the balance right...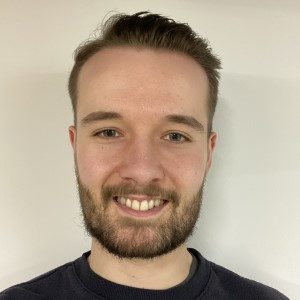 Why did you choose to study at Bath?
I chose Bath due to it being a top university for my course, and I also really liked the University when I came to look around it for the open days. Bath is a fantastic city to study and live in, and there are other great places on the doorstep such as Bristol.
Did you have a particular career in mind when you chose your course?
I was very unsure of what exactly I wanted to do until my final year. I knew I wanted to do something to do with programming – though I was not sure to what extent, nor what type of programming.
Can you tell us about your experience of studying here? Any favourite memories, or places to go on campus and in the city?
I made tons of great memories here, both on and off my course. More importantly for me, I've made a lot of friends for life. Highlights outside of my course were many film and card nights with flatmates, as well as a lot of trips to Komedia and Moles for nights out. Also being involved with the Northern Society in my final year!
There are a lot of things I enjoyed from my course, too: doing well in the second-year 'mouse race', studying the Computation Intelligence module, designing my own microelectronics circuit, and working on my final-year project.
Describe your career journey since graduating. What is a typical day like in your current role?
Since graduating, I've been working at Sky as a Software Engineer, and am currently a Mid-Level Developer. I've thoroughly enjoyed working here and it's been a great place to start a career because everyone is friendly and happy to help you learn.
The main thing I have worked on is building a new login system for Sky's website, which is also featured on the purchase journey for the new 'Sky Glass' product. Another accomplishment I'm proud of working on here was running the graduate scheme the year after I went through it myself.
A typical day involves meetings, collaborating with other members of my squad on code fixes and new features, and designing solutions for requirements.
I'm currently in the process of changing jobs to work at a fintech start-up in London as a Senior Developer. I've not yet started, but my day-to-day work will involve managing other team members and working on components that our clients can use to build financial systems.
How did your studies help to develop you, professionally and personally?
Electrical & Electronic Engineering is a good course to study because you experience a wide variety of topics and can really find out what you're interested in. There's also a good mix of practical and theoretical work. To be honest, I don't use a huge amount of the theoretical knowledge day-to-day because I slightly shifted industries after graduating. However, the course gave me foundational skills such as general problem-solving and the ability to pick up new skills easily.
From a personal point of view, university helped me learn how to live on my own and look after myself, discover who I am, and build key skills such as communication. I am a lot less shy and more outgoing than before I went to university and that has helped me in many areas.
I did two placements – a sandwich year at Intel as a Physical Design Engineer, and a summer placement at Sky as a Software Developer. Both were great, but I realised from doing both that I wanted to work in a role similar to the one at Sky.
What advice would you give to prospective students thinking about studying your course at Bath?
I can't recommend doing a placement enough. It's anecdotal evidence but I found that everyone I knew who had done a placement had a far easier time getting a job at the end of their degree.
My other bit of advice is to really work hard on the balance between studying and having fun. Don't do no work for the first few years and think you can save your degree at the end, because even if you do manage to scrape through you won't really have learnt anything properly!
On the flip side, though, it's also very important to go out, have fun and try new things – it will stop you from burning out. Striking the balance is very important and I found people who did had a much better time at university overall compared to people who did way too much of one or the other.