Nageen Javaid (BSc Accounting & Finance 2020) is a Multi-Asset Research Analyst at Invesco, based just outside of Reading. She shares her memories of Bath Entrepreneurs, good advice and milkshakes by the lake.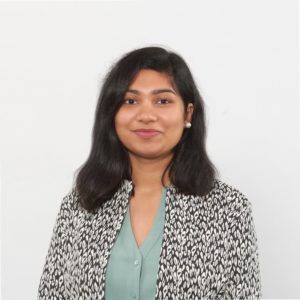 Why did you choose to study at Bath? 
When I applied, the University was ranked as the top three universities for my desired course: Accounting and Finance. I was also keen to opt for a placement year, so the dedicated placements team for the course made Bath stand out. The picturesque location was just an added bonus!
Did you have a particular career in mind when you chose Accounting and Finance?
I knew I wanted to work in finance but had no particular specialisation in mind. Having a wide variety of modules to choose from helped me to learn about different areas within the industry and find my area of interest – investment management – which I later pursued.
Can you tell us about your experience of studying here? Any favourite memories, or places to go on campus and in the city?
Being part of different societies, I got to meet people with different interests and made friends for life. Participating in the Bath Entrepreneurs event, Launchpad, including as project manager in my final year, was one of my favourite memories. Being with the same group of people for over 24 hours made me get to know my team well and helped me understand the steps involved in a start-up.
Summers in Bath were always a highlight, too – walking down Bathwick Fields during sunny evenings and enjoying an immaculate sunset never disappointed! Grabbing a milkshake from the Parade Bar and enjoying it by the lake between lectures was one of the best ways to relax and catch up with friends.
What was your experience as an international student studying in the UK? Do you have any advice for others?
As an international student from Pakistan, I found the city of Bath the right size to explore without getting too overwhelmed by the choices. There is also a large proportion of other international students and a number of services available on campus.
I would highly recommend studying in the UK, as the competitive learning environment shaped me to tackle any challenges with a creative mind and to take ownership of starting my career.
My advice for other international students would be to take advantage of the events that happen around the campus, especially during the holiday period if you're not planning to go home.
Describe your career journey since graduating. What is a typical day like in your current role? 
I currently work as a Multi-Asset Research Analyst at Invesco, the investment management firm, where I also did my placement year.
My role is focused on staying up to date on the macro-environmental trends across the globe and keeping a close eye on the broader themes like inflation, interest rates and geopolitical risks. On a daily basis, I support the fund managers with the latest market trends and navigating the portfolio's exposure to these.
Environmental, social and governance is another growing theme within the industry and I'm responsible for producing research and analysis on the topic for our existing portfolio.
I split my day by focusing on reports on portfolio-specific analysis and price movements, and dedicating the rest of the time to read about the market changes and reaching out to investment bankers for their views, while managing business-as-usual meetings in between.
How did your studies help you to develop?
A number of module choices in my final year provided me with the opportunity to focus on elements I now use on day-to-day basis, for instance, the module on derivatives and behavioural finance.
Regular check-ins with my personal tutor, Professor David Newton, helped me in navigating how to best make use of my time at university and to enhance my employability. I still recall how, in our first meeting, he mentioned never to underestimate the power of consistent approach and organisational skills, which has always stuck with me.
I secured a year-long placement with Invesco during my third year. During my time rotating within the Finance and Corporate Strategies department, I learned about the industry and different career paths. Through making connections during this year, I secured a full-time job within the Multi-Asset Investment team directly after finishing my final-year exams.
What advice would you give to prospective students thinking about studying your course at Bath? 
My suggestion would be to choose the course where your interest lies, as it makes the journey easier if you're spending most of your time learning what you're passionate about. Once you've chosen your course, reach out to peers and professors with curiosity, as university is the best time to ask tons of questions!
The time passes by quicker than you expect so make most of it in the beautiful city – it can be intense, especially around exam periods, but Bath is full of nice walks to relax. There are also so many activities happening on campus all the time, so try something new and don't be scared to go to an event by yourself – this is how you make new friends.