Toby is Professor of Chemistry in our Faculty of Science and Principal Investigator at SmartWound, a University of Bath spin-out company working to reduce antimicrobial resistance through early detection and treatment of wound infections. Its first product, a pathogen-detecting swab called SmartWound Resolve, is expected to be commercially available by 2025. 
He tells us about his goals, why students make Bath so special and the importance of funding PhDs...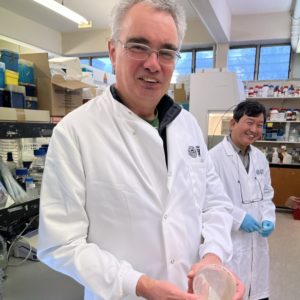 Could you give a brief overview of your research? 
Where we struggle with wound infection is that there's no clinical definition of what it actually is, and diagnosis hasn't moved on too much the Roman Celsus in 47CE:  calor (heat), rubor (redness), dolor (pain) and tumor (swelling). We have tried to better understand wound infection and developed a wound swab that changes colour when it detects the toxins (virulence factors) secreted by bacteria in the wound. You have an indicator solution in a vial, pop the swab in and incubate it in a warming block. If toxins are present in a particular concentration, the solution turns bright green. 
One problem we found with this is that different people see colours in different ways, so we're actually going to have a small meter to convert the colour change into a number, which is much better as it takes away any ambiguity. 
What brought you to Bath and when did you join the University?  
I joined in 2000 after having done a postdoc in Germany at the Max Planck Institute for Polymer Research in Mainz. I didn't think I would ever get an academic job; I didn't think I was good enough, but I thought, 'Well, I'll give it a go'.  
I initially applied for funding for a two-year grant at Newcastle – which I didn't get, but what was really good about that was it made me think about what I would do to get a grant and led me to write an outline plan for research. In fact, when I got the job here I didn't do any of it, but never mind! 
When I came to Bath for an interview, it was so different and so friendly, so lovely. I just felt really comfortable here and I was completely myself. When I started in September 2000, someone said to me, "The Dean thinks you're here to bridge the Chemistry- Biology interface," which I thought was actually a really good idea. 
Name one thing that makes you feel proud to work for the University of Bath?  
I think it's our students. It's a bit of a cliché, but we have such good students and it makes the job really pleasurable. I run a lab class for second-years (and have done for 22 years), which is good fun. We've got a new technician, and she was working in a school before. She said to me: "The students are amazing; they just get on with it." 
That matters because it affects the whole culture and atmosphere of a place, and a lot of our undergrads then become PhD students. There's kind of an understanding of the unwritten contract between staff and students, and I like the fact it's unwritten.  
What would you most like to achieve with your research? 
Oh, that's an easy one. I'd like to have at least one device that we've developed go right the way through to clinical use for patient benefit. That's what I told the Vice-Chancellor a few years ago when I first met him. I said, "If I can do that, I can retire happy." Hopefully more than one, but in all probability it might just be one! 
What would you say to people considering making a gift to Bath? 
I would say that you can be confident that the money will be well spent, particularly if you can think about helping to support PhD students. That, in my view, is the most efficient way of converting raw cash into output. Not only are they the next generation of future scientists and leaders, but also they're the infantry for our research effort. They do the hard work on the ground and without PhD students, we're absolutely stuffed.