In late January, we held the University's first conference dedicated to Public Engagement with Research (PER). Seeds of Change saw over 60 researchers and professional services staff gather to share their experiences of public engagement, to learn more about national perspectives (particularly those of the Research Councils), and to hear from some of the many local community partners we've worked with in recent years.
It's been almost five years since the Public Engagement Unit was launched during which time, we've funded over 50 engaged research projects. The conference provided an opportunity to critically reflect on these and other PER experiences and to create a step-change in delegates' public engagement work.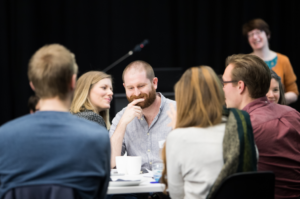 We were fortunate to hear from a range of public engagement experts. The conference kicked off with reflections from our current and previous winners of the Vice-Chancellor's Award for Public Engagement with Research. Drs Paul Shepherd (Architecture & Civil Engineering), Sarah Bailey (Pharmacy & Pharmacology) and Kit Yates (Mathematical Sciences) shared reflections on what PER had done from them. From increasing their confidence, to sourcing collaborators, from thinking about new ways of communicating, to raising their profile and from recruiting PhD students to developing grant writing skills, it was clear that PER had offered that a lot!
We then heard from the following key figures influencing public engagement at a national scale:
In particular, the speakers addressed the future opportunities and challenges facing the PER agenda including Teaching & Research Excellence Frameworks and the impact of Brexit.
The afternoon sessions in the conference gave space for delegates to raise and address their own critical issues in relation to PER and to hear the experiences of some of our regular non-academic collaborators drawn from: 44AD, Fringe Arts Bath, Bristol Natural History Consortium, At-Bristol and the Holburne Museum.
It was great to have the conference fully booked and to see so many researchers enthused by PER. Ideas generated from the event will be helpful as we plan the sustainability of our Unit beyond 2018.