Joanna Wright is a Visiting Researcher in the Department of Social & Policy Sciences. She received a bursary to attend Communicate 2017, the UK's conference for environmental communicators. Below, she shares her experience of an 'Art Changes People' session given at the conference.
In the whirlwind of lectures, talk, chatter, discussions, seminars at Communicate 2017, the Rainforest Room at Bristol Zoo hollered my senses at a toolbox session on the subject of Art Changes People given by Tim Goodwin of Human Nature and ATM, an artist.
Tim's core belief is "to make art that inspires and engages people on the environment commonplace and to have a positive impact". Tim believes that provocative and idea-driven art can transform our relationship with the natural world. Human Nature want to run projects with artists making art in local spaces where everyday people are everyday.
Tim talked about a recent project working with graffiti artist Louis Masai on the project called the Art of Beeing which has highlighted the extinction crisis by putting up murals in major US cities from New York to Phoenix. These large and wildly colourful spray painted walls show a creature on the brink of extinction with text giving information on their present situation.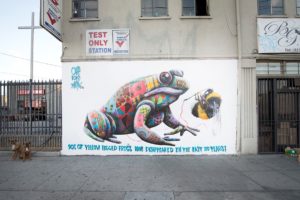 Some of Louis Masai's art. The text reads: 90% of yellow legged frogs have disappeared with in the last 100 years.
Tim was followed by the artist ATM who paints with brushes onto walls rather than sprays with cans. ATM had a great love of birds and was painting large murals on very public spaces in the UK to highlight habitat loss for many species. ATM did not put any text with his murals and this became a subject of debate by those attending. Some felt that images need text to explain them to the viewer, to make the image more understandable, the reason more coherent. Others, including myself thought that the image was enough. The sheer beauty gave a space in which the public would want to find out more. Does every image have to be explained through a caption card or is it more important to pull the public in and make them think where are all the sparrows?
Tim and ATM want to take these paintings further and put them in places where people go everyday, car parks of shopping malls, retail parks. Art to become the fulcrum for change.