The winners of the Vice-Chancellor's Engage Awards with chair of the Judging Panel (left to right), Dr. Alinka Gearon, Dr. Jade Norris, Mrs. Margaret White, Dr. Janet Bultitude, Dr. Sally Adams and Dr. Frances Laughton
Running since 2013, the Vice-Chancellor's Engage Awards recognise the fantastic efforts that University of Bath researchers are doing to engage public groups beyond the University with their research. This year we received a record number of applicants from all four of the University's faculties with a diverse range of projects from the creation of Toolkits for Parental Engagement in Education, working with disadvantaged communities in Brazil, Mexico and the UK to devise creative methods to engage policy makers, to running workshops with consumers to understand how Deposit-Refund Schemes can play a role in reducing marine plastics by increasing recycling.
With such a competitive field and with exceptionally high quality examples of public engagement, finding just one winner in each of the four categories was difficult for the Judging Panel. But we are thrilled to announce that the winners of the Vice-Chancellor's Engage Awards are...
Informing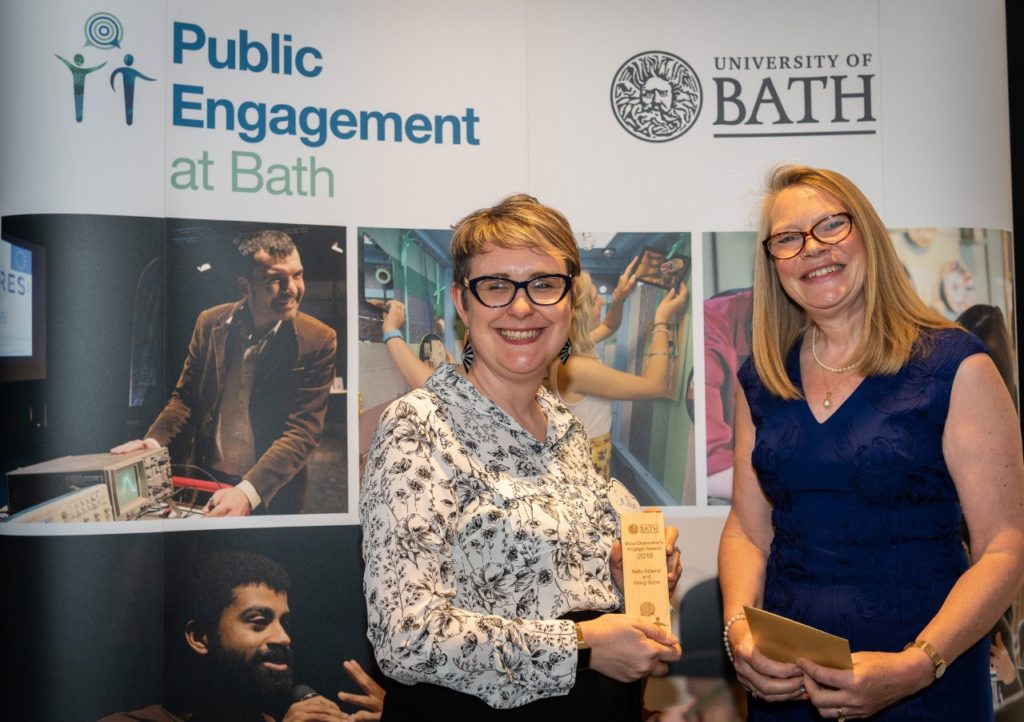 Dr. Sally Adams and Craig Gunn, Department of Psychology
Sally and Craig won the Vice-Chancellor's Award in the Informing category for their engagement work on the effects of alcohol hangovers on the way individuals think and behave. The Panel awarded Sally and Craig due to their hard work capitalising on the media interest in their research publication in September 2018 to create further opportunities and activities to reach a wider public with their research.
Listening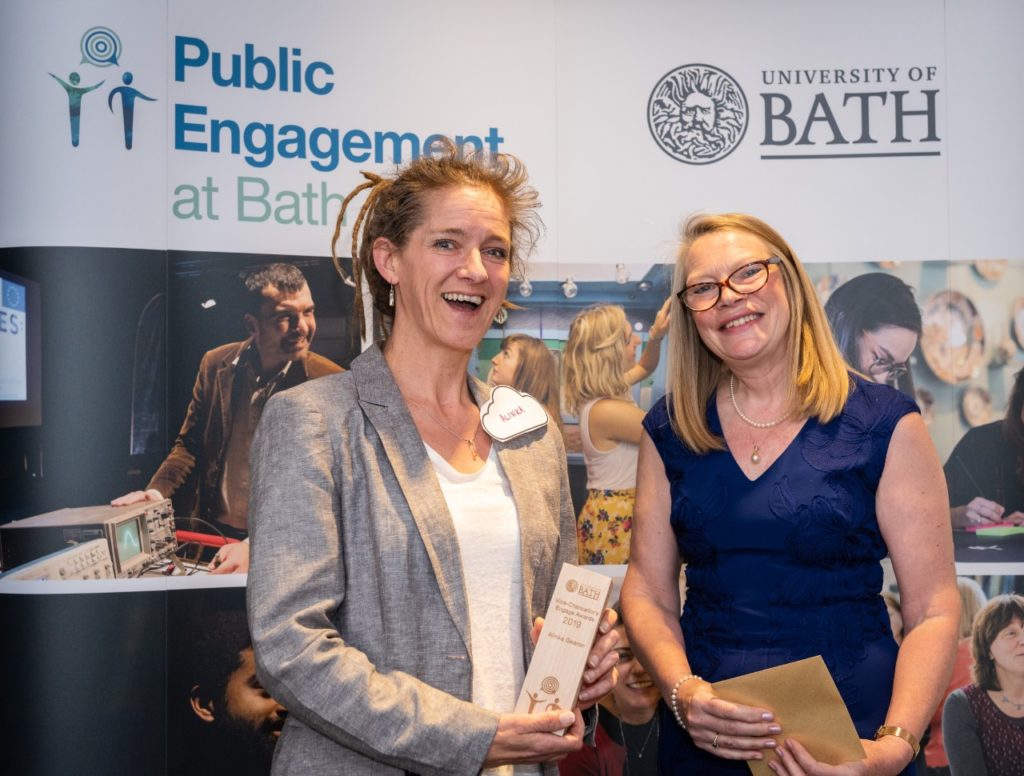 Dr. Alinka Gearon, Department of Social & Policy Sciences
Alinka won the Vice-Chancellor's Award in the Listening category for her project that aimed to listen to and give voice to children and young people who had been trafficked to the UK. The Judging Panel were impressed by Alinka's approach that brought young people and service providers together to improve the services that young people experience and working together with young people to share the results of that work with other service providers.
Working Together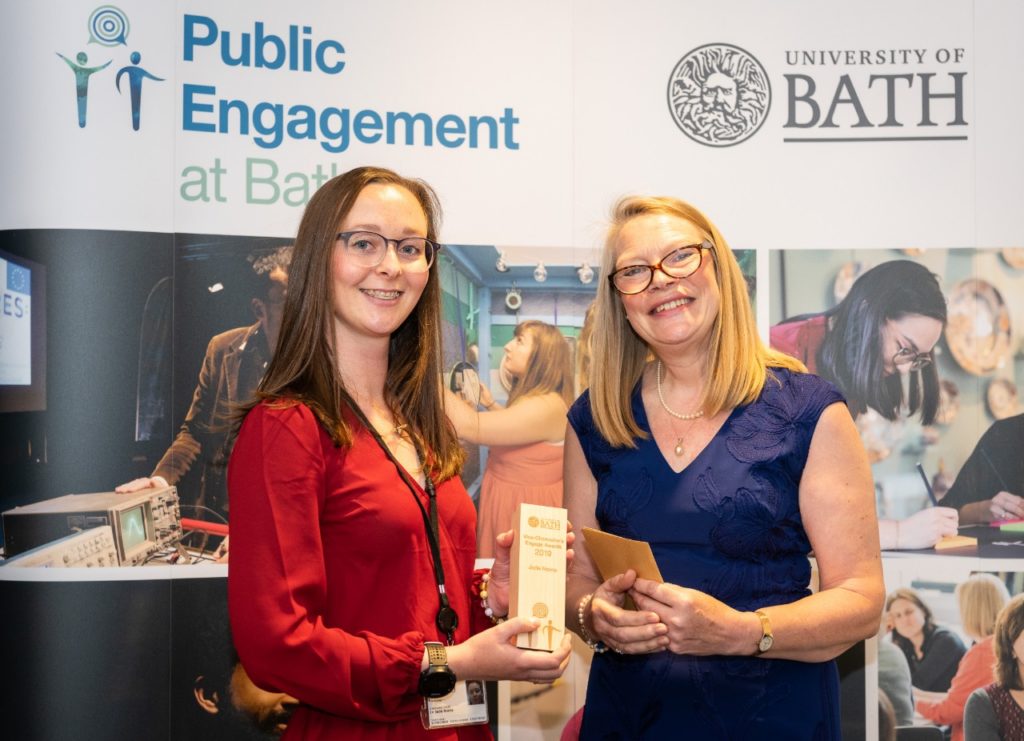 Dr. Jade Norris, Department of Psychology
Jade won the Vice-Chancellor's Award in the Working Together category for her project bringing together people with autism and services such as education providers, the criminal justice system and employers to reflect on the services they provide and making changes to improve how people with autism access them. The Panel awarded Jade for her collaborative approach and how working in this way had a positive impact on Jade's research and her skills as a collaborative researcher.
Leadership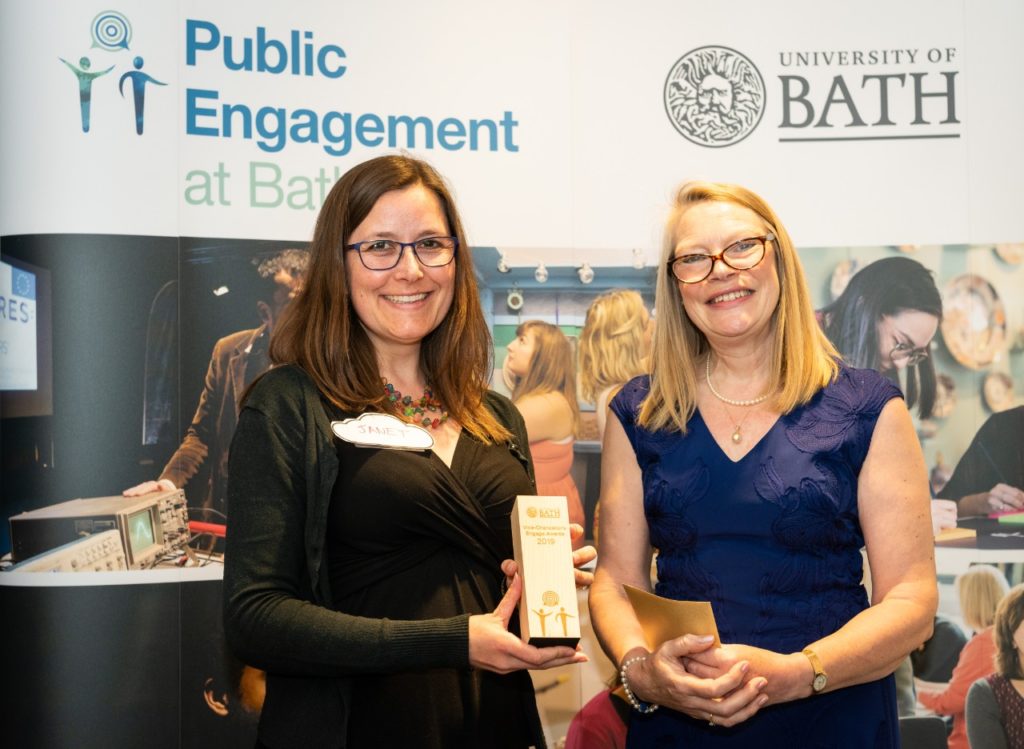 Dr. Janet Bultitude, Department of Psychology
Janet won the Vice-Chancellor's Leadership Award after illustrating how she has led the Department of Psychology in creating a culture where public engagement is supported and nurtured. Janet has worked to develop a strategic approach to public engagement and has put in structures and processes to support her colleagues that responds effective to their needs.
The Leadership Award was awarded to Janet after the panel and audience heard from each of the four shortlisted nominees in this category on "What makes excellent leadership in public engagement with research?".
After much discussion and hearing the experiences of all four nominees it was decided that alongside Janet the panel would create a new award to recognise the pioneering work of another of the nominees who demonstrated an outstanding commitment to embedding public engagement and supporting colleagues in their department over a considerable number of years from before the Public Engagement Unit at the University of Bath even existed.
Special Recognition Award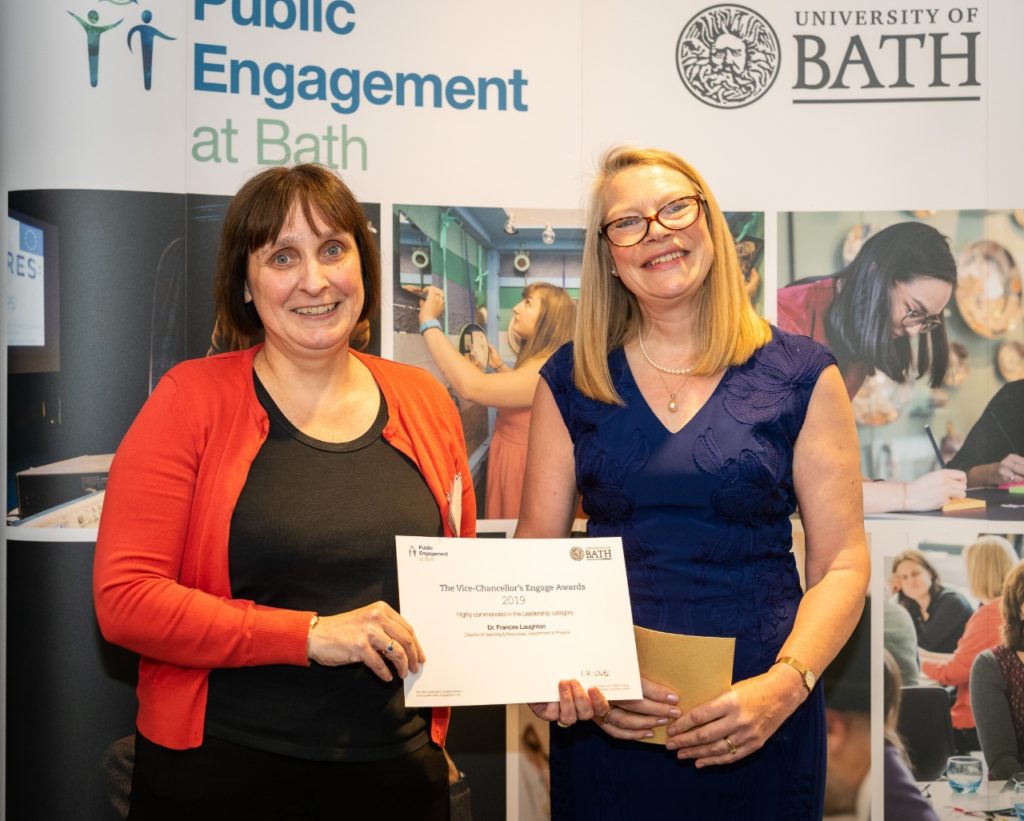 Dr.  Frances Laughton, Department of Physics
In recognition of her dedicated work leading the public engagement agenda within the Department of Physics the Judging Panel during the judging of the Leadership award decided to create and award a new Special Recognition Award to Dr.  Frances Laughton.
Celebrating public engagement 
As well as rewarding researchers for their public engagement work, for the 2019 Awards we wanted to celebrate the achievements of researchers from right across the University and for the first time hosted the Engage Showcase. Together the Engage Awards and Engage Showcase were a fantastic opportunity to bring engagement champions together to share stories and recognise the achievements of colleagues from a wide range of departments working to share their research with public groups.
We would like to take this opportunity to thank everyone who applied for the Engage Awards and contributed to the Engage Showcase and also to the Engage Awards Judging Panel; Mrs. Margaret White, wife of the Vice-Chancellor and President of the University of Bath, Professor Johnathan Knight, Dr Ian Walker, Professor Ventsislav Valev and Suzanne Spicer, Social Responsibility Manager at the University of Manchester.