FUTURES 2019 was a collaboration between the University of Bath, University of Bristol and Bath Spa University and was our second EU-funded European Researchers' Night event. FUTURES took place on Friday 27 and Saturday 28 September 2019 reaching over 6000 people in Bristol and Bath across 13 events. FUTURES was one of 300 events taking place in cities spanning 27 European countries with the collective aim of sharing innovation and research with non-academic audiences.
The Public Engagement Unit secured funding as part of the European Commission Horizon 2020 European Researchers' Night call which allowed us to test out new ideas for engagement activities for researchers at varying levels of engagement experience, offer training and learning opportunities, strengthen our relationships with local organisations and reach new audiences.
This year we built on the learning from FUTURES 2018 and developed and delivered four activities in Bath as part of the event. Working with local venues and organisations including The Holburne Museum, The Bath Royal Literary and Scientific Institution, Kilter Theatre and the Severnside Community Railway Paternership our FUTURES events involved 36 researchers from the University of Bath, University of Bristol, Bath Spa University, Cardiff University and University College London.
Pop-up Science Party
New for 2019, and developed in partnership with Bath Royal Literary and Scientific Institution (BRLSI), the Pop-up Science Party combined science, stand-up comedy, wine tasting and hands-on activities. The party welcomed an audience of mostly 18-25-year-olds who came along to engage with science in an informal setting. We hired a pop-up bar, DJ and decked out the BRLSI in fairy lights, bunting and balloons to create a party atmosphere.
To create the Pop-up Science Party we worked with an events coordinator, Alice Millard, who was based between the University of Bath and the BRLSI. Having an events coordinator allowed us to focus on recruiting researchers whilst Alice focussed on event logistics. It also helped us to work more effectively with the BRLSI as Alice led multiple site visits for researchers and was able to brief BRLSI staff about the event as well as flyering local pubs, shops and community centres.
One visitor said:
"It's a funny way to see into the life of a researcher, with things we can all relate to".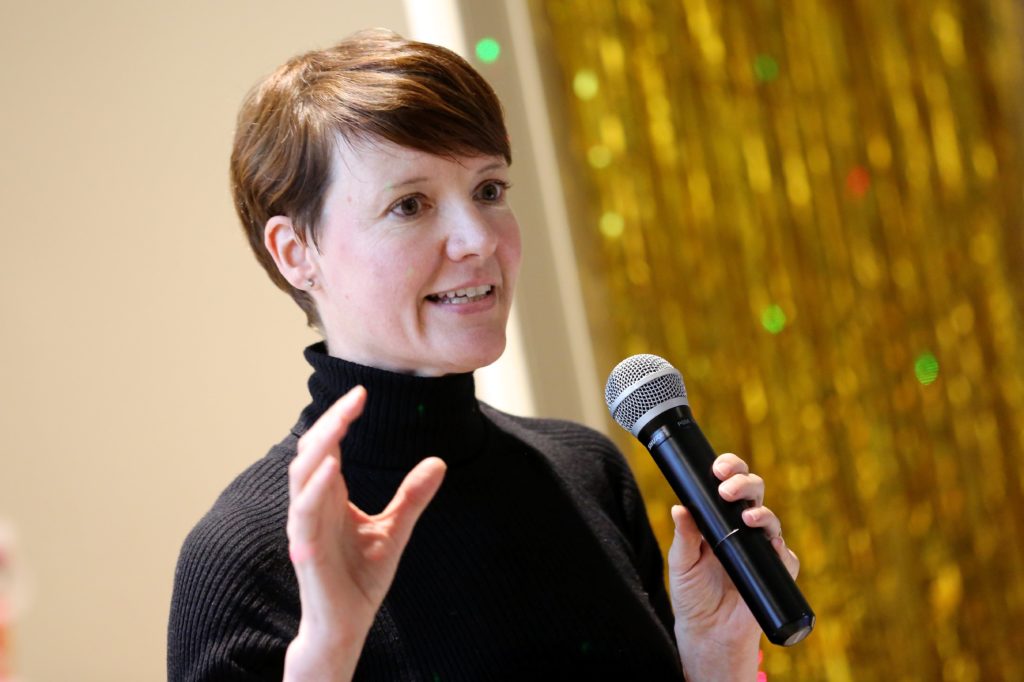 Researchers on a Train
Using 'science busking' and street performance techniques Researchers on a Train took researchers off campus and onto the rail network to engage passengers in conversation about their research. Researchers boarded trains between Bath Spa and Westbury to share their research with over 800 passengers.
We first ran Researchers on a Train as part of FUTURES 2018 by collaborating with the Severnside Community Railway Partnership (SCRP). This year we again worked with the SCRP to expand on the activity by targeting busier trains from Bath Spa to Westbury and to reach audiences that are often underserved by University interventions. The activity also gave us the chance to invite David Price from Science Made Simple to run a Science Busking training session for the researchers taking part.
The experience of the SCRP was invaluable to this activity. They were able to guide us to the best services, provide tickets for our researchers and student ambassadors and accompany our researchers on the train to introduce them to passengers.
One student ambassador who was part of the team observed that:
"People [were] standing to get a better view; lots of discussion; took out headphones; good discussion between strangers".
Up Late at the Holburne Museum
Researchers from the Gender and Sexuality Research Cluster organised a takeover of the Holburne Museum's monthly Up Late event. The Museum remained open until 9.30 pm and 295 guests attended the event on the 'untold stories' of the Museum. Fran Amery (Department of Politics, Languages and International Studies) coordinated the event and we worked closely with the Holburne events team to deliver this event. This involved a trip to the Holburne Museum so researchers could take a look through the collection followed by a creative session to help find a common theme for their activities and link them to the collection. The Holburne staff checked tickets at the door which freed up our student ambassadors to focus on evaluating the event by collecting snapshot interviews and asking visitors to fill out short postcard surveys.
Fran Amery's support for the event allowed us to focus on event logistics with the Holburne Museum and helping researchers develop activities. Fran was then able to develop her event management and leadership skills by recruiting and coordinating a diverse set of researchers from across the University.
One visitor said:
"An eye-opening experience that hit close to home and made me think".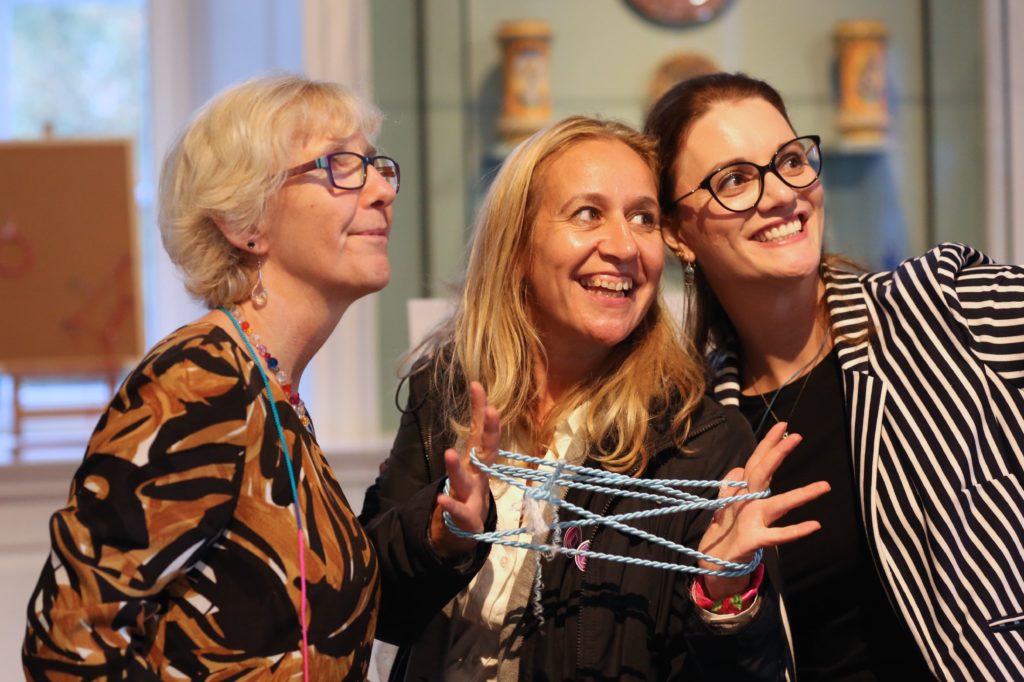 Walking With Scientists
Visitors joined Kilter Theatre and researchers on two guided walking tours which focussed on Bath's rich science history on Saturday 28 September.
This is our second year working with Kilter Theatre to put on Walking With Scientists. Kilter's expertise in walking tours meant that researchers only needed to prepare a 10-minute talk on their topic and Kilter filled in all the gaps with lesser-known stories about Bath's science history which created a rich integrated experience where all the talks formed part of a larger narrative.
Instead of asking questions at the end of the talks walkers were encouraged to speak to researchers when walking between locations. This helped breakdown the power dynamics of a 'lecture' style presentation and allowed researchers to engage in more two-way dialogue with walkers who shared their own experiences of Bath, local history and research.
One walker said:
"What a fantastic was to use the history of architecture of Bath to tell fascinating stories of science. Very interesting and enjoyable. Thank you."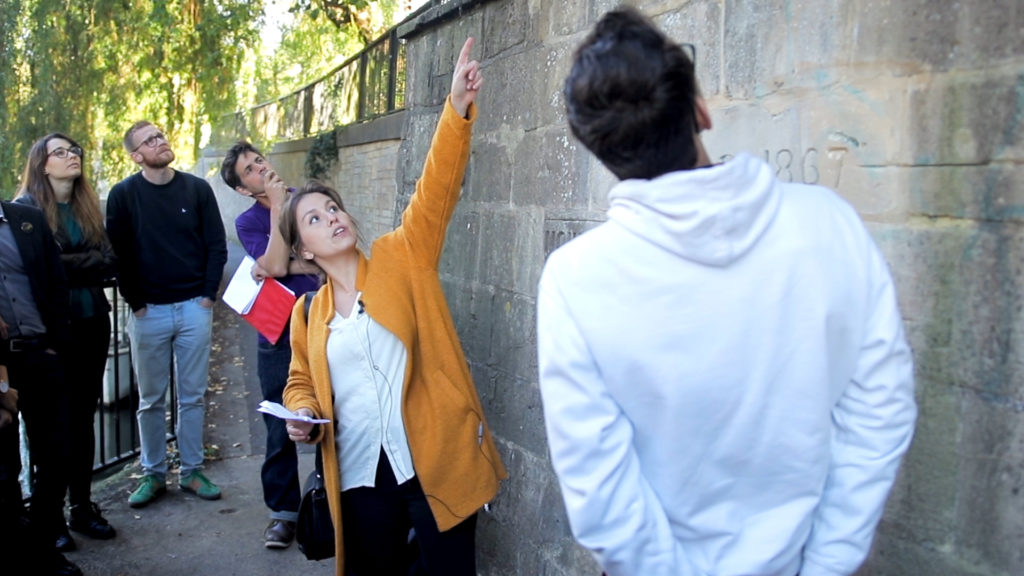 What we learned
Here at the Public Engagement Unit, we are keen to use all of our programmes as learning opportunities and FUTURES 2019 was no exception. Using the feedback from our collaborators, public participants and researchers and reflecting ourselves, we've come up with key learning points we thought would be helpful to share:
1. Testing formats
One of the key success criteria for the funding was the total number of people attending events. We developed an approach to the programme for FUTURES with a few flagship events that we knew would be attended by a large number of people, which gave us the chance to test out events that were a little more innovative, experimental and only accommodated smaller audiences. Getting this balance right in the programme was essential to meet the funder's requirements and our needs to test out new ideas in public engagement with research activities.
2. Sharing research 
The collaboration with the other universities in the FUTURES project not only allowed us to draw on a wider diversity of research subjects for the activities we devised but also opened up more opportunities for researchers at the University of Bath to get involved in the events produced by our colleagues in the FUTURES team. This meant researchers were able to choose from a greater variety of part to find the right event to suit their public engagement skills and the public groups they were interested in engaging with. The FUTURES team developed the training programme so that all the sessions were open to all researchers regardless of which university was running them, offering a greater selection of training opportunities.
3. Collaborative 
Not only was FUTURES a collaborative endeavour from the partner universities, but working in partnership with local venues and organisations allowed us to share skills and expertise in event production. It was important for us that these collaborations were of mutual benefit to our partners and us and so we built in time to work with our partner venues and organisations to make sure we were meeting both of our needs.
4. Capacity
To deliver FUTURES we leveraged the funding to bring in external expertise. We were able to commission Creative Producers and Event Coordinators to lead on producing the larger events in the programme freeing up our capacity in our small team to focus on supporting participating researchers. The funding also allowed us to develop high-quality training by bringing in external experts to run training sessions on science comedy and science busking, providing tailored training for researchers who participated in FUTURES.
Rob Cooper is a Public Engagement Officer at the University of Bath.