Last week the Public Engagement Unit attended the Engage conference run by the National Coordinating Centre for Public Engagement (NCCPE) in Bristol. We hosted three different sessions at Engage one of which was a session I ran on a critical reflection of the value of public engagement awards. 
Each year Engage brings together public engagement professionals from right across the sector to be inspired, challenged and refresh our understanding of public engagement. The theme of the 2019 Engage conference was Disruption. This inspired me to host a session discussing why we run public engagement awards, what challenges exist for awards schemes and how we can overcome them.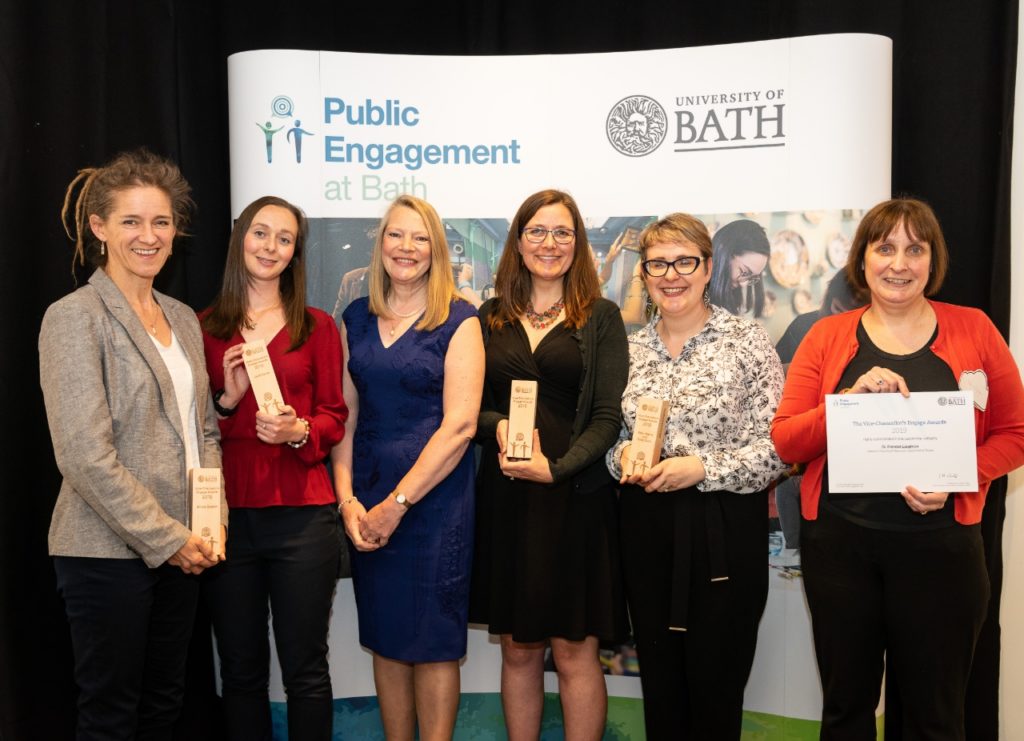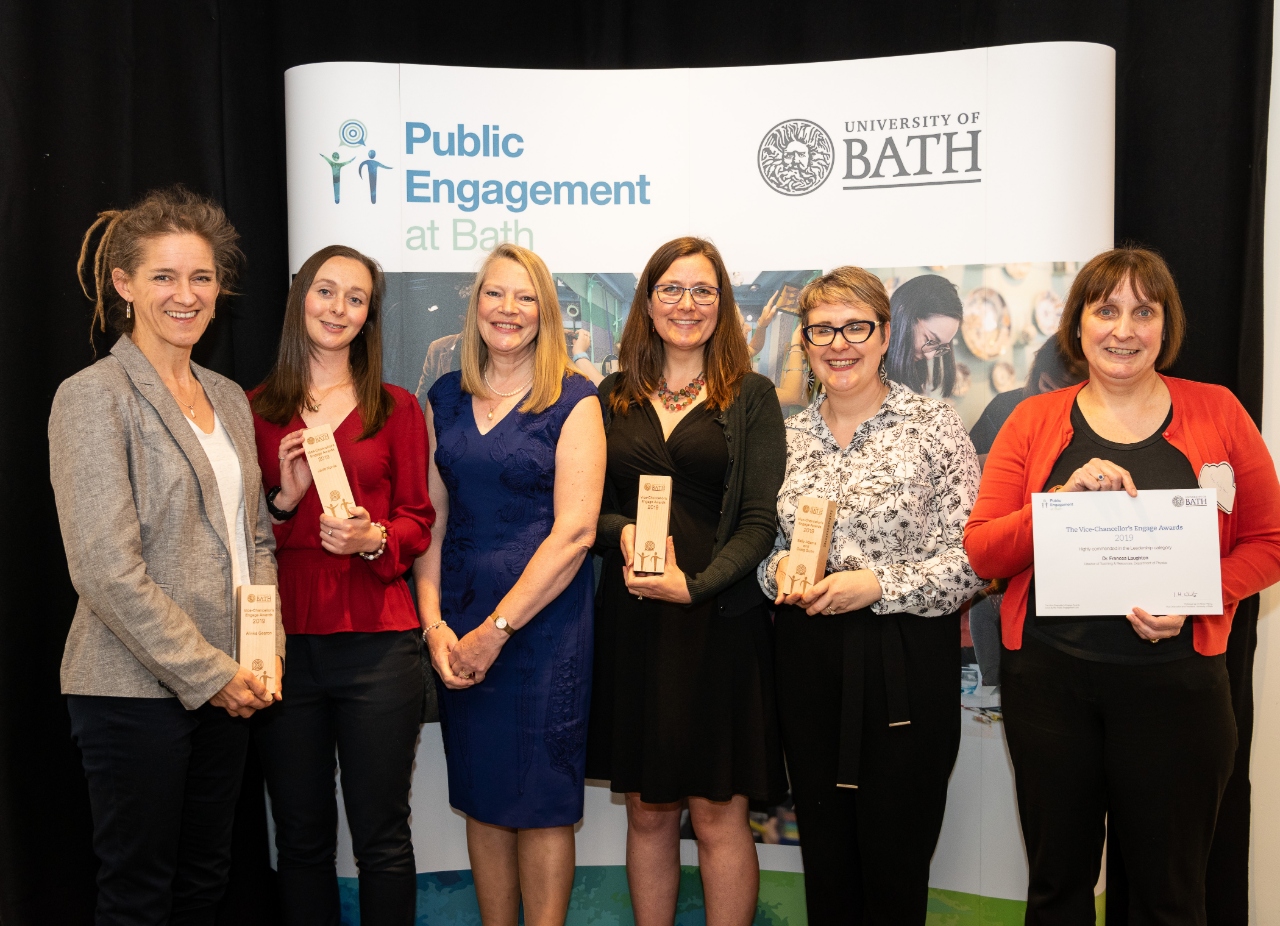 Sharing perspectives on public engagement awards
One of our first initiatives after setting up as a Public Engagement Unit was to launch an award scheme, the Vice-Chancellor's Awards for Public Engagement with Research. The Awards began in 2013 with two awards, one recognising staff and one recognising postgraduate researchers and was a key part of our strategy to embed a positive culture of public engagement at the University. However, by 2018 we'd noticed a drop in applications for the awards and decided to review them, looking across the sector for good practice and in 2019 they were relaunched as the Vice-Chancellor's Engage Awards. We moved away from recognising portfolios of public engagement activities and focused on more project-based public engagement with research activities, opening up applications for teams as well as individuals in four new categories, Informing, Listening, Working Together and Leadership.
In the process of reviewing our own public engagement awards, I came across a diversity of approaches that would be good to share with colleagues across the sector. To this end, I invited Annaleise Depper, Evaluation Officer at the University of Oxford and Susan Wallace, Research Engagement Coordinator at the Wellcome Genome Campus to share insights into their institutions' award schemes, what challenges they had faced and how they overcame them.
Annaleise talked about her work evaluating the University of Oxford's Vice-Chancellor's Awards for Public Engagement with Research and shared quotes from researchers and reviewers who took part in the awards process. This feedback revealed that the awards help demonstrate the value that the University places on public engagement, but also surfaced frustrations with award parameters - whether an application fits into a given category or not doesn't matter much to applicants. This led Annaleise to think about additional forms of reward and recognition such as inviting applicants to take part in a poster event or Watermark / Athena swan type award.
Susan discussed her work running the Connecting Science Public Engagement Prize. Key to the prize was a two-step nomination process where staff at the Wellcome Genome Campus were asked to nominate colleagues for the awards and then the nominees were contacted to fill out a full application form. This meant that nominees could receive recognition from their peers whilst application forms were filled out by the nominee themselves so the strongest possible case was made. Connecting Science also produced a booklet featuring all the shortlisted nominees for the awards, which was distributed at the awards event.
We invited session participants to share their experiences and one area that was discussed in detail was the role public groups should play in the process. If award schemes aim to recognise excellent public engagement who can identify this better than the public? Including public representatives on awards panels is already common, but perhaps we should also open our nomination process to public groups who have actually been part of these engagement projects. However, this comes with a duty of care, if we are asking people to give up their time to review awards we have to make sure they are paid for their time and we should be mindful that not everyone has experience reviewing applications and provide guidance and support to make this process manageable.
What we learned
This session was a great opportunity to learn from our colleagues about the diversity of approaches and the structure of public engagement awards across different institutions. Here are some of the key learning points from the session:
Think carefully about your application process. Do you want researchers to nominate themselves or be nominated by their peers or collaborators? One important consideration to remember with the approach of getting other to nominate researchers is that nominating peers or collaborators may not be able to write a full application on behalf of someone else so, consider a two-stage process.
Including a public voice is a vital part of awards. Many colleagues have either brought the public voice in as part of the nomination / application / review process or have worked with public groups to share the impact that the engagement activity has had. For example, the UCL Public Engagement Unit created videos for each of the winning projects in their Provost's Public Engagement Awards featuring the participants involved in the projects.
Consider how you will recognise more than just the award 'winners'. For example, the University of Oxford create a publication featuring all shortlisted projects or at the University of Bath we host a Public Engagement Showcase where all researchers from across the University and award applicants are invited to share their public engagement activities in a marketplace.
Remember that every institution will have a different award structure. Your awards will be specific to your context and many parts of award schemes like categories will differ between institutions, there is no one size fits all approach.
Have an extra award in your back pocket. You never know when you might need to make an additional award, this might be on the recommendation of your judging panel or something chosen by your team.
Be open to change. Awards are specific to your institutional context and this will change over time. Think about how you will gather evidence that your awards are still fit or purpose and consider adjusting the process or categories if you need to.
Rob Cooper is a Public Engagement Officer at the University of Bath.