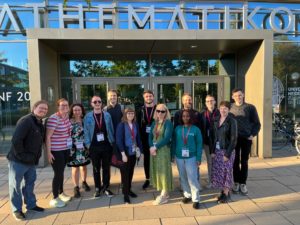 When I enrolled with SAMBa, I knew I needed to make the most of it. I wanted to build my academic and research skills, engage in interdisciplinary research, attend conferences that will be beneficial to my research, and build my network! Simply put, while I wanted to excel in my research, I also want to develop skills and meet people that will foster my career growth within and outside the university. Thankfully, with my training support fund, I have started ticking these boxes. I attended the 2022 European Conference on Mathematical and Theoretical Biology (ECMTB) which took place in Heidelberg with other students and staff from the Mathematical Biology group. This meant the planning of the trip was done together in a fun way.
I started transitioning into the full research phase following the completion of my MRes just a week before the start of the conference, but I had already decided on my Ph.D. topic. Therefore, with the one-week program consisting of prize talks, mini-symposia, and poster presentations, I ensured I only attended the events that were relevant to my area of research, as all programs are done in parallel. Fortunately for me, these were in abundance and so I was busy learning new methods and approaches applicable to my area of research all throughout the week. I was amazed by the work that is being done, especially by early career researchers. This has served as a motivation for me towards my research. During the conference, I accumulated different ideas on how I could approach the possible questions that could arise from my Ph.D. topic, the mathematical implication, and the methods I could consider. In addition to these, I also found information on the opportunities to attend the Mathematical Biology summer school and early career workshop. In all, the conference was an eye opener!
One of the highlights of my week was meeting people whose work I have read over the years, connecting with them, and discussing their work. Further, through the mentoring program to which I had subscribed, I was matched to a mentor who, unbeknownst to me, is a big name in Mathematical Biology, particularly in research focusing on the interaction between bacteria and the immune cells, which is a key area of my research. We had one of the German delicacies for lunch and she gave me more insight into conducting research responsibly and innovatively; the advantage of having more than one mentor; a career in academia and so many applications of my work to industry. Fortunately for me, she proposed she could be a lifelong mentor outside of the conference and that truly made my day. Three days into the conference, I talked to a person who presented a prize talk that strongly resonated with me and kept in touch with her throughout the conference. We exchanged contacts, and voilà -I got another mentor! I have followed up with both of my new mentors after the conference and I intend to make the most of my newly found network.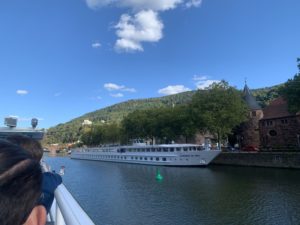 Interestingly, the conference also offered four different excursions as an alternative to gathering indoors in large numbers for dinner with COVID-19 still in existence. I opted for the boat tour of the Neckar river, which is a tributary of the Rhine in southwestern Germany. It is about 228 miles long, and rises in the Black Forest near Schwenningen am Neckar and the headwaters of the Danube river. On this tour, I was able to see how beautiful the city was and enjoyed a relaxing conversation with other early career researchers that attended the conference from all over the world.
One key thing to learn is to be open and bold in approaching new people. In just a week, by attending the ECMTB 2022 conference, I have achieved the following:
gained more insight into my research,
made lifelong mentors,
connected with researchers from different part of the world whose work have inspired me.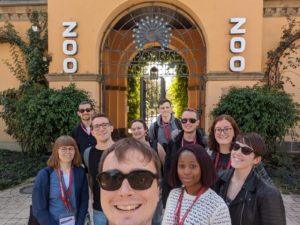 Being a member of SAMBa, I have cultivated the habit of socialising with other students and looking out for each other through the numerous events we have such as the SAMBa women's brunch. So, it is not surprising that despite the busy schedule of the conference, we often walked together to the centre of Heidelberg called  '' Old Town " to have our dinners, with a fun table of conversation about how the day went; what we hope to take forward into our research; and other exciting things like a fun movie to see. On the last day of the conference, we visited the Zoo, where I saw different animals including those I did not know existed! The following day, we visited the Heidelberg castle and saw some of the historic buildings. Luckily for us, this day also happened to be the festival day and so, there was so much to see. Everywhere was colourful and it was so beautiful to watch. I enjoyed every bit of the cultural display, including the attire, the food, and the music! At one point, even though I have never danced Salsa before, I think my mind summoned my feet to attempt it.
In all, my time in Heidelberg attending the ECMTB 2022 conference was an educating and fun experience, and I am looking forward to attending more seminars, conferences, workshops, and summer schools in the future.