The day started with Petunia, a research station shared by a Polish group and a Czech team.
A very poetic name, but nothing to do with flowers (they are very rare in Svalbard, and usually very small). Petuniabukta, or Petunia Bay is named after the ship S/S Petunia, part of the 1919 Scottish Spitsbergen Expedition. The age of great expeditions of discovery seems far away, belonging more to the times of Magellan or Cook. It is therefore sobering to remember that, less than 100 years ago, we were still discovering parts of our own planet, not that far from the shores of northern Europe. Even now, in the 21st century, when we know all about Venus and Mars and other planets, we are still discovering the deeper parts of our marine neighbourhood, using underwater acoustics and tools like sonar.
The weather changed to grey and windy, with relatively low clouds but lower temperatures. The swell has increased too, no doubt because we moved out from the protection of the long channel west of Longyearbyen. Later, we anchor next to another Polish research base, near Heggoden.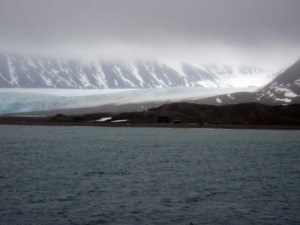 The sea is too rough to allow boat transfers, and we wait several hours for the weather to improve. One of the scientists coming with us to Hornsund (a Polish graduate from Durham) tells me the main work in this place is made by geomorphologists and glaciologists, investigating the shapes and evolutions of glaciers and landscape erosion in Arctic climates. The local glacier recently surged forward by 500 m in one year, making it an oddity compared to many of the other glaciers (in Svalbard and around the world) which retreat regularly.
The Heggoden hut is next to a beautiful glacier varying between grey (when the weather gets to the worse) and light blue (when a bit of sun shines through). The mountain nearby, mostly covered with snow, reaches higher than 1,000 meters. It has been crowned with a big cloud most of today, and as I write, I cannot even see it because of a squall.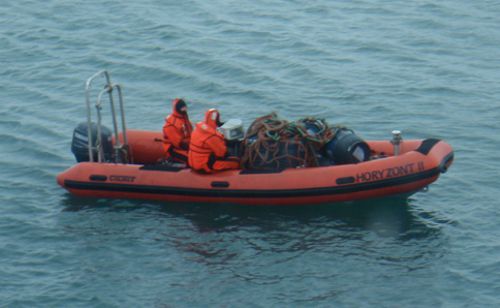 We use the spare time during transit to prepare the measurement strategy once we arrive in Hornsund (estimated time: tomorrow Thursday, 10 pm). There is only so much we can prepare ahead of time, as everything is contingent on the Arctic weather. But we can at least prioritise the different activities, and divide them into "good weather-bad weather-truly awful weather" types. The total absence of internet on the ship ensures we can devote our full attention to these studies, and we write an article about the results from the last year's measurements.
8 pm: a new type of noise is adding itself to the typical noise inside the ship (engines, air conditioning, waves slapping on the hull). The anchor is being pulled back, and we should soon be moving to the next station to receive fresh food, equipment and fresh scientists. This will be Calypso, named after the HMS Calypso, who surveyed it in 1835.
Svalbard's history is relatively recent (the first houses in Longyearbyen were built in 1906, as "The Place Names of Svalbard" tells me). Names of geographical features are therefore a potted history of explorers, whalers, hunters, settlers and scientists. The map reveals Ben Nevis (close in height to the actual one), Montsouristopppen (named after the Paris Montsoury Observatory), Barentsøya (after Dutch explorer Willem Barentz, late 16th century), Monacobreen (a glacier named during one of the expeditions organised by Prince Albert I of Monaco), and many Norwegian names too, of course.