We arrived late last night … or was it already the morning? At this latitude (77°00.0'N), the full polar day lasts from 24 April to 18 August, and we cannot see any difference between night and day. This means it is very easy to work as much as we want, or as much as we can. The first day is spent unpacking all the boxes of equipment, settling in the half-workshop we share with an oceanographer from the University of Wroclaw, and settling in the station itself.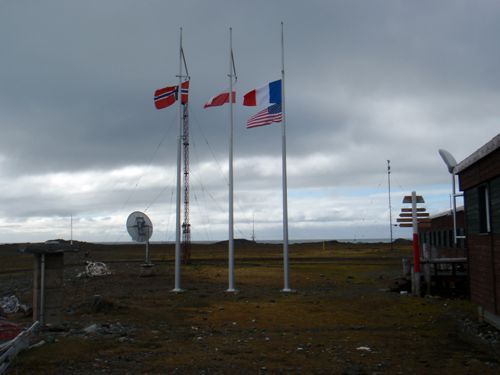 The Polish Polar Station is named in honour of Stanisław Siedlecki, famous polar explorer and geologist, and one of its founders in 1957. It is inhabited by a permanent crew, spending 13 months on site and overlapping for 1 month with the next year's team. With the summer complement of scientists, the station can quickly become very crowded. We are around 30 people, although it is difficult to count as some people spend the day in the field, go out for several days or weeks, or come back briefly for a day or two. The geographers are for example leaving in a few days for a hut 15 km away along the fjord, whereas some ornithologists are currently off studying birds in the mountains but will come back in a few days. On Saturday, the official transition between the outgoing and the incoming permanent teams is marked by a nice and well organised ceremony. All speeches are in Polish, of course, but the good humour and sense of welcome easily cross language barriers.
Breakfasts are at 8 am and lunches at 2 pm, both marked by the sounding of a bell which can be heard throughout the station. They are communal affairs, and everybody takes turns to help the cooks with the service (and washing up). Dinners are more informal, with no fixed times, and people come and go as they please. The communal area, next to the mess and the kitchens, is well stocked with books, music and a satellite TV. It is also the focus of other social activities, including guitar-playing and singing, sometimes interrupted by radio calls (the radio is always on: Channel 16 for coastguard and emergencies).
The science starts, at last, and after checking equipment we begin looking at the local icebergs. The closest glacier, Hansbreen or Hans glacier, is two kilometres away as the crow (or the Arctic goose) flies. Results from its melting are visible in the bay as they cross in front of our window: small and big icebergs, ranging in colour from blue to white, sometimes smudged with gravel or even small rocks (from the bottom of the glacier), and with sizes from less than a metre (growler) to larger (bergy bits: that's the official designation). The ones washed up on the closest shores are picked up for later laboratory analyses (we'll start that in earnest tomorrow).