Most people tend to have post-Christmas January blues, but not us!!!
Our return to the Netherlands meant more excitement for the second half of our placement year.
With the new year under-foot we decided to stick to the same old routine and make more tracks and mems with European day trips!!!
First on our agenda was Antwerp!
Antwerp
With some beautiful weather and super convenient and cheap transport (Flixbus for the win!) a day trip to Antwerp for some Belgian culture was exactly what we needed to look forward to (minus the early wake-up call once again!).
We had a very cultured day out and again managed to fit in a lot in a small space of time! Here's the highlights:
Centraal:
We arrived at Antwerp Central Station which is simply a stunning building, let alone train station.
It can only be described as Europe's answer to Grand Central.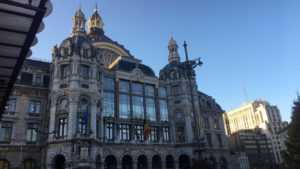 From here we gathered our bearings (and a strong coffee) we headed to the castle on the banks of the River Scheldt.
Grote Markt:
A classic Belgian square with gold, stepped rooved houses and the Brabo fountain as the centre piece.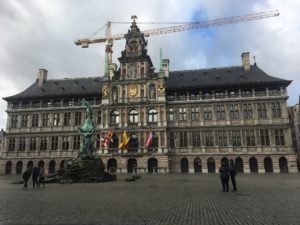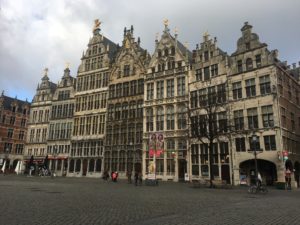 Antwerp, quite literally means hand throwing, and surprisingly enough we actually knew the story behind this!!
This European lifestyle is making us so cultured, who'd have thought!!
So, according to mythology Brabo is said to have killed a giant who would ask for money from people to cross the bridge. Those who couldn't or didn't want to pay would have their hand cut off by the giant and thrown in the River. But, Brabo defeated the giant and the statue depicts him throwing a giant hand into the river.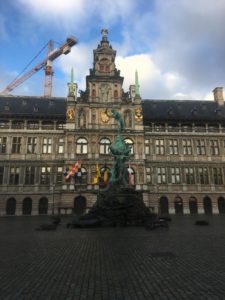 There is also a Giant hand on the main street… you can see us sat on it here!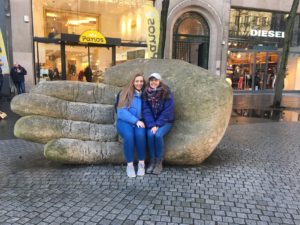 Cathedral of Our Lady:
You really have to visit this to appreciate the scale and beauty of the architecture!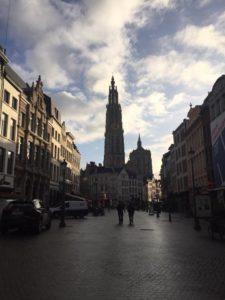 Shopping:
Shopping (Meir) Street, one of the main reasons of course that I enjoyed Antwerp was because of the huge street of every shop I could possibly wish for!! And even better when there are still January sales going on!!!
Chocolate fondue:
When in Belgium one must sample local cuisine and of course we had to try authentic Belgian chocolate fondue!!!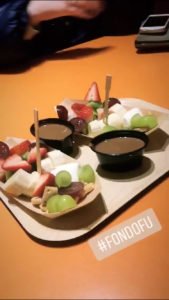 Another day well spent experiencing the culture of this beautiful city!! Antwerp has definitely been one of our favourite cities so far, so much beauty and the same grand architecture that Brussels has to offer just without the hustle and bustle of thousands of tourists!
Research
Our return to BeLife after the Christmas break has given us the very exciting opportunity of undertaking our own research study!
As we previously mentioned we are getting to grips with muscle ultrasound technology and decided it would be a great idea to put this into practice whilst getting *hopefully* useful results!
Sprint Interval Training (SIT) is the latest phenomenon to sweep the active nation. The possibility of two 20s bike sprints inducing the same improvements in fitness as a 45-minute run seems too good to be true.
Living in a society where no-one has 'time' for exercise and everything needs to be shorter and faster, no more than 140 characters of effort, SIT seems to provide the answer.
http://www.bbc.co.uk/programmes/p05w69pf - this clip features a work colleague and Niels who used to be a member of the physiology team at Bath.
Current research proposes that rapid glycogen depletion induced by 'all out' high intensity sprints is responsible for fitness improvements.
Glycogen is depleted during the first sprint and undertaking a second sprint in this already depleted state induces adaptation.
Although, muscle biopsy remains the gold standard procedure to determine glycogen depletion it is invasive and only a small area can be sampled. Ultrasound technology has been shown to be a potentially effective non-invasive method of assessing depletion.
We aim to explore the efficacy of ultrasound as a method of determining percentage glycogen depletion following SIT.
For us, this is massively exciting!
But, an opportunity for us to have complete responsibility for an entire project and organise absolutely everything does not come without its' challenges!
So, keep your fingers crossed for us throughout February where we really get started with our data collection!
Groetjes,
Kate and Liv