I have just returned from my three month placement with ICS – VSO in Zanzibar, Tanzania. Due to being cut off from the wonderful world of the internet more or less the entire time, I was not able to post on my blog. So, I have popped them all together in this unfortunately gigantic entry for my entire placement!
Firstly, here is a wee bit about the placement as a whole.
ICS – ICS (International Citizen Service) is a UK government funded programme giving the opportunity to 18-25 year olds to work in development projects in over 20 countries. There are several charities that ICS volunteers can work with, including VSO (who I was placed with), restless development, Raleigh etc.  After applying for ICS, you have to attend an assessment day in the London office. If you are then accepted on to the programme, you are placed on a project which the assessors deem suited to you from what they saw during the application process (so you don't get to choose the country you go to).
My project- I was placed (very luckily) on a project in Zanzibar, Tanzania. My project was the CASH Project (Commercial Agriculture for Smallholder Farmers in Horticulture), which aims to help poor and marginalized farmers produce better quality products, in order to earn a greater income. The main objectives of CASH are to provide farmers with the skills to maintain a reliable harvest, initiate and support access to more profitable markets, and to improve access to finance for tools and seeds. In a group of eight (four UK volunteers, four Tanzanian volunteers) we worked with a partner organization UWAMWIMA, and were responsible for the planning and facilitating of sessions to four farming groups.
Pre placement- During the summer before placement, volunteers have to attend a 3 day training camp held at a University. This weekend provides in-depth training and information on a range of topics from international development, to safety on placement. Not only was the training incredibly useful, it was a chance to get to know some of the other like-minded ICS volunteers.
Living situation- On placement, ICS volunteers live with host families, which is an amazing way to be fully immersed within the culture and community you are living in. The type of house you are in completely differs from person to person. I lived with a family with lots of kids, in a house with only a bucket of water for a shower and a hole in the ground for a toilet. In contrast, some of my fellow volunteers had a double bed, en suite, and plasma TV. Personally, experiencing living like I did was extremely eye-opening and valuable, something I definitely wouldn't change about my placement. Each UK volunteer is also paired with a national volunteer from another part of Tanzania – they are known as a counter-part volunteer and also live in the host home with you.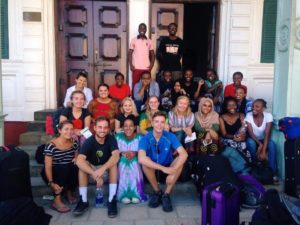 The amazing CASH Project team.
Anyway, enough rambling, here is my actual blog!
Mambo!
09-10-2017
Coming to the end of week three now and life in Tanzania is so far SO good!
Training
Our first stop after a long journey was Dar es Salaam, where we had almost a week of training. Here, we got to meet the amazing Tanzanian volunteers in our team and got our first glimpse of what living in Tanzanian culture was going to be like. Lesson one: There is absolutely no such thing as too many carbs.  This applies to any meal of the day, something which my now rather tight fitting clothes is already kindly showing. Throughout the week we had various interesting talks and meetings with individuals from the UN, DIFD (Department for International Development) and development workers at VSO. These proved to be a great opportunity to ask questions to interesting, knowledgeable people in the field, and it was also great hear the strong opinions of the Tanzanian volunteers on some of the issues.
So, after a week of training in Dar es Salaam, we were all super excited to be headed for Zanzibar to finally get going on our projects. Unfortunately, we were met with a whole extra week of slow, very tedious "training". Alas, we have since visited the farms we are going to be working with over the coming months, which has given our working team excitement and optimism about the coming months! Our working team of 8 is with the partner organisation UWAMWIMWA - the UK volunteer's pronunciation of this has brought much joy to the Tanzanians!
In our first week visiting the farms we completed KAP (knowledge and practice) surveys with all the farmers. These were questionnaires to find out information on how the farms and farmers operate. We then analysed this data so we could determine what the farmers need the most training in and we have started to plan our sessions accordingly. As well as the useful stuff, we did get some quite entertaining answers. I was speaking to a man asking him how often he meets his customers face to face. I can only presume this was lost in translation, but he replied with such confidence "Oh I don't ever meet the customers, that is the bus conductors job".  We also wanted to find out what crops they grew in which months, so Charlie then asked two women what crops they grew between January and March. The women just looked at each other, laughed, and said they didn't know because they didn't even have a clue what month we were in now!
Home Life
Arriving at our host home and meeting all the family was both exciting and really quite daunting! The family that Cate (Cate is my counter-part, Cate is great) and I are living with are so fun, welcoming, and generous - especially when it comes to food and their homemade take on Vimto - which I'm very happy about. We´re almost two weeks into being here now, yet I still don't have the foggiest who actually lives here! I know for sure that there is Mama and Baba (mum and dad), their eldest daughter Ashla, their 16 year old son, and three young fun kids who I spend most of my evenings playing games with. Despite the fact that on my first day the youngest girl Shemeila launched her flip-flop at my head. Apart from that, there are constantly a whole host of other familiar faces in and out the house, and I really don't know who stays and who goes.
I have pretty rapidly learnt that every single aspect of doing things in this home is completely different from life in the UK - from making tea and washing clothes to waking at 5 to the call to prayer. Anyhow, I can now proudly say that I have now mastered the hole in the ground toilet and the bucket shower, success! Most of my showers are shared with a whole host of creepy crawlies which I'm mostly fine with, but a friend Farzana consistently warns me that "if they can get on you they can get in you".
Some things I have learnt about Tanzanian culture so far:
The concept of time simply does not exist.
From waking at 6am, to being home for is 6pm (we have a curfew) is an utter free for all. 8 o´clock never, ever means 8 and "in 5 minutes" just means some time in the future (usually a good few hours). A few days ago I even learnt that even to tell the time, Tanzanians only use the right side of the clock (12-6). So for anything on the left side, they say the number directly opposite it. So, 9 o´clock would be 3, and therefore there are four 9 o'clocks in 24 hours.
The whole time thing has been a little frustrating at times but mostly I think it just reflects a laid back way of life which is on the whole quite refreshing!
Little girls with giant drawn-on eyebrows.
It is really common for parents to draw on gigantic black eyebrows on little girls, whose eyebrows are otherwise not very visible. Nine times out of ten this is truly a sight to behold as they are (in my humble opinion) absolutely terribly done.
Tanzanians are devoted to ironing. 
Literally, even with the limited luggage space we had, a lot of the Tanzanian volunteers brought their own iron; I can only assume because they wouldn't be able to survive without it. This has become a running joke between Cate and I when every night she irons her clothes for the next day and tries to persuade me to do mine to (she's not succeeded yet).
Overall, I am loving Zanzibar, my family, and all the amazing friends I've made so far!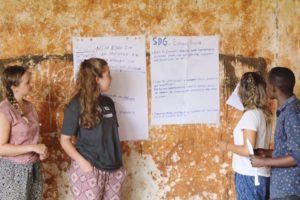 Moja – 1
17-10-2017
Work and project 
In true Tanzanian style, our Monday farm this week rang us 5 minutes before the session (by which time we were already at the farm) to tell us they wouldn't be there because someone, somewhere, had a wedding. We decided to do our first sessions on record keeping - how to keep track of produce, sales, expenses etc. All the sessions went really well and all the farmers were really engaged, keen to learn, and excited about the coming months, which was obviously a big 'up' for our team! They have asked us to incorporate a bit of English into our sessions too, so we made a sweet deal that they would teach us some Swahili in return.
Up's - The sessions have been going really smoothly and our working team is v dreamy! The farmers have been telling us that they find the sessions really useful and they really appreciate the training. This has been a massive confidence boost and it's so rewarding to feel like we're making a difference!
Down's - Language barrier! As the sessions are taught in Swahili, the UK volunteers have often felt like we're not useful for much apart from planning which is frustrating at times. The Tanzanians have been great at translating and it has forced us to be more creative in the planning of our sessions for the coming weeks.
We also had a little hiccup last week and had to stop going to one of our shambas (farms) for now due to the fact that every time we have gone we thought we were all going to perish thanks to the absolutely mental daladala (bus) driver. Thankfully, I think it's all sorted now and we will be back there next week!
Other than work with the farms, we each have lots of different responsibilities within the CASH project. This week was my turn to facilitate an ACD - an Active Citizenship Day. Each volunteer on the project has to conduct a three hour session on a global issue of their choosing. Last Friday, I did my session on climate change. After introducing the session and going through various starter slides, I set up a few activities. Trying to make it as interactive as possible, I made up a DIY "carbon footprint" game where I got everyone to stand in a line side by side. I then read out a list of various behaviors that contribute most to greenhouse gas emissions and a high carbon footprint (e.g. "I travel mostly by car", "I eat meat", "I rarely turn off lights" etc.). Then if this behavior applied to an individual, they had to take a step forward. It worked perfectly!! It was really interesting to see the difference between the UKVs and ICVs and it really highlighted cultural differences in what contributions we make to climate change.
One of my other responsibilities is being part of the social committee, where we have to organize 3 social events for the whole team throughout the 3 months. For the first, we organised a beach Olympics and pub quiz day at Paje beach, an awesome white sand beach on the East coast. When we arrived a few of us started playing some football, then we got chatting to a few Massai's, and before we knew it they had declared a Massai Vs Mzungu match! It was super surreal but lots of fun, despite the fact they took no prisoners and there were several injuries. I stole a little game we did on our training weekend and before the social, got everyone in the team to secretly write a funny/embarrassing fact story about themselves, then the teams had to guess who it was about in a round in the quiz. This delivered some unbelievable insights into the team, my favourite by far was Heather confessing that she has been to Disneyland Paris 17 times!!
Lastly, I'm also part of a group of volunteers whose responsibility it is to organise the Mid-Phase Review (MPR) next week - I can't believe were almost halfway through already! This is a two day event where we have to organise sessions both reflecting on how things have gone so far and looking forward to what we can best spend the remaining time here. We had a little meeting yesterday and plans are coming together nicely and we have some tip-top ideas!
Home
Home life is amazing as per, the food is super tasty, the kids are adorable, and Cate and I are still making daily futile attempts to make tea as good as Ashlas. My little host brother is just the cutest, without fail he always cries before school and every day when I get home from work he shouts "aliiiiiix" then runs over and gives me a huge hug! We sometimes get the bus home together when he's coming home from school, then when we get to our village (Tomondo) he walks through like the king because he's with the only Mzungu in the village. It's hilarious. Little Shemila has taken on a new hilarious habit where she holds her fist in the air and then chases after it, spinning around like a dog chasing its tail. She then tries to run, falls over because she's so dizzy, then gets back up and does it all over again!
Spare Time 
Although we have all been insanely busy with project work recently, we have found time to treat ourselves and explore too. Me, Cate and a few other friends went to Forodhani one night this week where they have an evening food market. Starting to miss some yummy home foods, I really pushed the boat out and had a Nutella and banana "Zanzibar pizza" - which is sort of two pancakes with the topping in the middle. It was absolutely unreal, and as sad as it is, a highlight of the week for sure. It was also made with, hands down, the biggest banana in the whole wide world (see photos for proof). On food, we have found this great little cafe called green garden, it is sort of Bali style and has a huge wooden balcony with comfy sofas and floor cushions and is covered in trees and plants. George and I shared a pizza here the other day (with REAL cheese!!) followed by a lovely spot of scrabble, made even better because I won.
On Saturday a group of us stumbled upon a café which was playing the Manchester United and Liverpool game. The rather dull game was made very entertaining thanks to the raucous crowd and our new friend T - short for something we absolutely couldn't pronounce. T is a self-acclaimed wheeler-dealer (he calls himself a Trotter) from Zanzibar who now lives in Dubai and he is so great! The same little group of us met up with him on Sunday and he showed us some unbelievable places on the island, thanks T!
I did also have my first experience of a Zanzibar doctors too, classic ear infection strikes again. Having an appointment system would obviously be far too logical, so instead you get sent to sit outside a given door then as soon as someone comes out of the room it's just whoever makes it there first who goes next. Everyone has a vague idea of who was there before who, so it usually boils down to an exciting game of chicken between two or three people. After explaining what the issue was the doctor wanted to just look in my ear, but lacking basic medical equipment she just proceeded to get the torch on her phone and try to look inside, obviously unsuccessfully. Alas, all better now!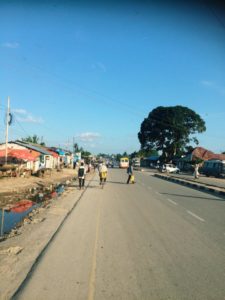 Mbili – 2
01-11-2017
Project
Work at the shambas is going really well, we all love our farms and farmers! Since my last post we have done sessions on post-harvest handing which is where most of our farmers see their greatest produce losses, so hopefully our sessions will help that. We also did a week of sessions on how to make organic pesticides and fertilizers; we remarkably managed to make this in to a really fun session. We provided the ingredients to make it and then the farmers brought their obscenely giant pestle and mortars to make it in. We all had a good old sing and dance to the rhythm of the ingredients being mashed up, very entertaining and the farmers loved it. We have been getting more creative with our sessions too by making them more interactive and making jazzy little hand-outs for the farmers to keep which they really like.
I mentioned in my last post about our farm having to cancel the session because of a wedding. Turns out, they were just planning it then, and the actual wedding was last weekend, and we were all invited! There was lots of singing, dancing, beautiful dresses, and most importantly, lots of delicious food. A super awesome day!
In other parts of the project, we had our mid-phase review this week (not okay with the fact that we´re over half way now). As part of the committee, we had to arrange the two-day event. We decided to split the days by doing the first day 'looking back' at all our progress so far, and the second day 'looking forward' to how we can best spend the rest of our time here. The whole event was really fun and it was nice to actively think about how things have been going in all aspects of the project. One of the sessions we did was on host homes and counter-parts; reflecting on our experiences with these so far. For this we played counter-part 'Mr & Mrs' – or in our case Mr & Mr, Mrs & Mrs, and Ben (as his counter-part Magoti sadly left the project L). The game ended up being hilarious; especially Cate thinking she can sing better than me – remarkably, she actually can't. In another session, we each had to pick a question from a hat and speak for one minute answering the question. Usually I despise things like this but my question was about food, winner! So I just rambled away about how good the food has been here, but also what I missed most from home... cheese and cereal (family, take note for my arrival home). Heather had to talk about her funniest moment of the trip so far, to which she immediately burst into tears of laughter. She started to explain how a few nights before, her host brother Omar had been asking her and her counter-part Innocent if they thought he was handsome. Heather politely proceeded to tell Omar that yes she thought he was very handsome etc. etc. During this interaction, Innocent was just looking more and more confused by what they were talking about, eventually turning to Heather and asking "What? I don't understand..  Hen-some... you think Omar is.. many chicken!?"
We had our second Community Action Day (CAD) of the cycle too, this time organised by JUWA (one of the partner organisations) on agro-processing. CADs are informative, interactive one-day events within the community on a topic of the teams choosing. Volunteers are given a budget and responsible for every aspect of organizing and hosting the event, from finding a venue and guest speakers to ensuring adequate advertising of the event throughout the community. The aim of this CAD was to provide the farmers with an opportunity to see what kind of products they could make from the produce they grow. The main event of the day was a cooking session making delicious sweet chilli sauce! As a team, we also mustered up a whole host of other yummy treats using our farmers produce. This included onion chutney, mango juice, banana bread, and gingerbread biscuits. Cate and I also made mango chutney, which we think our family is still very skeptical about, judging by it still being almost a full jar in the fridge weeks later – a very rare occasion in our house. I was over the moon when I found out that on the day I would be manning the 'samples' table of all these delicious treats. I was swiftly proven wrong when a flock of 90 rowdy farmers were in front of me elbowing, pushing and shoving; scrapping for a taste of everything and anything they could get their hands on. It was carnage.
General babble
The rain has been absolutely crazy the past few weeks, which has affected everything more than you could imagine. Rain sucks at the best of times, but the relentless, torrential downpours we have been having really really suck. The lack of quality infrastructure also means that within 5 minutes of it raining there are at least ankle deep floods on every street. This not only makes walking across town the biggest mission ever but it also means that the daladala journeys are even worse than usual, which I really didn't think was possible. Tanzanians also see the rain as a chance to get rid of all their sewage so just spill it out into the streets, very grim. Due to the rain, we had to go back to the drawing board on our planned social at Nungwi (a beach and turtle sanctuary). Last minute, we decided to try out a 'cinema' we had heard about just outside Stonetown. It was a bizarre place with old aeroplane seats, but there was a screen, and it did work. All in all, a successful last-minute plan. When the rain cleared for a few days, a few of us have since been to Nungwi and it was amazing!
Home has been a dream in recent weeks. We had our first big family outing at the weekend for Shemza's 21st  Birthday. I would say what relation Shemza is to our family but I just haven't got the beginnings of an idea, she's just very lovely and is here occasionally. So, about 40 of us went to a place called Fumba, magic'ed up some plastic tables and chairs and had a little party! Shortly after we got there, Shemza was presented with her Manchester United birthday cake, I'm sure she was thrilled with the design. At this stage (I´m from Manchester by the way), Mama went a bit loopy and thought it was hilarious firstly for me to hold the cake, then to take photos of me holding the cake, and naturally, to then take photos of me holding the cake with every family member, individually. In further cake news, there is also a cake eating tradition here where everyone feeds and gets fed cake by the birthday girl. This was all fine and dandy until Mama put a piece of cake fully in her mouth, then, like a bird feeding its young, more or less spat the cake into Shemza's mouth. I still don't know if this is a tradition too, or if it's a thing just in our family, or if it was just Mama being a bit mental. Alas, I thankfully didn't have to do it, but did get to enjoy some of my beloved Man U cake.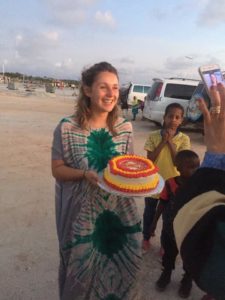 In more disastrous news, I had my bag stolen by a guy whizzing past on a motorbike when we were on the way home one day. My phone was in the bag, hence the now lack of photos, trying to work on that! Despite being strangely relaxed, it has been rather irritating, mainly because my deck of cards and Frisbee were in the bag, devastating losses.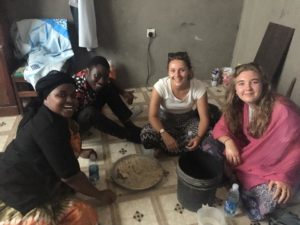 Enjoying pilau at the wedding!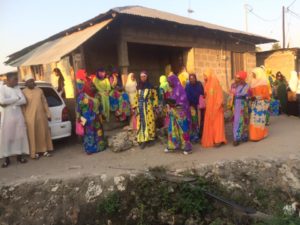 Colourful traditional Zanzibari dress.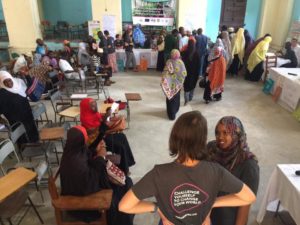 CAD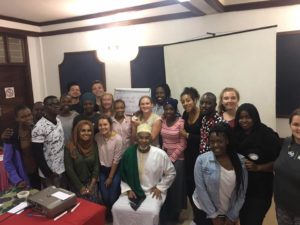 Mid-Phase Review
Tatu – 3
20-11-2017
Project
We have moved on from organic farming and farming practices to sessions on marketing and our last topic with the farmers – business planning. During the last few sessions at the farms, I have seen more and more how the farmers are combining all the things we have taught them and are starting to think about how to create products, package them, brand themselves, and market the products successfully. It has been so exciting to hear their ideas and amazing to see how far some of them have come in the short time we have been here! Not only has it been rewarding to see the impact we have had on some of the farmers, it has been so interesting to learn myself about all the things we have been teaching. As our sessions are winding down and coming to an end the farmers are asking more and more questions about the future and how they are going to manage after we have gone. This has given us motivation in our final few weeks with them to make sure that we have provided them with all the possible tools they will need to succeed after we leave, which so far is going well (I hope)!
The final CAD is approaching, this time it's our working groups responsibility to plan the event. We had some really exciting news about this recently, which has made the stress of planning of the event sky-rocket. As we are the last ever cycle of volunteers for CASH and the project will come to an end completely after we leave, we have been asked to make this the biggest and best CAD yet. This has meant that we have a budget five times that of the other CADs! We have taken full advantage of this and are aiming BIG. We have had a few ideas so far about making the day about 'A Celebration of CASH', celebrating its successes over the past five years. We also want to make the event an opportunity for our farmers to progress with their work and start to act on their ambitions of breaking into the tourism market. To do so, we are going to invite the farmers to prepare a stall with their products, and then invite lots of local hotels, businesses, cafes and restaurants for them to network with. Exciting (and stressful) stuff!
We have had some really interesting ACDs over the past few weeks too. Firstly, some of the group did a session on human rights, which ended in an organised debate on the statement 'If you accept the human right that all humans have a right to life, you should accept that the death penalty is wrong'. Naturally, this got quite heated, but it was really interesting to see the complete range of arguments people proposed, some of which had never even crossed my mind before. Next, Farzana and Ben did their ACD on the refugee crisis. This was a really hard-hitting session and I learnt a lot about the horrific situation more specifically here in Tanzania. It's hard to fathom some of the statistics around the issue and also difficult to comprehend the scale of it. Thinking back to last week's session on human rights where we thought about what it means to be human, this session provoked thoughts on the boundaries between living and merely surviving, the latter being far too often the case with millions of refugees worldwide. This really hit home when we thought about the refugee camps just next door in Kenya, where people older than my own grandparents have spent their entire lives, without permission to leave. We also got thinking about what 'home' is to us; a place of shelter, of love and peace, of safety and security, a place of family. It's almost impossible to imagine being completely torn away from your home; but again this is a sad reality that millions of people have to face daily. The whole session really got me thinking more about the situation and what I can do to help.
As part of the social committee, it was our job to ensure that all birthdays are celebrated. Quite a task considering there are 11 peoples birthdays in the space of four weeks! Testing my artistic abilities, I took on the role of hand making everyone birthday cards. We also decided to throw two big birthday parties, we had the first last weekend at a cafe in Stonetown which was really nice! On Farzana's birthday on Wednesday a few of us celebrated by going to a cafe called the puzzle cafe, famous for its tasty treats and board games. I splashed out on a hot Nutella muffin and it was probably the best decision I have ever made, highlight of the week for sure.
Oops…
There have been some comical, marginally embarrassing moments at home recently. So firstly, our bathroom has a toilet section and a shower section, which are divided by a wall inside the room. I was in the shower section one morning and was just brushing my teeth so didn't bother to lock the door (which directly faces the toilet). There I was happy as Larry brushing away, when I heard someone come into the bathroom and, before I could say anything, started using the toilet. I then panicked, shouted (still with a mouth full of toothpaste) "Ahh I´m sorry!". Then continued to shimmy out of the door with my back towards them. I still have no idea who it was, and nobody has mentioned it since so I presume all is good!
Secondly, I was on a run the other night when as usual, a group of about 7 boys started pointing, giggling, and cheering "Mzungu Mzungu!". I glanced over at them, trying to pretend I wasn't bothered by their jeering. Then all of a sudden I tripped and completely fell over until I was a sweaty, dust covered heap on the floor. Secretly mortified, I half-heartedly joined in with their hysterical laughter and slowly hobbled away like nothing was wrong.
Exploring the Island
Last weekend was our last full free weekend before we go home, so we took full advantage! We spent Saturday at Pingwe and Sunday at Pongwi, the classic combo. On Saturday we met for a juice in the morning then headed to Pingwi and spent the day playing on the beach. We also visited the famous restaurant 'The Rock', which literally is a restaurant on a rock in the sea. Considering a starter was the same price of our whole weekly allowance, we opted out of food but did stay for a very pleasant drink. It was pretty much the same routine at Pongwi on Sunday; we played on the beach, played cricket with some kids, then found a nice hotel bar on the beach, what a treat! Having waited for ages for a daladala home, George and I got a bit restless so asked (by means of miming) some guys at the bus stop if we could have a go on their bikes. Things escalated and we ended up having races down the road with the bus stop cheering us on. I lost every time, but it's the taking part that counts hey! When we did finally get a daladala, the journey just completely summed up transport in Zanzibar. It was one of the buses which is more or less a pick-up truck with some benches and a cage-style roof. People started to pile on as normal, and before we knew it there were a record number 41 people on this tiny bus. I don't know if the extent of this will really come across, but it was a lot of people. There were 8 people (including the conductor) who were just hanging off the back or sides. The police aren't usually too happy when they see something like this, but our bus driver was clearly a smart man. Rather than the usual practice of bribing the police men to let him off, he stopped just before the police to let off a load of people. He then cruised through the police stop, and then pulled up around the next corner, where all the people who had piled off the bus had walked to get back on! Genius.
Other than that, I have continued to munch on as many deep fried carbs as I can and refuse to believe how quickly time has flown by.
Nne – 4
I can't believe its home time!
Our last few days here were spent finishing up work at the farms and having a little farewell party with each of them. It was awesome to hear how much the farmers appreciated our work over the past few months, and I feel so lucky to have had the opportunity to meet such kind, driven, and loving people.
To finish off the project we had our debrief camp organized by a group of volunteers on the project. The days consisted of a lot of reflection on how we found the whole experience, what we learnt, what we achieved, and how we think it is going to help us in the future. We chatted about all the things we will miss from Tanzania, and the things we were excited for when we get back home. For me this was wearing socks and eating cereal – it´s the little things in life.
After getting back to the mainland, we said our final (very emotional) goodbyes to all the Tanzanian volunteers and started our long journey home.
Here are a few reflections on returning home:
Be open-minded- As I have mentioned before, every single aspect of life here in Tanzania is different to the UK. In order to learn from others and get the most out of an experience like this, you must allow yourself to be open-minded, willing to adapt to a new and different way of life, and accept the ways of life of people from entirely different cultures.
Scrap the comfort zone – Way back in our training weekend last summer, one of the trainers spoke about how the magic begins where your comfort zone ends. This is so true! Lots of things about living here are worlds apart from my home life – no phone, no internet, even no toilet roll – but the experiences I have had here have undoubtedly changed many aspects of life for the better.
My biggest highlight – Undoubtedly the people! From the very start of this process at the assessment day, to my host family, and my fellow volunteers, I have met people who have constantly inspired me, who have taught me invaluable life lessons, and have become some of my closest friends.
Some more photographic evidence that my placement was the best: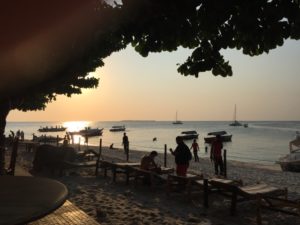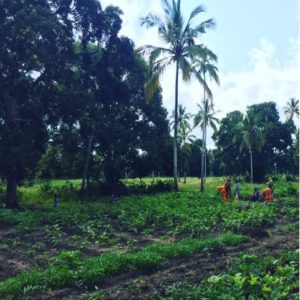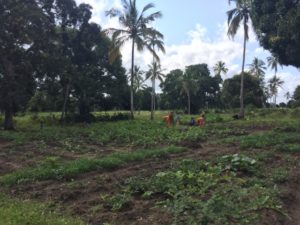 - Shamba! (farm)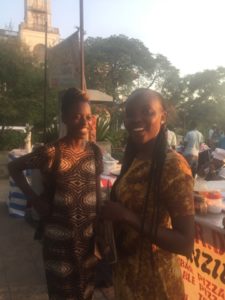 Glory and Cate - at their happiest around delicious food!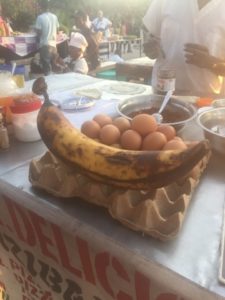 The famous giant Banana.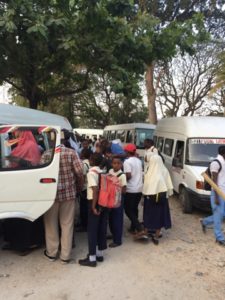 - The daladala chaos (bus)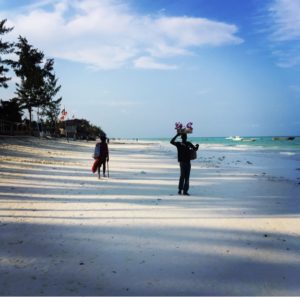 - Paje beach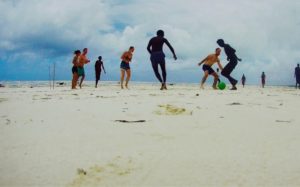 Massai   3 - 2   Mzungu
Thank you for reading! Not that anyone could have possibly made it the entire way through that drivel.