Placement No.2 – La Paz, Bolivia
After returning home from Tanzania and having a merry old Christmas and New Year, I was ready to leave the UK again for my next placement adventure in Bolivia. After a long 30+ hour journey, myself and the two other UK volunteers Ella and Fats landed in El Alto, La Paz. Our luggage unfortunately, did not. I was far too sleepy to care at this point and was assured that the bags were currently in Santa Cruz, and would be back in La Paz by the following day. Guess what! They weren't. Nor did they arrive for a whole extra week. It was a smelly first week.
My two host brothers Hans and Patrick (classic traditional Bolivian names) picked me up from the airport and took me back to my lovely home where I met my crazy (in a good way) host mum Irma, and our little pooch Polka. Patrick showed me around the city a little bit and treated me to the traditional La Paz food – salteñas. Possibly (very sadly) the only vegetarian snack here.
Camp
After a hefty 14 hour bus journey, we arrived in a countryside camp near the city Sucre. The scenery was so beautiful and we met the other ICYE volunteers for the first time who are all great eggs. The next day, we all went on a big walk around the countryside where the views were stunning! Throughout the days we had sessions on everything from expectations of our placement to the history of Bolivia; then on our final night we all had a big welcome party! Where us newcomers exceedingly quickly realised the effect that altitude has on your alcohol tolerance…
A funny little camp anecdote:
One night at camp, a friend from Germany Laura decided she was going to start writing her journal. In a bid to be respectful by not keeping a light on with 6 sleepy gals in the dorm, she started it in the dark. When we woke up in the morning, I saw Laura with a perplexed look on her face, flicking through her book, saying she couldn't find the four whole pages of journal she wrote last night. Then she spotted two measly words at the top of one page; turns out, her pen had run out after two words and she didn't notice!
CECASEM
Finally project time!
I am working with an organisation called CECASEM (Centre for Training and Services for Women), a Bolivian NGO founded in 1990. Since then, the organisation have have worked in rural areas supporting the development of indigenous communities, and for the past 10 years fought against human trafficking here in Bolivia. The aggravation of gender based violence in rural areas has been a one of two key focus areas for CECASEM in recent years. The increase not only represents a greater regression of gender relations, but it interferes with rural and productive development. Secondly, CECASEM have focused their projects on tackling the issue of human trafficking. According to a study by the Ministry of Justice of Bolivia, 85% of victims of trafficking are children, adolescents, women, and migrants in rural areas, most of who are sexually exploited. CECASEM initially established work in the cities La Paz and El Alto, focusing on the prevention of trafficking and exploitation of these groups of people. To tackle this reality, CECASEM carries out activities against trafficking, from prevention to political advocacy. They believe the former to be crucial in the fight against the issue, because it is the only method that seeks to eliminate the issue before it has arisen. It is acknowledged however, that the latter may allow improvements in the corresponding national standards and in the improvement of local level standards.
During my first week here, I spent my time getting to know the organisation and getting myself familiar with the current projects. I then started to work with the fundraising team, and discovered a fund that volunteers working for NGOs in Bolivia can apply for, enabling them to complete a small project, or campaign within their organisation. So, the past few weeks have been busy creating a proposal for a mini-project with two other volunteers here! All very exciting!
HIGH 10
All in good spirit, I thought it'd be a great idea to run the La Paz 10K next month as a fundraiser for my project. You probably think 10K is a bit pathetic and not worth a penny; but at 4,000m above sea level, with half the oxygen, and considering I literally get out of breath brushing my teeth, I deemed it a reasonable challenge. I had it all planned out, and then, I tried to go on a run. Completely impossible. I stopped after about 5 minutes in utter exhaustion. So back to the drawing board on the fundraising front!
"Bolivia Dijo No"
21F
The 21st February marked the two year anniversary since the referendum which denied President Evo Morales the possibility of remaining in office. Having disregarded this vote, and remained in office, organisations across the whole country called a strike against him. Streets were blockaded, the streets were packed with people protesting, and fireworks were being set off like nobody's business. It was chaos. Although 21F was more extreme than others, strikes in La Paz are frequent. Already in a month of being here, all public transport has gone on strike for a day twice!
Highlights!
I WENT TO CARNAVAL! – I think this surely justifies the statement "I have the best placement ever".
Celebrating carnaval is taken super seriously here in Bolivia (as is any excuse for a fiesta), so there was a four day national holiday. During which, me and a group of fifteen friends travelled to the famous Oruro. No matter how I try and put my experience into words, I just know I won't do it justice. So instead, here is an unnecessary amount of photos of the traditional dancing, the unbelievable costumes, the cheesiest grins, and the copious amounts of foam. Turned out I was exceptionally allergic to the foam and had chemical burns on my face for two weeks. Alas, worth it.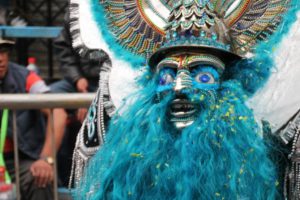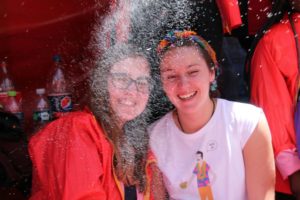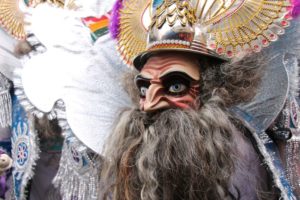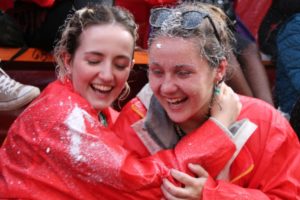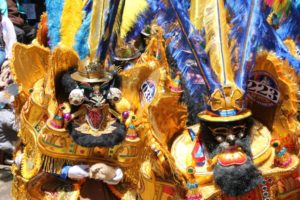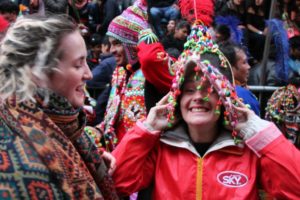 The scenery –
La Paz itself lies in the bottom of a bowl of mountains, so everywhere you look you are met by incredible views. Further afield, I travelled to Illimani last weekend, the second highest mountain in Bolivia. As you can imagine, the views were breathtaking! I do have some amazing photos on my camera, but being a melt and forgetting my laptop, these will have to wait.
Lowlights
Bolivians bloody love meat.
My recent change to being vegan has completely gone out the window because I think I'd perish otherwise. I have been doing fine with vegetarian, but it's sadly nothing to write home about.
This is more of a shattered expectation (or me being ill-prepared) than a lowlight, but it is freezing here! In the day it doesn't get much hotter than 12°C, and at night drops to around 4°C, thanks Mr Altitude.
All in all, I'm having a ball!
Gracias!