Exploring the City of Bath has been one of my favourite parts of university. I have had the privilege of getting to know Bath, not just as a come-and-go tourist, but as a resident. Famous for its homogeneous honey-coloured beauty and reputation as the UK's only UNESCO World Heritage City, Bath welcomes millions of visitors every year. Of course, visiting the Bath Abbey and Royal Crescent are must-dos when you visit on a tight schedule. Often, however, what people miss when they have to catch their buses home at 5pm are the unique and hidden charms of Bath.
Having lived here as a student for over 2 years, I have decided to write this blog to share with you what I have discovered and love about Bath. Before I came to university, I was fortunate enough to visit Bath with my family around one or twice a year. Looking back at these visits, I only ever scraped the surface of the city. I knew back then that Bath was beautiful, but I had no idea how amazing it actually is. My hope by writing this blog is to therefore capture the true beauty of Bath, not just for the millions of tourists who visit every year but for the people who have the time and privilege to explore the city in full.
I have divided this blog into 3 sections - things to do and places to see, eateries and shops for when your student loan drops.
Things to do and places to see 
Stanley's Mural
This colourful and eye-catching mural was created by Stanley Donwood, famous for illustrating many of Radiohead's albums and imagery. Stanley's Mural is located on Walcott Street, a less commercial and more bohemian part of Bath. Walcott is known locally as the 'Artisan Quarter' or the 'Brooklyn of Bath'. The area is also home to many boutique shops and artisan eateries and hosts an Antique and Flea market every Saturday.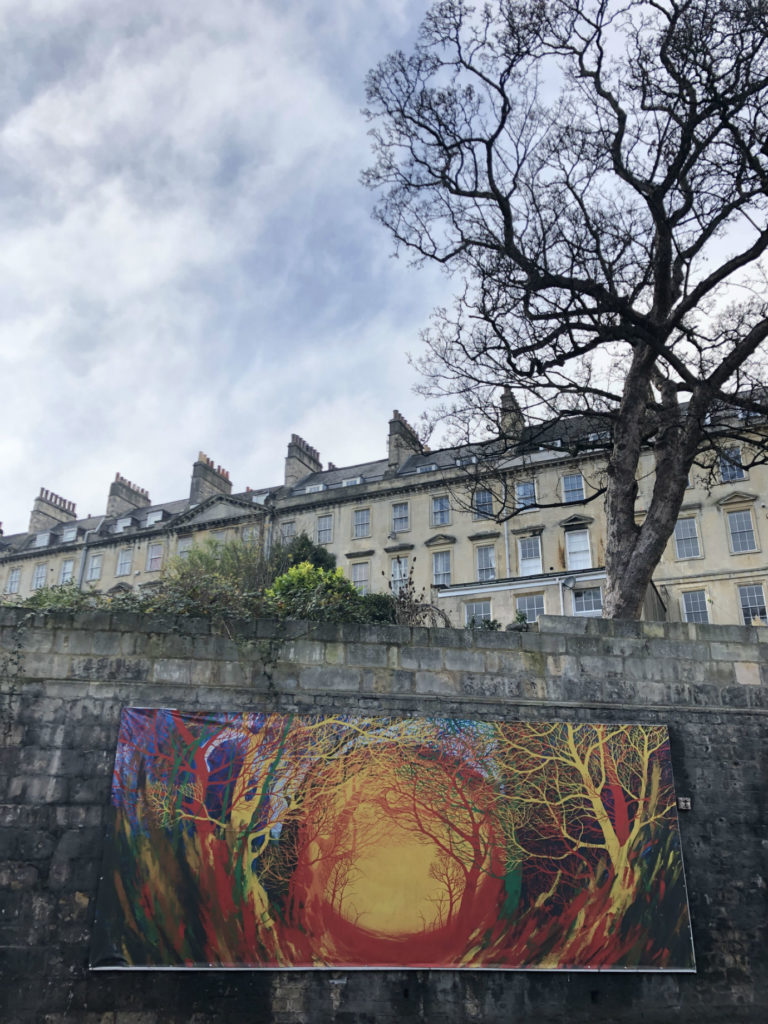 Camden Crescent
Yes that's right, there's more than one crescent! In fact the Royal Crescent has seven sisters scattered across the city; each of which has their own unique beauty and charm. Don't miss the purple wisteria vines falling down on one of the house's facades during the spring.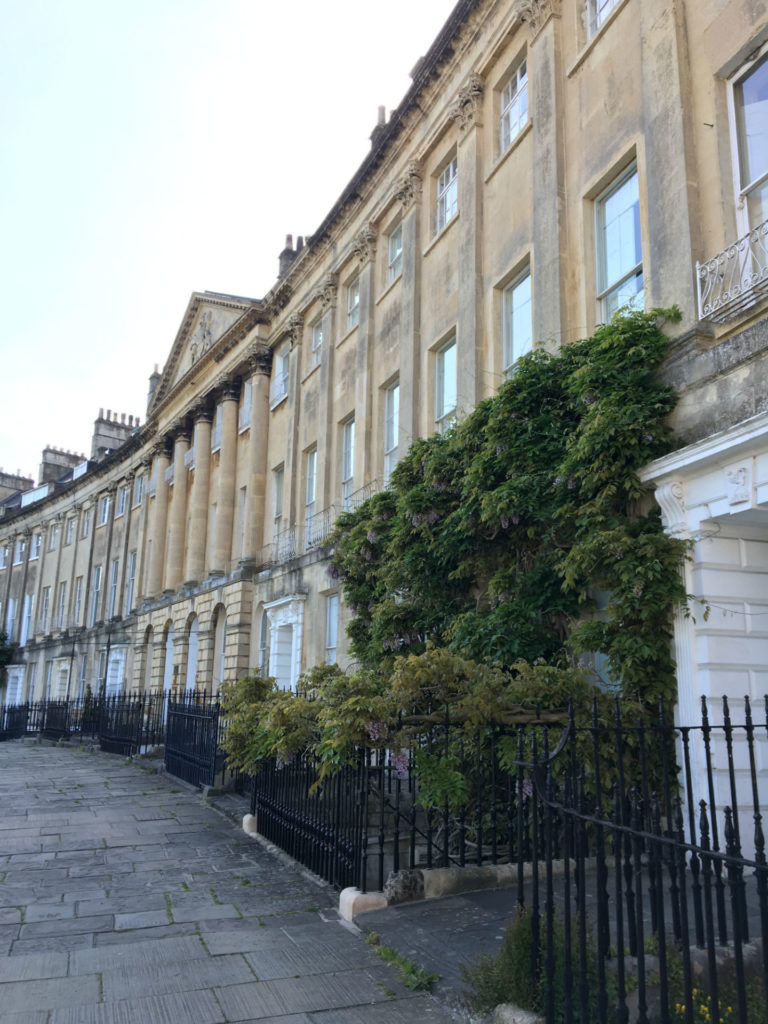 This one is fairly self-explanatory: Bath City Farm brings the countryside to the very heart of the Georgian city. Here you are able to meet ponies, pigs, goats, lambs, chickens, cows.. (the list goes on). The farms looks down onto an incredible sky-line view of Bath and in the summer has a magnificent flower display. The farm is a non-profit organisation. It's free to enjoy but it does rely on donations to survive so please be generous if you do pay a visit.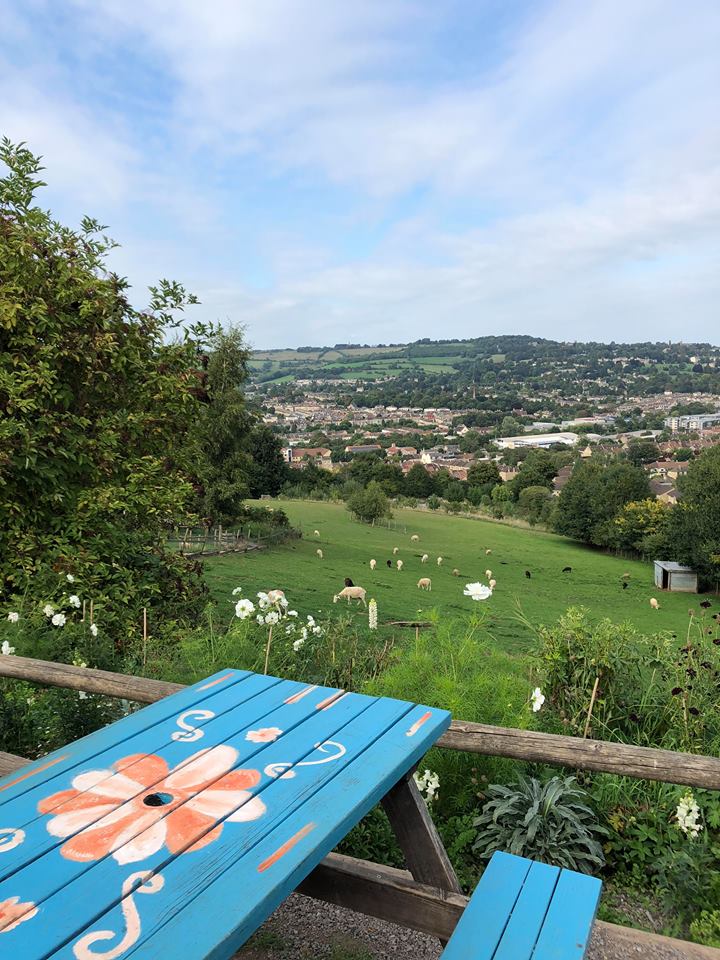 Eateries
Bath has a cosmopolitan and eclectic 'foodie scene'. The city's alleyways are bursting with independent cafes, restaurants and stalls, serving delicious dishes from all around the world. There is always somewhere new to try, whether you are looking for Moroccan, Nepalese or somewhere to simply serve you a traditional English breakfast. Here is a list of some of my favourite places to eat and what I recommend you look out for on their menus...
In my opinion, The Oven is home to the best pizza in Bath. In fact, I would argue that The Oven has served me the best pizza I have ever eaten! Whenever someone comes to visit me here in Bath, I take them to The Oven and nobody has left un-impressed. If you're yet to be convinced just look at the picture below...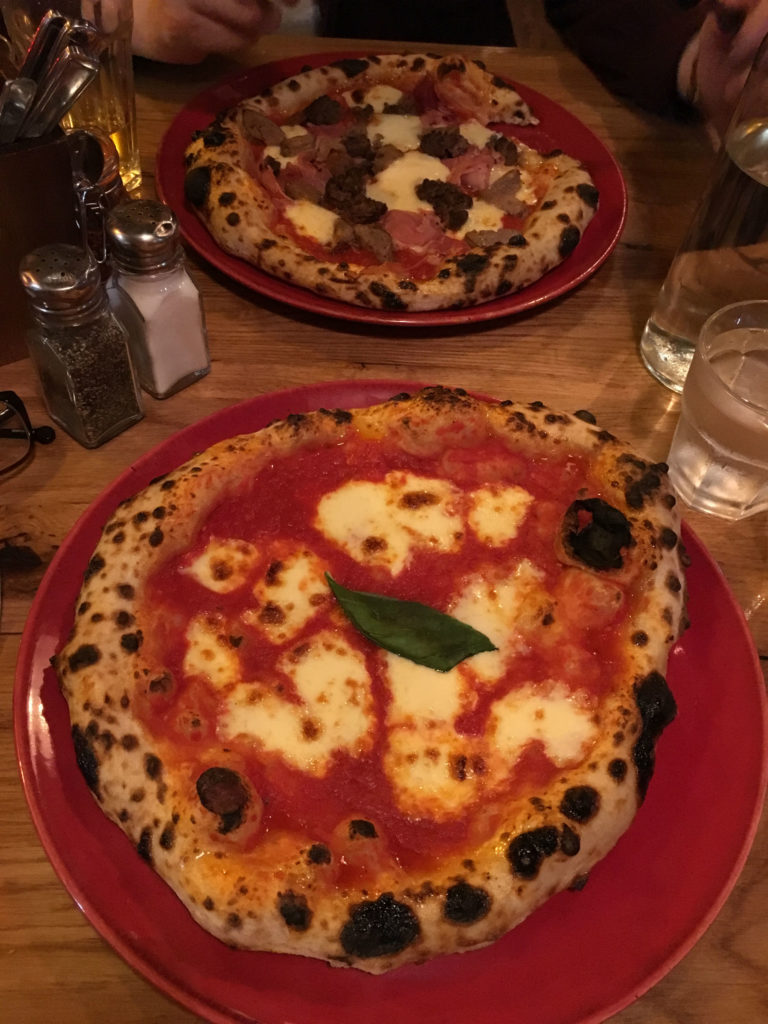 A hipster hotspot hidden down one of the city's cobbled streets. The Wild Café is decorated in forest-like wallpaper. You can see the chefs preparing and cooking your food in the kitchen behind you. The café has a welcoming atmosphere and more importantly delicious food. I recommend trying their fluffy pancakes drizzled in maple syrup and fruit compote. Thank me later.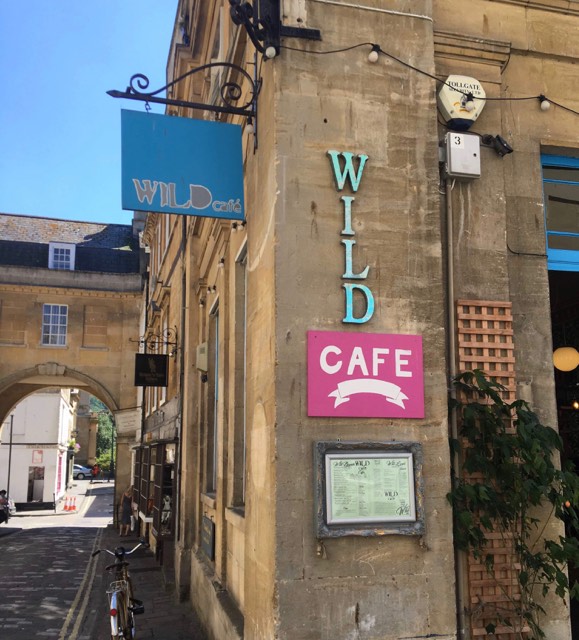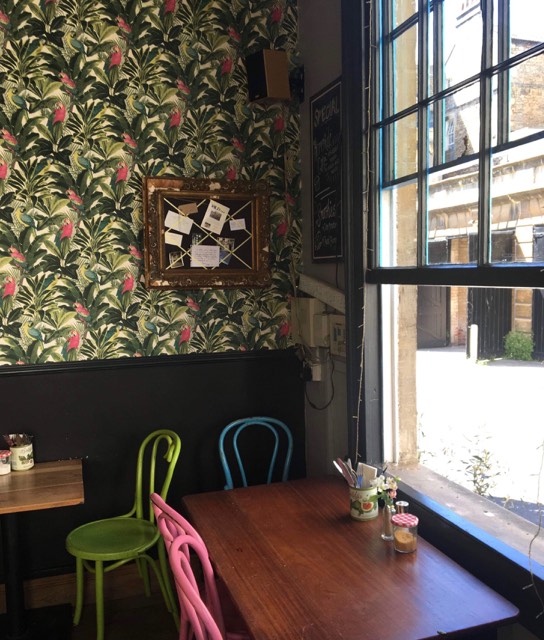 Rosarios is tucked away in another one of Bath's ancient cut-through corridors. What I love about this Sicilian inspired café is their selection of Italian hot chocolates. (Italian hot chocolate is another word for melted chocolate in a cup!!) Rosarios offer a selection of these in caramel, hazelnut, Cointreau or brandy. There is really nothing like it. I can guarantee that you will be back for more.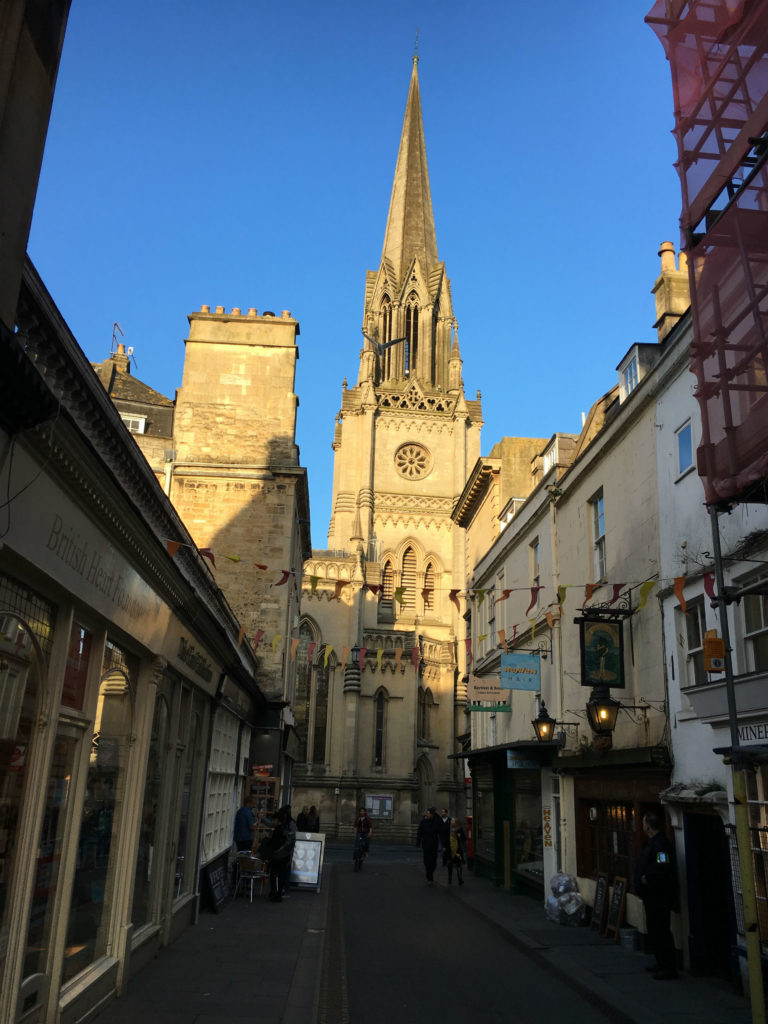 Colonna and Smalls is a hipster-esque café that serve contemporary coffee in a minimalist fashion. They embrace the seasonality of coffee growing by constantly adjusting their menu so that they only serve the best quality coffee.  Hidden off the beaten track, the café is a hotspot for local coffee aficionados who regularly explore different favours of coffee over a morning read of Bath Chronicle.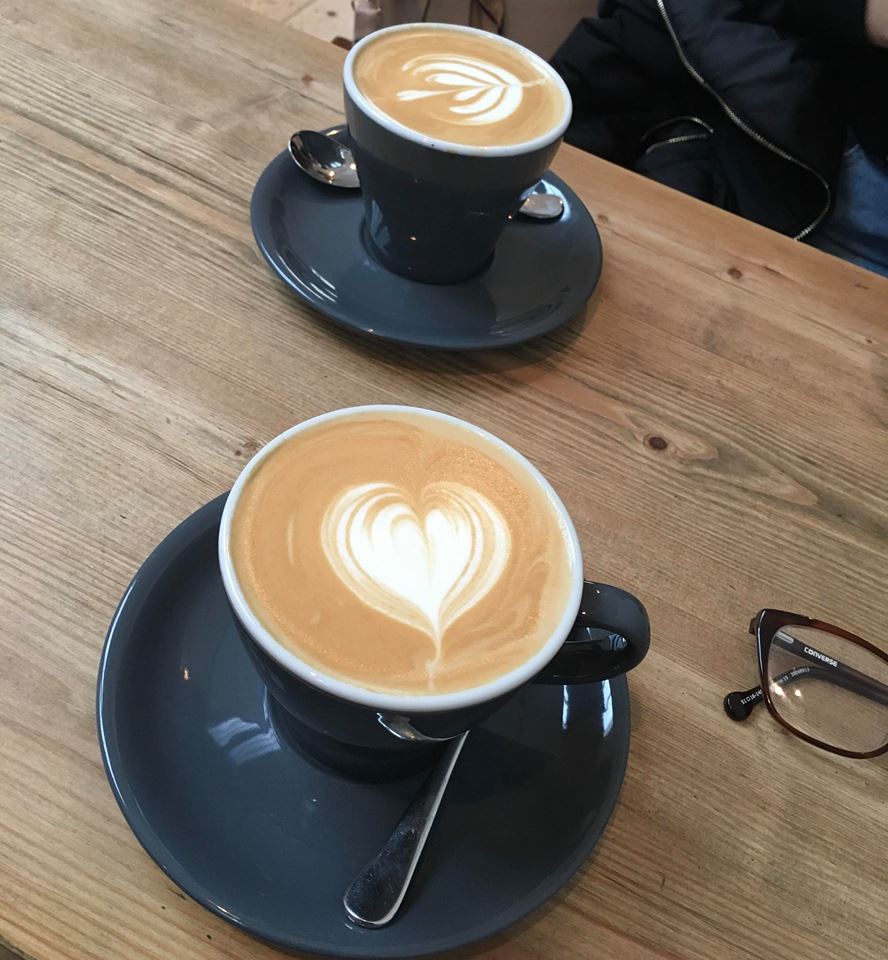 Shops for when your student loan drops
As well as hosting an abundance of independent cafes and restaurants, Bath also has a spectacular selection of one-of-a-kind shops.
Dorothy House Vintage Store
Located near the much-photographed Pulteney Bridge is a vintage Dorothy House charity shop. I love regularly visiting this store as it's always full of quirky clothes and accessories. It's like a real-life Depop but without the delivery fees. Perfect!
Here you will find two floors of ethically sourced jewellery, clothing and handicrafts. All products are from either India or Nepal – the owner, Mr Sharma (who is super friendly and attentive), is passionate about making sure that all he sells is made both compassionately and ethically. This is the perfect place to pick up some decorations for your university room.
The city in which you choose to study your degree will have a big impact on your overall university experience. For me, I am reminded every day why I chose to study in Bath. The city is vibrant yet peaceful; historic yet modern. In my opinion, Bath gives students the best of both worlds: a world-class university in a world-class city!
Lucy