Pity parties are allowed...but not for too long
If you've read my previous blog, you'll know that in June 2020,  after months of getting excited to pack my bags and head to New Zealand for 12 months, I found myself 'placement-less'. There were tears (...there were many years) but crying was getting me nowhere. I needed to pick myself up and dust myself off as having a pity party wasn't going to secure me a new placement. One evening in late June, I'd had enough of feeling sorry for myself and I knew that I needed to get my act together if I wanted to have any shot at actually completing a placement year. I knew that I didn't want to continue to third year for a number of reasons. For example, I knew that I wanted to:
Graduate with friends in 2022
Take a year off studying/exams 
Gain some experience in the working world (and 'spice up' my CV ready for Masters applications)
Moreover, with the pandemic, I knew that I didn't want to complete my final year in a remote learning setting. I was adamant that I wasn't going to be returning to Bath this year... or so I thought.
Getting my act together!
Just like I had many months before, I sat down with my laptop and started manically firing off CVs and cover letters to universities, start-up companies and MNCs (whose internship applications had closed by this point... but hey, it was worth a try!). I also had a Zoom call with my Placement Officer, Toby Wellington.
[Side note: I cannot recommend doing this enough. Your placement officers are there to help you. They WANT to help you.]
Within 24 hours, I had received an email from the University of Birmingham saying that they might have something available for me. There were two roles up for grabs: the first being an exercise physiologist assistant role and the second, a data analyst intern role for a nation-wide, decade-long bariatric surgery trial. The latter would allow me to work in a nutrition-focussed setting (AKA: an area of exercise science that I wish to go into long term) and I would get the chance to analyse nutritional behaviours of patients post-surgery. Unfortunately, both roles were unpaid but, honestly, I was okay with that. I was going to be living at home and any experience in the world of exercise physiology and/or nutrition would be extremely beneficial to me and my future endeavours. So... I took both! Again, I felt as though the process of acquiring my placement was pretty smooth-sailing. Surely it was too good to be true? And yes, I was right... as soon enough; in came another 'hurdle' (0r 4).
Just as it was all going to plan...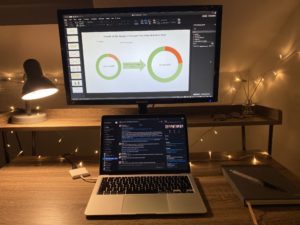 DOOM DAY. If there's one thing I have learned during my placement year, it's that you have to be adaptable! Things change, people change, circumstances change and especially in the current way of the world... many external factors are out of your control. I began my research placement at the University of Birmingham on August 17th whilst living at home with my parents. The placement was remote as at this time Birmingham was in Tier 3 which meant I couldn't actually move there or do any in-lab work (hurdle 1!). I was perfectly happy living at home BUT as the weeks went by, I began having more and more problems with my WiFi as I live in the middle of nowhere and the connection is very temperamental (hurdle 2!!!). Then, in early September, I was called by my supervisors at the University of Birmingham who informed me that the entire placement would remain online and I wouldn't be able to do any hands-on in-lab work (hurdle 3!!!!!). As a result of this news, I learned that I would no longer meet the hours required to meet a placement year as the remote work would only require 15-20 hours of my time each week (HURDLE 4!!!!). Once again... I was in a bit of a sticky situation.
How I went from NO placement to TWO!
However, as a fairly optimistic individual, I didn't let this get to me and instead decided to be proactive and tackle the problem head on i.e. make the best of a "bad" situation. In the grand scheme of things, it wasn't bad at all... it just wasn't ideal. However, the unideal situation slowly started to become very ideal. To cut a long story short... by late October, I had packed up and moved into a little bedroom in Bath in order to access reliable WiFi (I highly recommend Spareroom.com if you ever need a last-minute let!). By being in Bath, I have been able to spend time with friends who had continued to 3rd year (this has been a massive bonus!). In this time, I contacted a placement employer at Nutrition Integrated (a sports nutrition data insights company based in Windsor) who had previously offered me an interview. I asked if they would re-consider taking me on for some work experience. I expressed how interested I was in the company and how I thought it would be highly valuable experience for me. Fortunately, the managing director of the company was very kind and before I knew it, I had joined the team at Nutrition Integrated (this is also a remote placement).
So that is the story of how, in 4 short months, I went from no placement... to two. Thankfully, I am now able to meet the required placement hours and complete my placement year!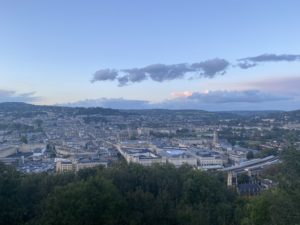 As both placements were unpaid, I needed something else to help me out financially and so on top of the two placements, I secured myself a third job as a waitress at the Bath Brew House (an excellent gastropub in Bath - again, I highly recommend). It's safe to say that my days were VERY busy... but that's how I work best and as a result, I ended up having a great first few months of my placement year. If I can impart any wisdom on you from reading this blog, let it be this: your mindset determines a LOT. Not to get too deep, but ultimately, your mindset is the decider of many key aspects of your life. Maintain a positive mindset and you will view and respond to situations positively too! In my situation, nothing was really going right at the start of my placement year but with a positive mindset and a bit of 'bounce in my bungee', I was able to get things back on track rather quickly. By maintaining that positive outlook, things really started to go my way and as a result some wonderful opportunities have come my way already throughout my placement year... but that can be saved for a future blog.
I hope that your placement/placement hunt is going well! Thanks for reading. I'll be back soon with more tales!
Best wishes,
Charlotte x