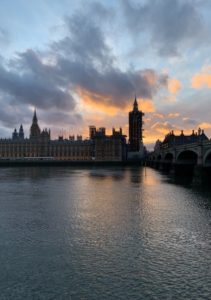 Hi everyone! I'm Milly, a third year Sociology student currently on placement in London. I'm originally from Oxford but decided to live in London during my placement year as this is where the office of the organisation I work for is and I was ready for a change of scenery after the first lockdown. Little did I know that 9 months later I would still not have been to the office nor met my team! Despite this, I have had an amazing year in London and wanted to show you what my days have looked like while living here.
7:30-9am
A huge benefit of working from home is being able to have a slightly more flexible working day than if I was having to commute to the office every day- including being able to wake up 10 minutes before I start work at 9am if I wanted to! However, this year has turned me into a big morning person, and so I love to go for an early morning walk before I sit down at my desk. I'm very lucky to be living in Westminster and my morning walk usually takes me along Millbank through to Parliament Square and then back down Victoria Street to my flat- definitely not the worst start to the morning! London has so many lovely green spaces and walking routes and I would really recommend making use of them, should you end up living in London when on placement.
TOP TIP #1: Get outside at least once every day- sitting at your desk 24/7 is not good for anyone, physically or mentally, so getting outside and moving your body, even if it is just for half an hour can really make the world of difference!
9am-1pm
I am working at the international non-profit GlobalGiving this year as their Business Partnerships Intern. It's been an incredibly rewarding experience working somewhere that I know I'm making a difference in the world every day, as well as gaining so much business related experience that will be easy to transfer to future jobs. This first chunk of my day is spent planning out my to do list for the day, hopping on Zoom calls such as our weekly staff meeting, Monday morning team hello or a one to one catch up with my manager and getting on with my tasks that need to be done that day.
1pm-2pm
I usually have lunch at this time but again you can be really flexible when working from home. A perk of not being at the office is being able to save money and make yourself lunch every day, although I do like to head to Pret or a local café for lunch every once in a while. I try to at least close my laptop and disconnect from Slack/emails during this hour so that I can have a proper break before getting started again for the afternoon.
2pm-5:30pm
This second chunk of my day tends to be quieter on the Zoom call front and so is a good time to get my head down and have some hours of uninterrupted productivity. GlobalGiving is headquartered in Washington DC, with the majority of our team being based there, and so any meetings with the whole organisation are held after 2pm (9am their time). I also try to join social work calls as often as I can to spend some time with the UK team in a more casual way- we like to co-work together on Zoom a few times a week to make it feel almost as if we are in an office.
TOP TIP #2: Organise to (safely!) meet up with colleagues if you feel comfortable doing so- I recently met someone I work with for the first time since placement started and it made the whole thing seem more 'real' and made me feel closer to my team which was so nice.
The best flatmates: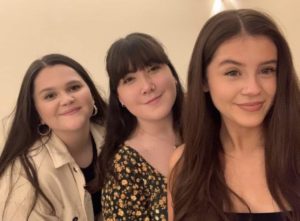 5:30pm-9pm
After work, I love to hang out and de-compress with my flatmates, who are also Bath students on placement. We like to go on walks, catch up with our Netflix shows and chat about our jobs for longer than we probably have time to do so. They really are the best support system, and I would 100% recommend living with friends in London as I imagine it could get quite lonely by yourself. Now that restaurants and bars are open, I have also been enjoying going out after work and (safely!) socialising with my other friends from uni who are also on placement while trying out the amazing offer of places to eat/drink out in London.
TOP TIP #3: Plan things to look forward to on the weekends- days can really start to feel the same when working from home so having plans for the weekend helps you to change things up a bit. For example, my flatmates and I picked a different neighbourhood in London to explore each weekend of the multiple lockdowns we have been here for and it has been a great way to see the city- especially since it was so quiet during these times.
Overall, I have had the best year living in London so far and am very excited for my last few months here before heading back to Bath for final year! If you're thinking about moving here but aren't sure, I would definitely recommend taking the plunge and going for it!