Like many students, I was stuck at a crossroads when I thought about applying for a Management degree at Bath: what's the difference between Management, International Management and Management with Marketing? And how do I know which one to choose?
Compulsory modules in the first year
The three courses are often referred to as the Management because they share the same modules in the first year. My modules covered topic areas such as analytics, marketing, finance, economics, and operations. As a Management with Marketing student, some of the first-year modules were a challenge. However, looking back, they laid a great foundation for the rest of the modules in my degree, as well as my career. The different topic areas also tie in together and I started to recognise the value and significance of my compulsory modules in my second and final year.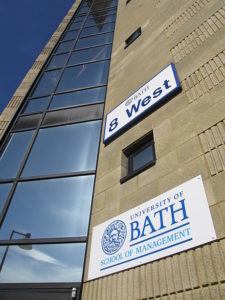 Key differences
The key differences between the three courses are the compulsory modules from the second year onwards, as well as placement/study abroad opportunities.
Modules in the second and final year
Second-year is where the courses start to differ. In the second year, each course has different compulsory modules. Naturally, compulsory modules for Management with Marketing are geared more towards marketing, as these modules prepare us for a career in marketing. However, there is still space to explore other interests with the optional units. For instance, in my second year, I chose modules that explored corporate responsibility and in my final year, I learnt about contemporary issues in business and society, such as modern slavery and corruption. Overall, I found that there was a good mix of modules that suited my interests.
With a Management degree, compulsory modules focus on the basics of operating a business. This includes entrepreneurship and law, amongst others. There is a greater degree of choice in final year, allowing students to steer their course in their desired direction. The compulsory modules in International Management place a strong emphasis on how businesses operate in a global context. Subsequently, international placements and study abroad opportunities consolidate the content taught in these modules.
Placement and/or study abroad opportunities
The placement opportunity was definitely what excited me most about my degree! That being said, students can choose the 3-year Management course if they would prefer to skip a placement and focus on studying. Placement/study abroad is compulsory for International Management and Management with Marketing.
Study Abroad is only available for International Management students. The School of Management has established connections with business schools around the world, which can be found here. International Management students have the option to study abroad, go on a year-long work placement, or a combination of both. Typically, the year-long work placement has to be completed abroad.
It is less common for Management and Management with Marketing students to complete their placements abroad but it can be arranged. Many employers in the UK have placement schemes for students, which provide great structure as well as potential graduate opportunities. With a Management course, there is greater choice in the placements available, whereas Management with Marketing placements have to be marketing-related. Regardless of the degree, all placement opportunities need to be relevant to the course content.
Personally, I am very grateful to have completed my placement year in New York at an ad sales company. A placement abroad is not common for Marketing with Management students, but it is possible! As a Marketing Intern, I was challenged with lots of responsibility and gained practical experience and soft skills, such as organisation, problem-solving, communication and a strong work ethic. These are incredibly valuable as they are easily transferrable. I also gained knowledge in the technical side of the job, and it has put me in good stead for my career.
Choosing between the three
I've summed up the key points for each course and hopefully, this will help you find the best possible course for you!
Go for Management if:
You want more flexibility and choice to experiment with a diverse range of modules
Learn more about the 3-year course here and the 4-year course (with placement) here.
Go for International Management if:
You want to take on an international placement or if you want to study abroad in another country
You can learn more about the course here.
Go for Management with Marketing if:
You know you want to specialise in Marketing and you want to gain experience in a marketing-related placement
You can learn more about the course here.
Finally, you might also like to read this post about Business v Management or this one about Management v Business.