If you've made it to this stage, congratulations on deciding to take a placement year! It can be a great way to gain some valuable experience and pick up transferable skills. And it could even be a fantastic opportunity to immerse yourself in a new culture if you decide to work abroad! In this blog, I hope to help make your journey to finding a placement a little smoother with 5 top tips for applying.
Start looking early
Applying to placements early is a great way to avoid the last-minute stress of trying to find a placement in the late summer. Smashing out your applications and preparing early can save you stress and give you time to plan your summer.
By doing early initial research into what you're looking for in a placement, you can take your time to consider each company and placement opportunity without rushing. By applying early, you'll also have the luxury of choice! You can see all the placement opportunities that are already out, and you can research specific companies to find out when they release their placement roles.
To prepare initially, you can attend career fairs and do independent research on different companies. This will be a useful way to understand exactly what the requirements are for the different roles. Some companies may even offer company insight days. Company insight days are a great way to figure out exactly what to expect from working for that company. You can also use company insight days to build connections ahead of when you apply. Getting someone's email address can be helpful to have as an option to contact to find out more about the role.
Do independent research!
Whilst your department will have a very extensive list of placements opportunities, it's still so important to do your own research and make use of any connections you might have. I independently searched across different job boards for placements I could find outside the university's list, and found a few that hadn't been included yet!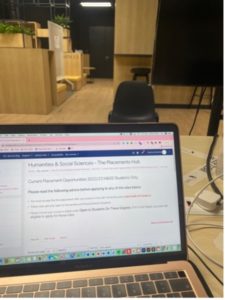 It can be pretty hard to figure out where to even start with the job search so you can use job boards like Indeed, Glassdoor, LinkedIn, Internship.com… etc. Within these sites, you can narrow down your search by using the filters. When filtering, I would go for keywords like 'student' 'internship' 'part-time' and this generally helped to find the most relevant placements.
Something I learnt when applying for placements is to speculatively apply. This means that even if a company hasn't listed a placement, you can always email them and ask if they have any positions available or if there are any positions coming up for you to look out for. For some of the bigger companies, they may only publicly advertise placement opportunities, but you may find that some of the smaller companies are looking for some extra help.
Tailor your application
One mistake I made was not tailoring my application to each specific company. I assumed that as I was applying to the same International Development field for most of my applications, my CV would be applicable to all the roles. But, I learnt that different roles may have slightly different requirements. Some may require a specific module while others don't have any pre-requisites. For the application itself, some companies may ask you to anonymise your address or name as part of a blind application process. So, it's worth looking at the company and aligning your CV to its requirements.
As for the cover letter, this should definitely be targeted towards the individual company. The careers department offer some really useful resources and tips to perfect your CV and cover letter, so that can be a good place to start.
I also found that when drafting my CV and cover letter, it was really useful to get feedback from the careers team, but also your family and peers. Although, getting too many people to look at your CV could be counterproductive as you may end up with a few clashing opinions. So, it would be good to have a select number of people you want to view your CV and cover letter.
There's no such thing as too many applications
One of the expectations I had going into the application process was that I wouldn't have to exceed more than maybe 15-20 applications… but I was very wrong indeed. I was definitely met with a fair share of rejection emails, but 60 + applications later I landed my placement.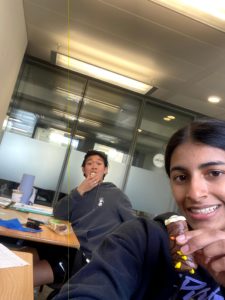 Whilst it is important to be picky and not compromise too much on what you want to do or what you're expecting from your placement, it's not a bad idea to go a little out of your comfort zone and apply to something similar. The best bit about placement is that it's only temporary! So, it's a great way to figure out what you like and equally importantly, what you don't like. Don't be afraid to submit lots of different applications, chances are you won't hear back from all of them anyway!
Another thing to remember, as cheesy as it may sound, is not to lose hope. Not finding a placement straightaway can feel pretty demoralising, but eventually, you will find something. I also tried to get and understand feedback on my application to see what I could improve on. By the end of the process, you'll have a fantastic CV and cover letter!
Preparation is key!
Different roles will have different application processes. Some of the larger more well-known companies will be pretty competitive, so they may require more stages (e.g., different rounds of interviews, pymetric tests, assessments…) than smaller companies. For larger companies, you can find plenty of guides and videos to help you understand the different stages and what is expected in them.
For your CV and cover letter, as I mentioned previously, speak to the careers councillors and use the drop-in sessions to iron out any questions or concerns you may have (I found speaking one-on-one with a member of the careers team to be very helpful). The careers team can also help with mock interviews which can be useful to gain some confidence before the real thing.
Lastly, even if the application deadline is still far away. Be one of the first to apply as some companies have rolling applications, which means they will close the advertisement for the role once they find someone.