Bath is one of the most beautiful cities. From the vast green meadows to the bustling city centre there is an abundant number of things you can do; more than you can imagine. Here are a couple of my favourite hang-out spots and eateries in Bath that are must-visits!
Famous buildings and where you can find them
A visit to Bath without entering the Abbey is an incomplete visit. Built in the 16th century, it is preserved in its pristine condition and its tall ceilings with bedazzling lights will light up your day! I am so excited for my graduation ceremony to be taking place at Bath Abbey – one of the most historical landmarks of Bath! (Catch my cohort and me on 20 July 22 😉)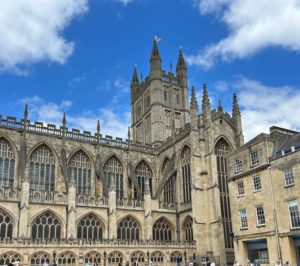 The Roman Baths are yet another historical landmark of Bath and are known for the beautiful thermae and courtyard surrounding it. A visit on a bright sunny day gives the entire structure a golden tint and leaves the water sparkling. Added bonus is it is free for students!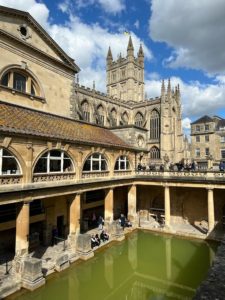 Picturesque spots in Bath
This is one of my favourite hiking spots in Bath. It's a mini-hike and takes about 30 min to reach the top but the view from up there is totally worth the tiresome journey! There is a small park near the viewpoint which is a good picnic spot. The view is especially stunning at night when the entire city is illuminated.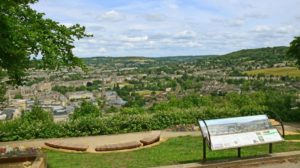 Yet another gem of a scenic point in Bath. The Bathwick hills are a sprawling expanse of lush meadows forming part of the Bath Skyline walk. It is one of the most peaceful places to relax and wind down from a busy uni day. I would always cut across Bathwick hills on my walk down from campus. It is also one of the best places to watch the sunset and get in a little bit of sunset yoga.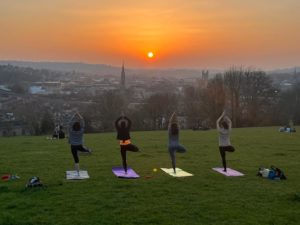 Royal Crescent and Botanical Gardens
The Royal Crescent is a classic example of Georgian architecture in the UK. It has 30+ terraced houses forming a crescent shape. It is a great hang-out spot and you will recognize the scenes from Bridgerton shot in front of the Crescent! The Botanical Gardens right next to it is home to a plethora of flowers and trees, sure to spark the nature enthusiast in you.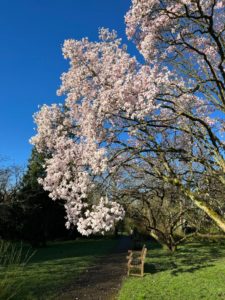 This is slightly on the outside of Bath but is a great place for a short summer swim. The Weir was built 100s of years ago and is still a very popular tourist destination in Bath.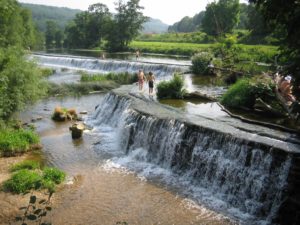 Eateries
Along with the scenic spots in Bath, the city also comes with exciting places to eat to refresh you after all the sightseeing. Here are my recommendations for cafes and dine-in restaurants:
This is the perfect café when you are craving something sweet (as the name suggests) and the interior of the café is so Instagram-worthy! My go to are the stacked pancakes!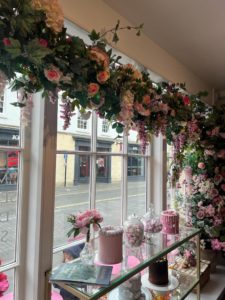 This is a really nice café for a savoury breakfast! The avocado toast is always a classic.
Creams café is hands down one of the best dessert places I have been to. From the waffles to the pancakes to the chocolate cheesecakes, it has everything a chocolate lover would crave.
Swoons is one of the best ice cream parlours in Bath. The ice cream is absolutely creamy and has every flavour you could think of. They also have vegan options which is always an added bonus.
Mrs Potts Chocolate House will always be my favourite hot chocolate pitstop. It is so rich and creamy and the brownies and cookies served alongside are sure to brighten up your day.
I have a soft spot for Indian restaurants being an Indian, and Indian Temptation definitely satisfies my cravings when I am missing home. It is one of the most popular Indian restaurants in Bath and the quality of food is great!
Mexican is one of my favourite cuisines and my go-to for satisfying my Mexican craving is Las Iguanas. They have great portions and their food makes you crave more.
All in all, Bath is a wonderful place to walk around and soak up the beauty of nature. You can never get tired of the lush green meadows and the stunning skyline. The restaurants and sweet shops in Bath add to the richness of the city but be sure to check their websites before visiting. I hope you like my recommendations and enjoy trying these places!
Let me know your favourite hang-out spots in Bath in the comments section below!