Today I would like to introduce one of the accommodation halls on campus: The Quads. This is the accommodation I lived in during my first year. And without any personal attachments, here is why it is, in my opinion, one of the best accommodations on campus.
Introduction
The Quads is made up of five individual buildings: Acer, Bay, Chestnut, Damson, and Ebony. Altogether it is home to around 700 first years. Being one of the newest accommodation halls on campus, the Quads composes entirely of en-suite rooms in flats of around 8-10, with a shared kitchen and lounge.
Location
The Quads buildings are located on the East side of campus, right next to the Lime Tree, and also extremely close to the arrival bus stop, Sports Training Village, and the Edge. Although geographically speaking, nearly all undergraduate accommodations on campus are of an equal distance (all within 7 or 8 minutes walking distance) to the department buildings, the main Parade, and the lake area. However, with being so close to the bus stop, the Quads definitely has an advantage by being the most optimum residential location for travelling back and forth from town via bus, something the majority of first years do on a weekly basis at least, if not more frequently.
Facilities
As possibly the most modern accommodation hall by design, the Quads rooms have many features which just make sense. All entrance points are accessed through your library card instead of keys. The door to your own room can also be locked and unlocked by swiping your library card through the sensor. Once you enter your room, you can place your card into a slot to turn on the lights. This saves you the hassle of turning off every single light individually when you leave the room to save energy.
The room itself is small, around 11 square metres, but compact. It is efficiently designed so there are many storage spaces, even a crate under your bed. There are many sockets and USB outlets, available both near the desk and also by your bed, so you can binge shows or work in bed. Each room has its own TV which you can connect to your screens with an HDMI cable. The most unique feature in every Quads room is probably the mood lighting system above your bed, which enables you to change the colour of the light to create cool effects.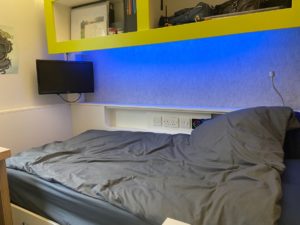 Communal areas
Although your room at Quads is not the most spacious, the kitchen and lounge definitely make up for it. Cleaning services are provided for all communal areas at the Quads. The kitchen is shared by everyone in your flat, and it is huge for the number of people using it. The kitchen appliances are all new and easy to use. There are multiple ovens, stores, and fridges, so everybody can cook and eat at the same time without it being too crowded.
The lounge is shared between the two adjacent flats. It is a huge room with a TV, games, sofas and a study desk; the ideal area for arranging study groups and social events.
How to choose your ideal accommodation?
Firstly, everything is down to your budget - you can only spend what you have. Prices for accommodation mainly differ between en-suite or non-en-suite rooms. There is a certain beauty in having your own bathroom, but the catch is that you would be responsible for its hygiene.
Alternatively, you can choose a non en-suite halls where on top of having cheaper prices, cleaning services are provided for the communal bathrooms. Some accommodations, including Quads, have Eat & Drink credit which you pay for with your housing. Depending on whether you enjoy cooking yourself, or are more inclined to eat on campus, it is also a great way for food budgeting.
Ultimately, campus life during your first year should be one of the best and most memorable years of your life, regardless of which accommodation you end up living in. Feel free to navigate through the University website for more info on first-year accommodations. Good luck everyone!