My Woodland Court Experience (2022)
As a student who rather frantically researched all on-campus accommodation here at Bath before making a decision, I soon realised that compared to other halls, Woodland Court is almost a mystery before you move in! I based my choice upon one blog post and video that I had watched prior to coming to uni. With this in mind, it seems only fair to future Woodland inhabitants that I give you an up-to-date walkthrough and a feel for what it's like to live in Woodland Court - B block to be exact - in 2022! I hope you find this useful and hopefully you'll leave this post with more of an idea of what to expect if you're moving here!
Woodland Court is a lovely place to live, and as I'm sure you have expected, I will soon tell you why I think so. If you are looking for a modern room, away from the Students' Union (which can be a little noisy at night), then this could be for you! Here's what to expect (each flat is different so please bear this in mind!)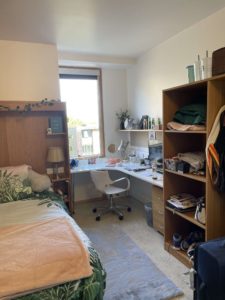 The flat itself
I live in an all-girls flat. I didn't apply for this, it just happened to be like that! I live with six other girls so my flat is very small in comparison to other flats - with about 15+ people. Our kitchen, however, is extremely spacious. We have an oven, two electric stoves, two sinks, two fridges and, of course, two freezers. The kitchen is ideal to socialise, especially when you first move in!
We have a small social space with a table and chairs. Usually, you also have sofas in the kitchen however due to the size of our flat we were not given these. The kitchen also has a television and I've witnessed some interesting versions of Wii games being played after the consumption of a little alcohol!! What I'm trying to say is that the kitchen can be a lovely place to relax in...however, I would say that house-like accommodation such as Eastwood definitely has more of a community feel and is more social, from my own experience. Just something to think about!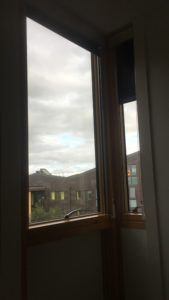 The rooms
The rooms here are a good size and are great for creating a cosy ambience. I was randomly allocated a disabled room (this sometimes happens just to fill the remaining rooms when they aren't required), therefore my room is definitely very spacious!! Rooms here have an en-suite bathroom with a wet room style shower. However, I do have a bath; I am the only person I know to have this so I have been extremely lucky!
The desks are enormous and also come with a lamp! There are plenty of noticeboards to make the room your own with photos or work notes! In terms of storage, Woodland has an open wardrobe/shelving unit with a rail to hang up clothes and drawers by the desk - which I have also used for clothes and storing other items. I'd say one of the main reasons I applied here was the bed! We have 3/4 beds which trust me, all your friends will envy! We also have an overhead light above the bed - perfect for reading, especially as the main light can feel too bright at night.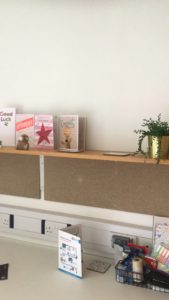 Since moving here, the laundrette at Woodland Court has been refurbished. If you're anything like me and do your washing at random hours, our laundrette is great because it doesn't shut until 12am...ideal for not having to wait for washing machines! We have one laundrette between all Woodland blocks. That being said, I have only had to wait for washing machines to become available on a few occasions and once you are aware of the quiet times at the laundrette, washing is super easy.
This has just been a very brief overview of Woodland, but I hope it alleviates any stress of the unknown, as moving into halls brings plenty of emotions, without the need for extra uncertainty. To all future Woodland students, I wish you all the luck and happiness for your time here, make the most of it, because before you know it you'll be packing to leave!!
I hope this has proved useful!
Abi