Some Background Information
I first moved into Quads Ebony on the 26th of September 2021. My arrival came with a sense of optimism and intrigue for my first year of university – which was sure to be a defining period in my life. Naturally, my first home away from home was determined to play a huge role in this, so I was more than prepared to embrace staying in Quads with an open mind. It's located on the far-right side of campus, roughly a 5-minute walk to the Parade and other lecture halls.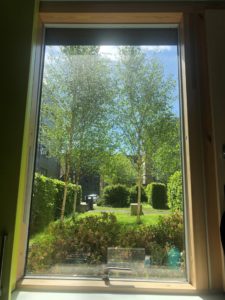 Your Private Space: A Home for the Year
My initial opinion of my room: cramped. The squeeze of suitcases, through to the bed and past the wardrobe and shelves, is not the easiest, although it does exude a cosy feel. The ensuite is wonderfully convenient – having that privacy to a sink, shower and toilet is something that certainly made life easier for me. Additionally, the desk is an excellent size for those late-night assignments due the next day.
The bed is comfortable; never leaving me struggling for a goodnight's sleep. Having lived on the bottom floor, my view wasn't the grandest – but the idea of sliding panels to cover the window was ingenious. Slight flaws I could pick at would be the very weak picture board, lack of floor space and the occasional faulty shower which was fully rectified. The key card mechanism was a saving grace throughout the year as not only was it easy to keep a hold of but left me feeling secure in my own room and comfortable when I left.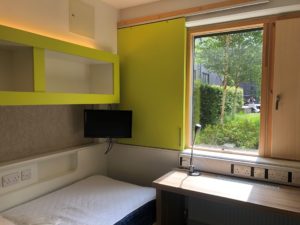 Social Space Number One: The Chef's Headquarters
Prior to university, I had little experience with cooking but the facilities within the confines of the kitchen allowed me to cook 3 edible meals a day. The kitchen also went hand in hand with being a wonderful space for the flat to come together. With many of us having busy daily schedules of lectures and seminars, cooking meals together was occasionally the only bonding time we'd have in a working day.
2 ovens, 2 hobs, 2 sinks, 3 fridges and a multitude of cupboards were very functional for us, apart from how crowded the freezers would be after particularly hefty food shops. I remember the table within the kitchen with fond memories too, not only as a place where I'd eat many of my meals but also as the seating space for many enjoyable exchanges with my friends.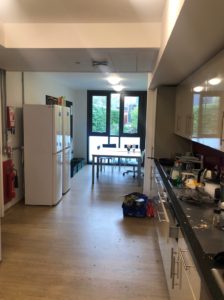 Social Space Number Two: The Multipurpose Lounge
The main selling point of the lounge is its TV mounted on the wall, with additional USB cables. Options for entertainment with it are vast, from a flat movie night to ferocious gaming competitions. It was instrumental in bringing the household closer together.
The sofas and round table were a useful addition also, providing the necessary seating for many socials. Although it was never the spotless area we envisioned (mainly our fault and that of students prior) it became the connecting bridge between two flats that was always inviting and a safe space for everyone.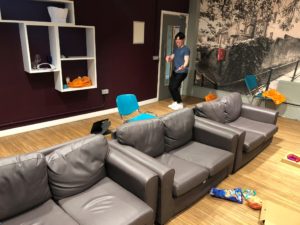 Additional Comments
As I hinted earlier, the structure of a Quad's flat is quite complicated. My own flat consisted of 8 people total, while our "household" was a total of 16 people, as we were adjoined through the lounge previously mentioned. Adding another household to the equation creates what you would call a quads floor.
I wasn't able to interact with everyone in my building as some preferred to keep to themselves. Despite this, my flat inhabitants were wonderfully social, and I thrived in their company often finding in the second semester, I was able to befriend people in the other Quads which freed me from the confines of such a secluded part of campus.
A Short Summary
To conclude, my time in Quads Ebony was nothing short of a blur of positive memories, and I'd highly recommend future students live there, as it provides everything a student living on campus might need.