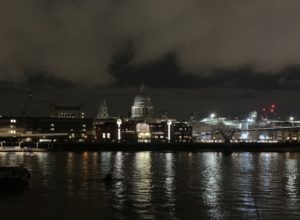 If you've successfully secured a placement in London, your next big challenge is to find somewhere to live – it's likely that this won't be as easy as when you had to find your uni house in second-year (whether that was in Oldfield Park, Twerton or somewhere else in Bath). Securing accommodation in London is much more expensive and often very competitive, so it's important that you know what to expect and what to do…

Who?
Your first task is to work out who to live with. Whilst you might have shared a uni house with 4 or 5 people in Bath, many of the available flats in London tend to only have 2 or 3 bedrooms (especially in areas close to central London). It's also possible that your friends or previous housemates from Bath haven't secured placements in London, and so you may need to find new people to live with this year.

This can be daunting, but there are several ways you can approach this: first, try asking around – it's possible you know someone from Bath that has also found a placement in London. Someone on your course? Someone you met in a society? Or even a friend-of-a-friend? These could all be great options for future flat-mates, so make sure to reach out to people beyond your immediate circle of friends.
Instead, maybe you have old friends (from school or college etc.) doing placement years in London or that attend a London university, and who may also need someone to live with. My flatmate this year is a school friend studying at King's College London, and so it's definitely worth checking in with people you know.

Another option is to join Facebook groups and pages dedicated to helping people find flatmates (one good example is the 'London Housing/ Flatshare/ Buddying/ Accommodation Group'). On some of these pages, people will be looking for a group of flatmates to live with, whereas on others, people will be advertising available rooms within established Flatshares. Both options can work well depending on what it is you are looking for.

What? Where?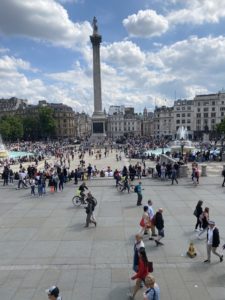 The next important step is to decide what you want and what you need from a flat. You will need to decide which areas of London work for you – explore transport routes or tube lines that would get you to your placement site/office/lab. How long would you be comfortable commuting for? Are there particular areas of London that you already know you like, or that you want to avoid? Do you want to be in a busy, bustling area of the city? Or do you want to be in a quieter, more residential area? 
These are all important decisions to consider and might need to be negotiated with whoever you plan to live with (my original plan for housing in London changed because the people I wanted to live with had very different priorities when flat-hunting). Once you've made some of these decisions, and have worked out exactly what it is that you want and need, finding a flat will become slightly more straightforward.


How?
When looking for flats, Zoopla, Rightmove and OpenRent are all great sites to use (but you might eventually get sick of them!) -  these websites can be used to browse available options and filter searches based on what you're looking for.
Finding my flat meant checking these websites every day and ringing estate agents as soon as new flats were posted. I'd often ring immediately only to hear that there were no viewing-slots left to book, that that estate agent didn't offer in-person viewings, or that the flat had already been offered to someone else. You will likely repeat this cycle for a while before you find your flat, but don't give up - you will find somewhere if you keep looking. 
[It's worth noting that I was looking for my flat in 2021, when renters were first returning to London after the pandemic, and so it's possible that your flat-hunt will be less competitive].
Whilst you should manage your expectations when flat-hunting, it's also important that you trust your gut – don't take a flat that isn't right for you just because you think you won't find anything better. New flats are consistently posted on housing sites, and something new will always come up. Equally, if a flat seems too good to be true when you see it online, it's possible that it is too good to be true. I would 100% recommend in-person viewings of flats; it's possible that tactical photos in an advert may have disguised potential issues, so make sure you are thorough when viewing different flats.

When?
Everything I have suggested above should be done at your own pace – you don't want to feel rushed or pressured into making any decisions that you are not comfortable with.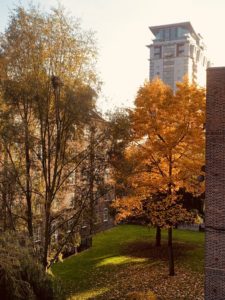 However, I would recommend that you start the flat-hunt sooner rather than later. There is definitely no need to start flat-hunting immediately after securing a placement, but don't leave all of this decision-making as late as I did (I found my flat only 6 days before the start of my placement because I hadn't started looking early enough). Start your search as early as possible to avoid any unnecessary stress and to ensure that the start of your placement year is as smooth as possible.

Whilst it can be stressful finding a place to live in London, I have had such a great time living here that the flat-hunt was definitely worth the effort.