What is the Welsh Bacc?
Welsh Baccalaureate, or as it is more commonly known, Welsh Bacc, is an educational qualification taught in secondary schools and colleges across Wales. The aim of the qualification is to give a broader experience to pupils than other more traditional learning programmes to allow you to develop transferable skills useful for both education and the workplace.
This course is a standalone, graded qualification and at some universities, it is valued at the same level as a single A level, where it can be used interchangeably with your other A levels when applying for university. However, at Bath, they allow an alternative offer.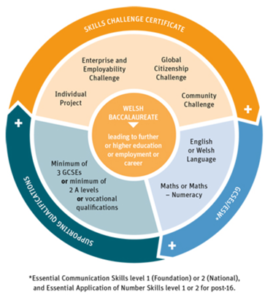 Skills challenge certificate, shown in orange, are the modules undertaken during college (Welsh Government, 2019)
What does it involve?
During college or sixth form four projects are taught - two in each year. Year 12 usually consists of the enterprise and employability challenge and the global citizenship challenge and in Year 13 the individual project and community challenge is completed. These modules contain both individual and team tasks and allow you to develop teamwork, communication and I.T. skills.
Why I decided to study for a Welsh Bacc
It is highly recommended that Welsh Baccalaureate is taken at A level in Wales. It not only helps you develop valuable skills, but it also provides a great opportunity to get yourself ahead of the curve when it comes to applying to university. During the application process, my required grades were dropped as a result of completing Welsh Bacc.
How this fits around your A levels
With dedicated Welsh Bacc lessons, it was easy for me to fit in around the rest of my studies. Although, I do recommend that you work on it throughout the entire year and don't leave it to the last minute otherwise the workload will build up and could impact your other studies.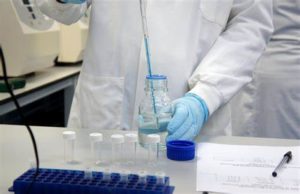 What my project was about?
Due to COVID, my year was unable to participate in the community challenge, so all our attention was put into the individual project. It is recommended that the individual project is connected to your degree, so as I wanted to study Biomedical Sciences, I chose the title, 'What was the impact of the COVID-19 pandemic on diagnosis, treatment and the future of cancer care.' This project allowed me to relate to current times and linked in with a topic I wish to study in Year 2 of my course at Bath– Immunology.
How this impacted my university studies
Lots of skills that you wouldn't normally have used are required for Welsh Bac including I.T., presentation and essay writing skills. I  developed these skills throughout the different projects and have since been able to transfer these skills when working independently at university.
So, is it really worth it?
Although Welsh BacC does take up a lot of time, it sets you up very well for university. It encourages independent learning and self-study which are essential for every aspect of university life. Taking part in Welsh Bacc also allows learners to develop essay writing and I.T skills that many learners would not otherwise know about and would have to learn alongside their degree.
In conclusion, Welsh Bacc is worth it and should be looked at as an additional qualification that can teach you critical skills in preparation for university.