My name is Arielle Salvary, and I am the other Co-Chair of One Young World Bath. I was born and raised in Trinidad and Tobago, a beautiful twin island nation in the Caribbean. I was inspired to apply to the Co-Chair and Delegate position because of my deep interest in resolving global inequality and saw One Young World as an organization that shared these same values. I am extremely excited to attend the OYW conference as for one I have been given the honor of carrying the flag for T&T. But also just getting the opportunity to exchange ideas and meet like-minded individuals with a desire to leave the world a better place than we met it is a once in a lifetime opportunity.

A little bit about me…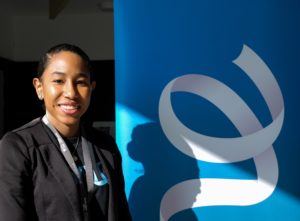 … I am a University of Bath Master's student in the Department of Humanities and Social Sciences, and I am currently reading for a Master of Science in International Development with Economics. Prior to this I attended the University of the West Indies in Trinidad and Tobago and graduated with a Bachelor of Science in International Relations and a Minor in Economics. During my studies I became starkly aware of the vast disadvantages facing developing countries through no fault of their own and became passionate about tangibly contributing to resolve the issues they face. Especially if these same problems are plaguing the Caribbean region.

Leaving Trinidad to come to the University of Bath was a very big adjustment and it was quite surprising to me how little people knew about the Caribbean. Many people had never even heard of Trinidad and Tobago before, and I became emblazoned to bring something from the Caribbean to the university. I chose 'The Case for Reparations' which is a campaign for reparations, justice, and truth for the victims of enslavement and by extension colonization. In May 2022, I hosted an event at the university entitled 'Dissecting the Case for Reparations'. The event consisted of a keynote speech by Ambassador Dorbrene O'Marde followed by a panel discussion that touched on what exactly did reparations consist of the idea of climate reparations and the progress that the Caribbean Community (CARICOM) Reparations Commission have made in bringing awareness to the movement. Hosting this event was something I was proud of because Caribbean people and our history has often been overlooked in the world.

Another aspect of my life that I am extremely proud of is the Co-Founding of Sunday Market Network. An NGO in Trinidad and Tobago founded in 2020 in the midst of the global pandemic that is aimed at encouraging youth participation in politics and current affairs. While it is still a small organization, we have made some significant achievements such as conducting a financial literacy campaign, organizing debates on the economy consisting of a panel of youth experts and showcasing young people in T&T who have made significant strides in their respective fields.
Tina Kimfumu
I am one of the co-chairs of this year's One Young World Bath Caucus, and the School of Management representative for the University of Bath at this year's One Young World conference.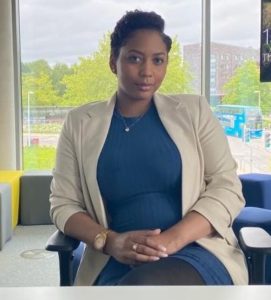 I applied for this role as I believe I will benefit greatly from networking and opportunities to collaborate with impressive global leaders who can support new sustainable agendas and initiatives. I am excited to attend this year's summit and know it will enable new insights, ideas, and intensify the motivation I currently have, furthering impact on the projects I already have and plan to deliver to bring positive change in the communities I come from.
Awarded Woman of the Year 2021 at the Women in Tech Excellence Awards, I led the African and Caribbean Network's Corporate Social Responsibility team at KPMG, and was responsible for a team who fundraised, planned, and delivered workshops and events for Black communities, including mentoring programmes such as the Pushing LimITs programme for Black women looking to enter the Technology profession. Pushing LimITs (developed by myself and Ijenma Onwu) was first piloted in February 2021 for Black women training at Niyo Group 'Black Codher' coding bootcamps. We partnered 15 women from the Birmingham cohort with 15 senior partners and directors from KPMG for 6 months mentorship. By the end of the 6 months, 13 out of 15 women went from unemployment to employed at companies such as Facebook, Credit Suisse, University of Birmingham, and even KPMG software engineering, DevOps, and cloud departments. This is an example where corporates can partner with charities and social enterprises for the betterment of society, by using their knowledge, experience, and skills to close the disparities in skills and employment.
We felt that it was important that our 'allies' in senior leadership support Black communities through mentoring, sponsoring, and coaching through CV building, mock interviews, set career goals and support them in achieving them. The success of this bootcamp has led to its second cohort this year, with females from the Manchester benefitting from support from new KPMG mentors. Black women account for less than 1% of people working in technology and are significantly underrepresented in the industry. Therefore, I am dedicated to contributing towards alleviating these types of disparities and seeing tangible progress and lives positively impacted.
Following the murder of George Floyd, I was inspired to make change amongst Black communities. I had the privilege of working for one of the Big 4 Professional Services firms, giving me access to invaluable knowledge, resources and experiences, and it was vital for me to use this to support the communities I belong to. As a Black woman, I understand the disparities in education and employment, including the lack of support in funding, career progression, mentoring and coaching. In what feels like a short space of time (16 months), I engaged with 19 charities to understand the issues and disparities they face as Black organisations, which have been amplified further by the pandemic. Through our charity partnerships, we have helped over 1175 beneficiaries through fundraising and volunteering activities to support scholarships, mentoring programmes, skills workshops and more.
I am currently studying a PhD at the University of Bath exploring how technology changes work and impacts employees in the digital age. I endeavour to pair my studies with planning and delivering charitable initiatives to close the skills gap and support underrepresented groups into employment and education.  
I look forward to sharing my experiences with you on both the One Young World Bath Caucus and Manchester Summit.