New York, NY - a city so nice, they named it twice!
First month reflections
It's finally been a little over a month since I began my research placement at New York University - and what a month it's been! I've answered the question "omg tell me about New York" so many times that I think about it in my sleep, so I'm excited to share beyond the superficial answer of "omg I love it here". 
The first weeks were rocky, as it always is when moving to a new place - with bank issues, getting a new phone number, adjusting to the time difference and being away from friends and family. Thankfully, I have an extremely flexible and understanding lab manager who encouraged me to fix these logistical issues before I dedicated myself fully to the lab. I also have a few friends who already live in the US and I could turn to them for advice about the best banks, phone companies, where to grocery shop etc. Solving these important but frustrating technicalities first is the best and quickest way to begin enjoying the new city care-free, at least in my experience! 
It is also important to give yourself time to adjust to a "working" life, which is considerably different to university life . Shifting from 2-4 hours a day of lectures and the rest being free time to a 9-5 schedule requires a mental shift as well as a physical shift. You can no longer meet up with friends for brunch on a Wednesday, but you have all of Saturday and Sunday for yourself. I love having a routine as it makes me feel very organized, and I have found that this type of structured schedule works really well for me as I can split up my time very clearly into work, gym, grocery shopping, laundry, and free time (friends, museums, restaurants, day trips etc.). This was harder in university as there was more free time and therefore harder to structure as it changed based on different priorities each week. 
Washington Square Park, a very studenty park where I have my lunch most days!  
Another big help has been the support system that my lab is; everyone is extremely welcoming, open and ready to help. As we work with participants, the workload varies on how much data we are getting and this makes each day slightly different and dynamic. This is helping me learn how to rank my tasks daily on their importance, and who/how to reach out for help when I need it. It is extremely rewarding and every day I feel myself getting more confident in my roles and responsibilities!
The good and bad of the dreaded visa   
When I first started looking into traveling to the United States, one word stood out to me that was repeated by friends and family in a frightened way - visa! I can only speak about the process when interning at a university in New York on a J-1 visa, and it is true that the process is long and tedious, but less-so for the student and more so for the placement organiser who needs to collect signatures from different department heads. This can take a while waiting for responses and filling out multiple forms. My lab manager began the process around March and I had the documents mailed to me in June. Thankfully, from there all I needed to do was fill out and pay some forms, send my passport to the embassy where they stamped the visa in and then it was sent back to me. This last part took about 2 weeks, and it was not such a hassle. 
Of course, when you enter the country you need to jump through some hoops such as getting a travel signature, completing a check in and filling out taxes later on, but NYU was very dedicated to helping J-1 visa holders and organised remote presentations and Q&As about the whole process. 
Now onto the "triumphs" part! Being a J-1 visa holder, you are an exchange visitor, which can include government visitor, intern, or physician, amongst others. The US Department of State is very interested in cultural exchanges for people on this visa type, and I was invited to apply to a leadership seminar organised by CIEE (Council on International Educational Exchange) called BridgeUSA (https://www.bridgeusaldp.org/). During the summer I sent in a video and written essay describing a social injustice that inspired me, and I was accepted for the October 2022 session!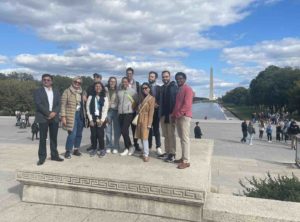 BridgeUSA group at the Washington DC Mall. 
This 3-day seminar consisted of mental health and leadership talks with guest speakers Dr. Bill Pfohl and Bobby King, as well as a cultural exchange discussion with member of the State department, Nicole Elkon. We also had free time to explore Washington D.C. and got a tour of the main monuments (pictured). I was part of a group of around 12 other J-1 visa holders, most of whom were physicians, but I learned a lot about cultural differences and similarities and had a great time exploring a different part of the US. It was also a great break from the endless concrete and skyscrapers of New York! 
Community Involvement
Another way that I've decided to learn more about American culture and get immersed into life here is by being an SAT tutor for 10th and 11th graders. I began thinking about this volunteering option as I realized what a large education and inequality gap there exists in a city like New York, so I decided to try and contribute to increasing the chances of good education for high schoolers. Furthermore, my daily work is about developmental psychology with infants from 6 months - 30 months, and this activity is a good balance as I am also able to develop leadership skills and improve the quality of my explanations. Despite it being early on a Saturday morning, I feel as though I am making the most of my time here and it definitely is a win-win situation with the students.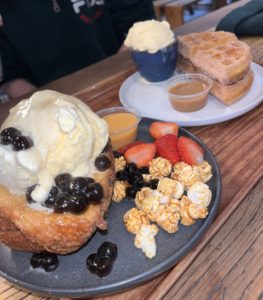 Bubble Tea French toast in Korea town.
In the past few weeks, I've experienced more international foods, an American Halloween, Thanksgiving and fall. It seems as though everyone had their costumes planned out from the Halloween before and it's a celebration for people of all ages, it was so exciting to be involved in a proper American Halloween! I have also found that fall is the nicest season in New York because of the changing colors and the weather which is sunny but not too warm. Weekly walks in Central Park have become a must! 
Please leave any thoughts, questions or comments below - I am happy to answer them!