I am a third-year psychology undergraduate student who is currently on a clinical placement at NHS. I know that many people, especially those who are aspiring clinical psychologists, are very curious about the day-to-day life of an NHS placement. Let me break it down for you!
7:30-8:30
I try to wake up earlier, allowing myself to have a great morning routine in order to start my day. I wake up at 7:30 to do some morning yoga and stretching, listening to some peaceful music.  I usually have overnight oatmeal or toast in the morning. I then take the tube to work. As there is no signal on London tube, I take this time to listen to music and read a book.
9:00-10:00
I would look at the incoming cases each morning and allocate them to different therapists. The referral can be self-referral via phone or website, GP referral or from other organisations like the crisis team. The amount varies from 20-40 cases every day. Each therapist is responsible for different areas in London, so I allocate cases according to patients' address and therapists' caseload limit.
10:00-11:00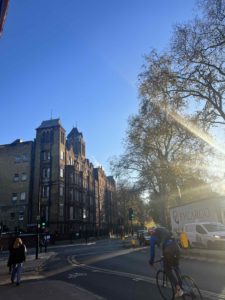 After the allocation, I am assigned to help 2-3 therapist summarize clinical notes. I write a summary for each patient including their demographic background, long-term condition, reason for referral, type of help they want, any risks from/to others, previous episode (treatment and outcome). Clinicians then make the decision about the next step based on this quick summary.
11:30-12:30
I have to seek and arrange observation opportunities on my own. I email or ask therapists if it is possible for me to observe anything. For example, I may observe a telephone treatment. The therapist asks for consent from the patient and then puts the phone on loudspeaker. I observe how the assessment is conducted, what types of questions are ask, how does therapist respond and make notes etc.
12:30-1:30
I have lunch with my colleagues and other placement students at the hospital canteen. I normally bring my own lunch to save money. This is always a great chance to know more about the therapists personally and also asking for insights to this field.
1:30-3:00
I attend trainings or clinical skills sessions. This can be a training on how to conduct group therapy. For example, they may cover how to balance out dynamics in a group and how to be engaging.
3:00-4:00
I may observe some high-intensity treatment which are mostly face-to-face now. I bring my notebook and sit in the therapy room, observing how High-intensity therapist conduct their treatment.
4:00-5:00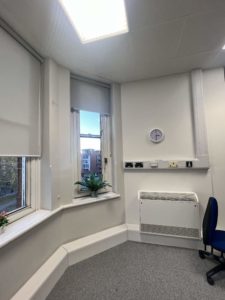 I may watch some of the recorded therapy as this is easier for patient to give consent in comparison to sitting in the session. I have observed CBT on low self-esteem and worry management.
6:00-7:00
Although I am often tired after work, I try to go to the gym as often as I can. Clinical job can be very stressful because you listen to heavy and emotional problems every day. Running and working out helps me relieve my stress and also marking a clear boundary between work and my personal life. This is really important as it reminds me to let go of the work, I have done every day, maintaining my own wellbeing in the long term.
I hope this snapshot of my daily placement life will give you more insight into the clinical field. I really enjoy my placement as I learn so much from all the observation. If all these sound interesting to you, I would definitely recommend trying a clinical placement!