Hi Everyone, Madeline here
This year's One Young World Bath caucus here at the University of Bath was a great success. Thank you to everyone who took part and supported the event. As Co-Chair, I worked with a fantastic and talented student committee to organise the conference over many months. Through the event, we had the opportunity to delve into 3 UN sustainable development goals: good health and well-being; sustainable cities and communities; and quality education.  The event took place in the fantastic School of Management building, allowing us the ideal space to host panels, keynote speakers and workshops.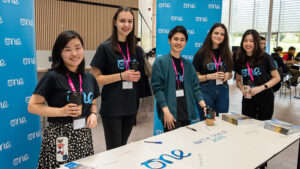 I would encourage anyone interested in getting involved with organising the One Young World caucus here at Bath to do so, if not at least make sure to look out for tickets for OYWB 2024! It is a great experience, lending itself to the opportunity to develop a variety of skills. For example, social media content creation and teamwork. I would like to introduce to you our Impact Report for this year, detailing the event's speakers, workshops, community outreach and more. A key takeaway looking ahead to next year is that delegates want to hear in particular about the SDGs regarding clean energy, gender equality, and peace and justice.
Take a look at this year's Impact Report to find out more, and delegates: see if you're in any of the pictures on Flickr: One Young World Bath (OYWB) 2023 | Flickr.
For students in the Faculty of Humanities & Social Sciences - there's a unique opportunity to experience the One Young World Academy this summer. For details visit the web page: Exclusive opportunity for Bath students to study with the One Young World Academy, application deadline 10 May.