Hi, my name is Millie and I'm a third-year psychology student on Placement as a Research Assistant at Harvard. I feel like there are a lot of pre-conceived ideas about Research placements in general (maybe boring, too similar to things we've already done in research methods etc.) as I too held these views back when I was scrolling through UniHub trying to imagine what I wanted to do with the next year of my life.
Equally, I feel that prestigious institutions such as Harvard may seem intimidating on both an academic and social level. I was worried I'd feel out of my depth or suffer from a somewhat "imposter syndrome", however I'm here to tell you why that couldn't be further from the truth.
In this short blog, I'm going to give an insight into how the reality of being a Harvard intern compared to my expectations- and why I am so glad I took the jump to apply in the first place.
My first day
So, rewind to Tuesday 5th September and it's our first day in the lab. I share an apartment with 3 other bath psychology students who are also interning at Harvard, and we live a short 15-minute walk from campus. The nice thing about this placement is that I wasn't completely on my own; where one of my main concerns was being lonely I quickly realised this wouldn't be an issue. I expected my first day to be 'thrown in the deep end' but our lab manager did an amazing job of easing us into meeting all the other lab members, while explaining what and where everything is. Turns out, we hadn't yet received IRB approval, which is essentially an ethical approval that allows us to see participant info and data- meaning the first few days were a gentle introduction into the general roles and responsibilities of our new Job.
We were provided with a very informative RA manual, set up with our own Harvard chrome profiles and went to get our Harvard ID cards (so top tip, be photo ready on your first day, you never know!!).
Check out the view from our office!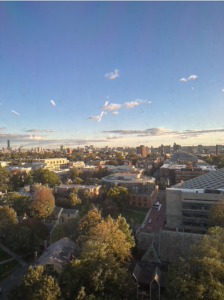 Working at Harvard: Expectations
To be honest, I wasn't really sure of what my daily schedule would look like or how long it would take me to get trained up on everything. I think because Harvard is such a prestigious institution; I was nervous that my knowledge would not be sufficient, and I wouldn't be given a great deal of responsibility as a newbie. I also assumed we would be doing a lot of admin and online stuff which is far from accurate!
Working at Harvard: Reality
The reality is every day is different in the lab. I'm currently about 6 weeks in and I am already running eye-tracking experiments with 4- and 5-year-olds completely independently. I have attended many talks, seminars, and classes by profound professors in the field surrounded by equally academically inspiring individuals. We have become fully immersed in the research process; from recruitment for multiple studies in the lab as well as being fully trained up on EEG (a fun neuroimaging technique with the funny cap!)
Here's me all set up in an EEG cap for the first and second time when Hannah (another Bath intern) was practicing!
Hopefully this has given you a little insight into what is actually like to be a Harvard Intern, and why you should take the jump to apply!
If you have any questions about the application process or the job please do drop me an email ah2780@bath.ac.uk!!