Why I chose to study Biomedical Sciences at Bath.
Choosing a university was particularly difficult for me due to COVID-19, which meant that visiting universities in person was not possible. Here, I take you through my journey of choosing a degree, a university, and the experience I have had so far at Bath!
Why biomedical sciences?
During school, I was very interested in the sciences, and to be honest, I was good at it! As my mum was a care worker in a home for elderly dementia patients, I often visited and had the opportunity to speak with the residents. Fascinated by the effects of dementia, I looked into neurodegenerative research and decided that I wanted to be a part of finding a treatment. Biomedical sciences was the right degree choice for me as it focuses on the fundamentals of human biology, extending from anatomy and physiology to pharmacology and pathology. Now that I had my degree choice, I started looking at universities which conveniently narrowed down my options.
What I wanted from the university
I started my search on The Complete University Guide – a website that allows you to look at both university and course-specific league tables. I knew I wanted a top UK university that would provide me with a mix of academic, technical, and professional skills. Here I found that Bath ranked within the top 5 of UK universities as well as 2nd for biomedical sciences in 2023, with high graduate prospects. Once I had narrowed down university options, I explored what each course had to offer by looking at course structure, modules, and student satisfaction.
What I wanted from the course
As well as the opportunity to study a broad range of topics, I wanted hands-on experience in the lab, both of which Bath offered. When I started, Year 1 consisted of compulsory units, which then branched into multi-departmental teaching during Year 2, with some optional modules. Bath also offers a wide range of placement opportunities, which allow you to apply and learn new skills and knowledge for up to a year in a professional workplace. The support I received from the placements team was immense, and I am currently working at the Derriford Research Facility in Plymouth, researching autophagy in neurodegeneration.
Overall, the course at Bath not only allows you to cater your degree academically, but also exposes you to opportunities to develop transferrable and professional skills ready for your future career.
Beautiful Bath: My Experience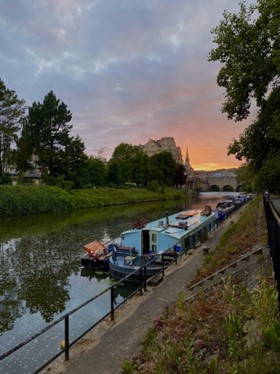 Just as important, I considered the city itself. Do I see myself living here? Is this a safe and inclusive environment? Is this a comfortable distance from home? These are all big questions that Bath ticked all my boxes for. I love that Bath is a smaller city with the best of both worlds - a bustling student city life with lots to do and serene countryside with incredible views. Besides its convenient location, it's also one of the safest student cities in the UK which made myself and my parents feel more comfortable.
I have also had the opportunity to be a student ambassador for my department and the Chair of Bath University Biosciences Society, where I have worked with and met so many amazing people who have supported me during my time here.
I am grateful that despite all the virtual open days and tours, I made the decision to come to Bath, as it was more than what I had hoped for in a university experience. There is always going to be a place for everyone, but Bath will forever be special to me.