This July sees the next talk in the monthly 'Water Colloquium' series organised by WIRC @ Bath exploring the breadth of water research being undertaken at the University of Bath and beyond.
Title: Water in South Africa: Devastating droughts, population expansion, climate change, poor governance, energy and food shortages and macro-pollutants
Speaker: Associate Professor Craig Sheridan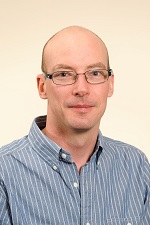 When: Thursday 20th July 2017 at 1.15pm
Where: Room 3.30, Building 1 West, University of Bath (Location and maps)
Abstract: In this presentation Craig will paint the picture of how society impacts water and how water impacts society in the context of South Africa. A society with elements of the best and worst of the developed and developing worlds. He will also present some of the research that his group is doing, showing the links from treating poor water quality to opportunities for producing energy.
Biography: Craig Sheridan is interested in almost all things water related. He is especially interested in research which relates to the processing and treatment of agricultural, industrial and mine effluent streams. He likes the way in which water is a common theme amongst all living organisms, and strongly believes that researching ways to reduce or mitigate the impact of man on the water resource represents his best attempt to contribute towards a sustainable future.
Contact: Please email Sarah Eliot if you need any further information.