A team of PhD students from across the GW4 are leading an exciting new conference. Working with the WSA and The Flow Partnership, the event will bring together practitioners working with communities across the world, and researchers, working in fields spanning climate change, water scarcity and resource management, flood risk and policy, to explore this vital 'knowledge flow.'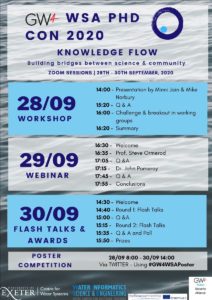 The conference will take place online and is spread across the last three days of September:
Mon 28th: 14.00-16.30
Tue 29th: 14.30-18.00
Wed 30th: 14.30-16.00
The conference will include a variety of activities and events, including keynote presentations, Q&A sessions, working groups and a poster competition.
For full details of the conference, including schedule, how to register and information on how to enter the poster competition, please visit the dedicated page on the WSA website: https://www.gw4water.com/events/gw4-wsa-phd-con2020/