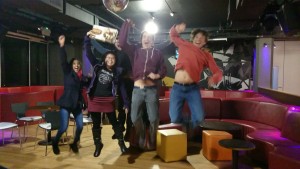 Say hello to the winners of the WES Bath pub quiz, which took place last Thursday!
We also had winners of the best and most creative team name: "Quiztillation Column".
The quiz started with a brilliant turn out and a great reception from engineering- related degree students (males and females), so the quiz was started on a high. The WES committee rallied together as team "WESards" along with 4 other teams. We were initially welcomed by some free pizza as part of the SU and all took our seats.
The quiz consisted of 5 different categories:
TV and Film
General Knowledge
Literature and Arts
Music
Logos and Pictures
all of which were compiled and created by our imaginative and wonderful WES committee.
The quiz also offered the opportunity for any of those interested, to get involved and join the committee.
The evening was ended with winners announced and some yummy prizes handed out. The quiz was a great success - thank you to all those who came!