We were lucky enough to have Ghishlaine, the lead career advisor for engineering students at the University of Bath, deliver a LinkedIn workshop for WESBath.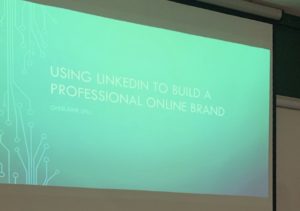 LinkedIn is an invaluable platform for advertising yourself to future employers and making useful connections with industrial professionals. We received advice on many different aspects of using LinkedIn:
Enhancing your profile: make the best impression to future employers
Headline
The headline is the piece of text that appears with your name on profile searches. As a student actively applying for jobs, the degree course and university should be clear in your headline.
NOTE: LinkedIn will actively update your headline to your most recent job, which may be a part-time university job, or a recently completed placement. This means the fact that you are a student gets lost so remember to check and change this!
The Summary
The summary is a key part of a LinkedIn profile. It should be:
 Personal, unique and engaging
 Approximately 300 words
 Keyword rich – ensure the keywords are technical and career focussed
The first 1 or 2 lines are the most important – they are the first section that is seen and the rest will only be read if the first sentence catches the viewers' attention. A suggested structure: "'Mechanical engineering student with 1 year experience in design engineering with MATLAB, CAD and problem solving skills". This sentence immediately attracts the attention of an employer and you do not waste space with information already in your profile.
Experience
The work experience section is very important on LinkedIn and appears first. Ensure this is relevant and up to date and include details of your employment which lets people know more than your CV can give them.
Skills
The skills section of a profile is key when employers are searching through profiles. Technical skills should be the focus – everyone will have generic soft skills so make sure that engineering skills are the ones you focus on. Be sure to include different variants (different ways of phrasing) the same skill as different employers will use different terms.
Education
The education is used for University education. When you place your student societies in this section, it can distract from any modules or key skills learnt whilst at university. Be sure to only put societies that are relevant to your career – save the others for the Accomplishments – Organisations section.
Photograph
A LinkedIn profile with a photograph is so much more likely to be viewed! It makes it personal and allows an employer to feel like they are really getting to know you.   Your LinkedIn photograph should most importantly be professional. Ensure a neutral appropriate background and that your clothing is professional.
Recommendations
Many people never think to add to the recommendations section of their LinkedIn profile. However, a recommendation from a previous line manager can really make your profile more attractive. The best approach is to ask a previous line manager for a recommendation and in the process, offer to recommend them as a good manager employer. That way you are both giving and receiving!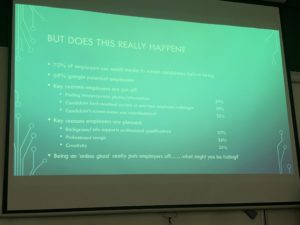 Companies and Groups
Once you are happy with your profile, it is important to follow companies you are interested in and join any interest groups. When you follow a company, it will come up on your profile as an interest so be sure to tailor this to the sector which you are interested in. For example, if you are applying for a finance role but have a lot of engineering interests on your profile, an employer may think you are not really interested in the role.
Forming connections: making the most of the LinkedIn profile
Making connections is what LinkedIn is all about. It is a brilliant way to make yourself known to future employers and find out more about companies and industries you are interested in.
Careers fairs: Whenever you speak to employers at careers fairs, be sure to ask for the representatives' names and connect with them on LinkedIn. This shows to future employers that you are keen and dedicated to find out more about the company.
Adding people you do not know: The search tool on LinkedIn can allow you to find past Bath alumni that may be working in industries you are interested in. Making these connections can impress employers and allow you to network and talk to people with interesting career paths.
Sending connection requests: Whenever you send a connection request, particularly with people you do not know personally, you should always send a personalised invite. Use an informal tone, be upfront with what you would like to achieve from making this connection and be sure to acknowledge shared connections (eg. University of Bath, same course).
Writing Posts and Interacting with Posts
Your timeline will show the activity of your connections. By liking and commenting on posts, anyone who views your profile will be able to see what you have interacted with – which demonstrates your interests.
It is also important to write your own posts. These do not have to be perfect or particularly long, they just need to show your achievements, creativity, skills and interests. The best way to know what to write is to have a look at what other people in your network are writing! It is also a good idea to include photos as these will display at the top of your profile and allows you to develop a portfolio.
We would like to thank Ghishlaine for all of her helpful advice regarding LinkedIn. We hope this will help everyone to improve their profiles and make the most of this incredibly useful platform!
Leah White, 3rd year MEng (hons) Chemical Engineering